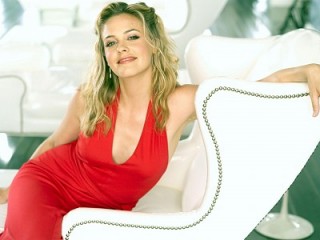 Alicia Silverstone
Date of birth : 1976-10-04
Date of death : -
Birthplace : San Francisco, California, U.S.
Nationality : American
Category : Arts and Entertainment
Last modified : 2011-02-11
Alicia Silverstone is an American actress, author, and former fashion model. She first came to widespread attention in music videos for Aerosmith, and is best known for her roles in Hollywood films such as Clueless (1995) and her portrayal of Batgirl in Batman & Robin (1997).

Silverstone is the daughter of a real-estate agent and an airline stewardess. She began working as a child model at the age of six after her father sent several pictures of her in a bathing suit to a few agencies. Modeling work led to TV commercials, which in turn led to work on a number of TV series including an episode of The Wonder Years which cast her as Fred Savage's literal dream girl. At the age of 15, Silverstone landed her first starring role in The Crush (1993), a Fatal Attraction for the Noxema set in which she portrayed a young woman obsessed with an older man (Cary Elwes). Although the film was trashed by critics, it was a hit among its teenage target audience, and Silverstone -- who had become legally emancipated from her parents while making the film in order to work longer hours -- was feted at the 1994 MTV Movie Awards with trophies for Best Villain and Breakthrough Performance. Around the same time, she starred in the popular music video for Aerosmith's "Crazy." Her onscreen antics with Liv Tyler, daughter of Aerosmith frontman Steven, coupled with her vampish turn in The Crush virtually ensured Silverstone's status as Hollywood's latest embodiment of nubile, underage female sexuality.

Silverstone's real break came with her starring role as the spoiled, meddlesome, but ultimately endearing Cher Horowitz in Amy Heckerling's Clueless (1995). A very loose and modern adaptation of Jane Austen's Emma, the film was a huge sleeper hit, and Silverstone was roundly praised for her effervescent performance. In the wake of the film's success, the actress signed a ten-million-dollar deal with Columbia that included a three-year first-look deal for her own company, First Kiss Productions. She also won the coveted role of Batgirl in Batman & Robin, something that allowed her to contemplate breaking out of the teen sexpot mode.

Unfortunately, the actress was subsequently besieged with a number of problems, ranging from unending industry criticism of her weight to her first excursion as a producer, Excess Baggage (1997). The film, which also served as a starring vehicle for Silverstone, was a thoroughly misguided kidnapping comedy that failed to win favor with either audiences or critics. To add insult to injury, Silverstone's other major 1997 project, the long-awaited Batman & Robin, was one of the year's most expensive critical and commercial flops.

After a nearly two-year absence from the screen, Silverstone resurfaced in 1999 with Blast from the Past. A likable romantic comedy that cast her as a cynical Valley girl opposite Brendan Fraser, the film enjoyed modest success. Silverstone followed it with a starring role as the French princess in Kenneth Branagh's much-anticipated musical adaptation of Shakespeare's Love's Labour's Lost (2000), which saw the actress interpreting the Bard and Irving Berlin alongside the likes of Branagh, Nathan Lane, Matthew Lillard, and Alessandro Nivola.

In 2001, Silverstone played an American rocker in England for the straight-to-video Rock My World (aka Global Heresay), which, despite providing little more than a blip on her resumé, gave her the opportunity to work with the iconic Peter O'Toole. After serving as executive producer for the animated television series Braceface, Silverstone went on to star in NBC's 2003 sketch comedy Miss Match, which featured the young actress as a divorced lawyer cum matchmaker whose good intentions were not necessarily met with equally positive results. In the same year, she starred opposite Rachael Leigh Cook in Scorched; this time playing a disgruntled bank teller. Silverstone played a role in Scooby Doo 2: Monsters Unleashed alongside fellow twentysomethings Sarah Michelle Gellar and Freddie Prinze Jr. in the summer of 2004. A subsequent trip to the salon in Beautyshop found Silverstone continuing to keep audiences in stitches, and in 2006 she would join Ewan McGregor, Bill Nighy, Missi Pyle, and Alex Pettyfer in bringing author Anthony Horowitz's adolescent daredevil to the screen in the family-oriented action adventure Stormbreaker.



View the full website biography of Alicia Silverstone.