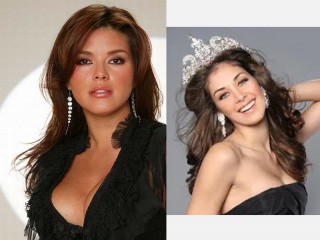 Alicia Machado
Date of birth : 1977-12-06
Date of death : -
Birthplace : Araqua, Venezuela
Nationality : Venezuelan
Category : Arts and Entertainment
Last modified : 2011-01-05
Alicia Machado, born Yoseph Alicia Machado Fajardo Venezuela is a Venezuelan actress and model. She is the fourth woman from Venezuela to capture the Miss Universe crown.

Her father, Arturo Machado, is originally from Spain. He is the owner of a toy store. Her mothers' name is Martha Fajado, she is from Cuba and owns a "Subway" franchise restaurant. Her parents are divorced. Alicia describes them as getting along well. They have respect for each other. She has 2 brothers and is the middle child.

At a very young age Alicia discovered her passion for dancing. She started taking dancing lessons at the age of 4. She studied dance for 8 years. When she was 10 she discovered her love for music and joined the school choir.

She graduated from High School at the age of 15 and went on to college. She studied Business Administration, then switched to Law. Within 15 months into her studies she decided to quit School in order to pursue her dreams of being in the Entertaining business. She signed up with an agency and did commercial and modeling.

In 1995 particpated in and won the Miss Venezuela pageant. At the age of 18, She went on to compete in the Miss Universe pageant. Alicia was very suprise when she won the Miss Universe Title which led her to a very extradordinary year as Miss Universe.
The following year after returning her Miss Universe crown she continued the pursue of her dreams to make it into show business.

Initially Alicia wanted to record an album but without the knowledge of how to go about it, it became very difficult. She received several tempting acting roles in soap operas which were very hard to refuse.

Alicia accepted a leading role in a Telenovela called Samantha (1998). She quickly polished her acting skills and took some lessons with several different acting coaches in Venezuela, Mexico and the United States. All her hard work was acknowledge when she won the Midia Award in Spain and the Ace award in New York City, as the new Actress of the year. She went on to star in two other Telenovelas. "Infierno en el Paraiso" (1999) filmed in Mexico and "Mambo Y Canela" (2002) filmed in Venezuela.

Although she loved acting her passion to sing grew even more. One of her close friends Ricardo Montanez assisted her in introducing her to the music industry. He introduced her to Jose Miguel who helped her not only with her vocals but also with writing songs. They worked on first album for 3 years. In 1999 her musical career became a reality when she released the album and in 1999 her dream came true when her debut album was released, "Alicia En El Pais De Las Maravillas".

Alicia Machado has continued her great success by starting in other TeleNovelas and movies. She has currently released her second album in November 2007.




View the full website biography of Alicia Machado.