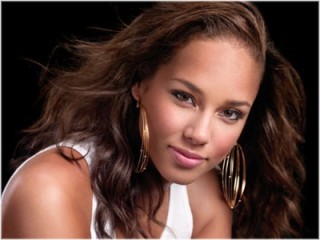 Alicia Keys
Date of birth : 1981-01-25
Date of death : -
Birthplace : New York, U.S.
Nationality : American
Category : Arts and Entertainment
Last modified : 2010-10-13
Alicia Keys, born Alicia Augello-Cook, in Manhattan, New York City, USA on January 25, 1981 is a popular R&B vocalist and pianist. She was born to an Afro father named Craig Cook and a Caucasian mother, Terri Augello. Known as a smart student, Alicia successfully graduated as valedictorian from the Professional Performing Arts School, a public high school in Manhattan. Made use of her scholarship Keys briefly attended Columbia University, but then dropped out to pursue her music career.

Keys has, in fact, shown to possess a great interest in music since her very childhood. During which she, at her seven years age, had begun playing piano and learned classical music by classy composers, like Beethoven, Mozart and Chopin, all of whom are her favorite composer. Then, when she was fourteen years old, Keys wrote her first song "Butterflyz" which included on her debut album "Songs in A Minor", released on August 19, 2001. This first album was commercially success in marketplace, with one of its singles entitled "Fallin" went #1 in US and #3 in UK that it then also won five Grammy Awards in 2002.

In 2002, Keys released another single taken from her 1st album, named "A Woman's Worth," which gained success at #7 in US and #18 in UK. Working in music world wasn't so easy anyway, luckily Keys has her mother to give support she needed during her developing career that she finally could through it all very well.

Write her own songs and play several instruments with technical prowess, many people perceive Keys as an original voice singer deserves two thumbs up at a time the musical marketplace was flooded with pop bands that were little more than an attractive front for the creative energies of others. This assumption makes Keys one of the most popular artists of the early years of the 21st century to have established a large fan-base of "fanatic" fans. Despite the many critics aimed to her voice as artificially imitating 1970s soul singers, like Curtis Mayfield and Marvin Gaye, with hip hop influences that were less original than similar blends from nu soul artists like Lauryn Hill, Erykah Badu and D'Angelo, Keys has,in fact, able to prove her self to be a success solo singer.

Appeared to be true that in the late 2003 Keys released her second album, "Diary of Alicia Keys", which went straight up to the top of the Billboard R&B charts. "If I Ain't Got You" single taken from that album was top at #1 in US and #18 in UK as "Diary" (feat. Tony! Toni! Tone!) top at #2 in US chart. This success has then led Keys to win the award for Best R'n'B at the 2004 MTV Europe Music Awards. Even more that Keys duet with Usher sang their single named "My Boo" was top at #1 in 2004 US chart.

Concerning her great talent in composing and writing song, that she once wrote and produced "Impossible," one of the songs on Christina Aguilera's album, "Stripped," Keys already became very famous than she had ever imagined before. Thus, she gained such respect, as named one of People Magazine's Breakthrough Stars of 2001 and named one of the People Magazine 2002's 50 Most Beautiful People. Additionally, her photos also often appear on the covers of Vibe, Vanity Fair, SevenTeen, and Teen magazines.

Alicia was becoming one performer to sing "America the Beautiful" at the Super Bowl XXXIX game, held on February 6, 2005, along with 150 students from Florida School for the Deaf and the Blind. She has also been mentioned as the first singer to perform at the 47th Annual Grammy Award, broadcast live on February 13, 2005, on CBS, in which she was handed 8 nominations, including Album of the Year and Best R&B Album for the "Diary of Alicia Keys". Creating a bridge from the successful album, Alicia released an MTV Unplugged album that includes new arrangements of her hit "A Woman's Worth", covers of legendary hits such as The Riolling Stone's "Wild Horses" and new materials. One of the original scores, "Unbreakable" hit Billboard Hot R&B/ Hip-Hop Songs at #1 for 11 weeks. Through this very song "Unplugged" was sold for more than 1 million copies in U.S. alone. It was regarded the highest MTV's Unplugged series after Nirvana's 1994 Unplugged version.

As soon as she's done with the unplugged album, she began working on a full-length studio album in late 2006. The CD titled "As I Am" is slated for November 6, 2007 release and is said to contain surprising collaboration. 'No One' has been prepared as the first single off this new album.

Keys made guest appearances on several television series in the following years, beginning with Charmed. She made her film debut in Smokin' Aces and went on to appear in The Nanny Diaries in 2007. Her third studio album, As I Am, was released in the same year and sold six million copies worldwide, earning Keys an additional three Grammy Awards. The following year, she appeared in The Secret Life of Bees, which earned her a nomination at the NAACP Image Awards. She released her fourth album, The Element of Freedom, in December 2009, which became Keys' first chart-topping album in the United Kingdom. Throughout her career, Keys has won numerous awards and has sold over 30 million albums worldwide. Billboard magazine named her the top R&B artist of the 2000–2009 decade, establishing herself as one of the best-selling artists of her time.

In 2010, VH1 included Keys on its list of the 100 Greatest Artists of All Time.





View the full website biography of Alicia Keys.