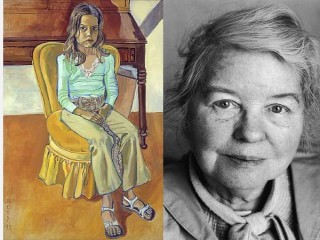 Alice Neel
Date of birth : 1900-01-28
Date of death : 1984-10-13
Birthplace : Merion Square, Pennsylvania
Nationality : American
Category : Arts and Entertainment
Last modified : 2010-11-23
American painter Alice Neel was known for her Expressionist portraits of both famous and ordinary people. Her notoriety grew later in her career with major showings and a larger following as her style came into vogue and feminists embraced her perspective.
Neel was born in Merion Square, Pennsylvania, on January 28, 1900, the fourth of five children of George Washington, a department head for the Pennsylvania railway, and Alice Concross Hartley Neel. She grew up in Colwyn, Pennsylvania, a small town where she did not fit in. Though her family was middle class, they were from old, established American stock.
From an early age, Neel wanted to be a painter. To please her traditional parents, she was trained as a secretary and worked in clerical positions as a teenager. She found those jobs very stifling. To break out, Neel began taking art classes at night without anyone in her family knowing.
Telling her parents she was going to study commercial design, Neel entered the Philadelphia School of Design for Women (later known as the Moore College of Art) in 1921. She actually studied art at the school, the first college of art in the United States for women. During the summer of 1924, she attended the Chester Springs summer school at the Philadelphia Academy of Fine Arts. During her time in art school, she learned much about portraiture technique and trained to be a figure painter.
In 1925, she graduated from the Philadelphia School of Design for Women and married Carlos Enriquez, a Cuban artist. She moved with him to Havana. Living with his rich family, Neel painted portraits of poor people and exhibited with Cuban avant-garde artists. Neel and her husband had two daughters, Santillana, who soon died from diphtheria, and Isabetta.
Neel, Enriquez, and their young daughter returned to the United States in 1927, settling in New York City. Neel settled on the fringe of the avant-garde movement. She painted Requiem (1928) and The Futility of Effort (1930), inspired by her young daughter's death.
In 1930, Neel suffered a great personal loss when her husband took their daughter back with him to Cuba. He was supposed to get money from his wealthy family so that he, Neel, and their daughter could move to Paris and she could paint there. Instead, Enriquez left their daughter with his family and went to Paris alone. Abandoned, Neel suffered a nervous breakdown and was briefly hospitalized. She returned to Colwyn, tried to kill herself, and was hospitalized again.
After Neel recovered, her personal life continued to be difficult. In the summer of 1932, Neel saw her husband and daughter but then never saw him again and saw her daughter after that only rarely. Starting in 1932, she lived with a sailor, Kenneth Doolittle, in Greenwich Village in New York. An opium addict, he slashed 60 paintings and burned 300 watercolors in 1934 because he was jealous of her work.
She next lived with John Rothschild, who encouraged her work. Neel painted watercolors of their life together in the 1930s. Rothschild would pursue her on and off until his death in 1975. Neel eventually had two sons by different fathers—Jose Santiago, a nightclub entertainer, and Sam Brody, a Marxist filmmaker. Neel became a left-wing activist, protesting social conditions in the United States and international fascism.
In the 1930s, Neel's career as a painter began to take off. She was funded by the Public Works of America Project in 1933 and by the Works Progress Administration from 1935 to the early 1940s. She had some minor exhibitions, including one at the Contemporary Arts Gallery in New York in 1938 and another at Pinacotheca Gallery in 1944.
Neel's painting style and subjects in this time period were not particularly in vogue. She painted people, especially her family and those who lived in her neighborhood, capturing their humor and pain. Neel also did some still lifes, landscapes, cityscapes, and narrative and genre scenes. She did much with color and interesting compositions, and her paintings had an unfinished look. At the time, however, abstract art was more in style.
A number of Neel's portraits featured people who were suffering. Since she rarely painted on commission, she had much control over her subjects. She painted them as she wanted to paint them. She also did a number of portraits of well-known people such as author Joe Gould (1922), poet Kenneth Fearing (1935), and Communist labor organizer Pat Whalen (1935).
Neel's cityscapes reflected the politics of the day. In 1933, she painted Synthesis of New York—The Great Depression, which featured people in the city with surrealist touches. In 1936, she painted Nazi Murder Jews (1936), which depicted a Communist torchlight parade with a figure carrying a sign with those three words.
During World War II, Neel lived in Spanish Harlem, struggling as an artist while raising her two sons. She did not exhibit much in the 1940s and 1950s and did even fewer commissions. Reflecting her sympathies for the working class, her subjects continued to be people in her neighborhood. Many were poor or suffering from illness or stress. The subject of T.B. Harlem (1940) was recovering from an operation to fix a collapsed lung brought on by tuberculosis. In 1950 and 1954, she had a major solo exhibition at the ACA Gallery and had another in 1951 at the New Playwrights Theatre.
By the late 1950s, there was revived interest in Neel's work. She began seeing a psychologist who encouraged her to be more assertive about her career. She sent out pictures for exhibitions and convinced poet Frank O'Hara to pose for her. That portrait was later redone and appeared in Art News in 1960. When her friend Muriel Bettancourt gave her an annual stipend to support her work, she was able to move out of Spanish Harlem to West 107th Street.
Neel's style changed as well. Her colors and approach became bolder, but a number of critics thought her style was still too casual and clumsy. As Grace Glueck of the New York Times wrote in 1997, "Working in a style that might be called Expressionist-realist, she laid brush to canvas in a plain, straightforward manner, using the paint not fancily but simply to convey an image."
In the 1960s, Neel began receiving even more critical and financial support. Pop art and photorealism, which were closer to Neel's approach, were coming into style. She also received attention because of several portraits she did of famous people. They included Andy Warhol, theater producer Joseph Papp, and composer Aaron Copland. Neel often did satirical portrayals of art dealers, critics, patrons, and historians, but she remained sympathetic to the common people she painted from everyday life.
Neel was expert in getting her subjects, including John Perreault (1972), to pose nude. Neel always was very careful about details and emphasized the importance of gesture. One of her subjects, Red Grooms, told Paul Richard of the Washington Post upon her death, "She was famous for her X-ray eye, and for her cruel, biting line, that killer line that describes everything."
While Neel had a number of shows at the Graham Gallery in New York beginning in 1963 and in other chic galleries, she still favored neighborhood people in paintings like Fuller Brush Man (1965). One of her best cityscapes was 107th and Broadway depicting what she saw from her apartment in 1976. As Theodore F. Wolff wrote in the Christian Science Monitor after her death, "As an artist, Alice Neel always spoke the truth, without embellishments or evasions, and with little concern for the social amenities. Confronted by reality, she preferred to depict it as it was rather than as it should be, and to present it starkly, regardless of whose feelings were hurt or whose ideals were offended."
In the 1970s, interest in Neel increased because of the women's movement. In 1974, she was the subject of a retrospective at the Whitney Museum. This exhibit brought her more of an audience and led to more exhibitions and more awards. Neel had a retrospective at the Georgia Museum of Art in Athens in 1975 and at both the University of Bridgeport, Connecticut, and Silvermind Guild of Artists in 1979. Neel was elected to the American Academy and Institute of Arts and Letters in 1976.
Neel used this higher profile in a number of ways. Because she was able to explain her art to people in an understandable fashion, she did lectures in the 1980s. Neel showed her irreverent side, often telling how she convinced her subjects to take off their clothes. At the age of 80, Neel did her own nude portrait. She also did several paintings of her two sons and their wives. Neel especially favored her daughter-in-law Nancy Neel, who worked as her assistant.
In 1981, Neel became the first living American artist to have a major retrospective exhibition in Moscow. She also painted several portraits that became covers for Time magazine, such as those of feminist Kate Millet (1970) and Franklin D. Roosevelt (1982). Despite the changing climate of art, Neel still did not sell many paintings since the common people who were depicted in many of them could not afford to buy them. By her death, she owned most of her work. Near the end of her life, Neel continued to paint despite illnesses including cataracts.
Neel died from cancer on October 13, 1984, in New York. Many critics believed she was underrated in her lifetime, though at the time of her passing, neo-expressionism was popular and so was she. This did not matter to Neel, who painted for her own reasons. In 1982, Neel told Enid Nemy of the New York Times, "I've always been interested, I've always been curious, and I've always had a profession. Painting is an obsession with me."
The Dictionary of Art, Vol. 22, Grove, 1996.
Garraty, John A., and Mark C. Carnes, eds., American National Biography, Vol. 16, Oxford University Press, 1999.
Gaze, Delia, ed., Dictionary of Women Artists, Vol. 2, Fitzroy Dearborn Publishers, 1997.
Hillstrom, Laurie Collier, and Kevin Hillstrom, eds., Contemporary Women Artists, St. James Press, 1999.
Artforum International, September 2000.
Christian Science Monitor, July 11, 1985.
View the full website biography of Alice Neel.