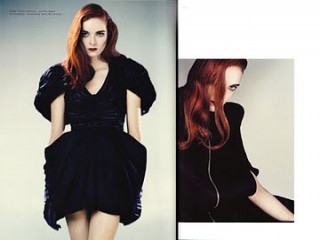 Alice Gibb
Date of birth : -
Date of death : -
Birthplace : Hampshire, England
Nationality : British
Category : Arts and Entertainment
Last modified : 2011-02-07
Alice Gibb is a British model which appeared in sevral Burberry ad campaignes.

She was born in Hampshire, England in 1991, blue-eyed, red haired British supermodel Alice Gibb never really entertained the thought of becoming a model until her early teens, and then she was only swayed because a friend wanted to become one as well. Other friends had been telling her that she may be good enough to become a model, but she didn't pay much attention to this at the time. Her breakthrough came when her father, who happens to be a consultant neurologist (brain surgeon to you and me), took her and her friend down to London when she was fourteen years of age. Trying to keep his daughter grounded, her father told her before they reached London that no one would probably class her as model material and that they were going down for a bit of a laugh.

The first agency they arrived at was Premier (who were ultimately the ones who signed young Alice up), who really liked her, and the others they visited all took photos of her to keep on file. Unfortunately for her friend though, the agencies were less impressed and sent her on her way with polite rejections. Her father was absolutely amazed at the outcome of these events – and Alice is still friends with the girl, which proved there were no hard feelings.

Alice's mother had died ten years earlier from breast cancer, so her father had the difficult task of bringing up two daughters on his own, as well as juggling his medical career. By Alice's own admission, he did a wonderful job, making sure both his daughters were brought up properly, although when his wife died he found the going rather tough to begin with. One area which Alice Gibb fondly remembers that her father didn't have a clue about was fashion, and consequently, because of this, she didn't either until she was spotted as the fourteen year old in London with her dad.

Alice achieved nine grade A GCSE's (including one in advanced maths!) and studied for three a-level subjects around her modelling career. She has been quoted as saying that a lot of her friends at school were jealous of the fact that she was a very successful model as well as a student, but she didn't understand why. Unassuming Alice felt that modelling wasn't as glamorous as it was cracked up to be, with sitting around for ages between shoots and having to wear often ridiculous outfits, not to mention shoes that were almost always too small for her, leaving her feet covered in blisters! Alice Gibb also has a grade 8 in piano, so it's hard to see where the girl found any time at all for her modelling. But time she did find and her rise to superstardom was rapid.

Alice Gibb has modelled for many of the world's top designers and did so for a long time while juggling her schooling. To her great credit she never let the modelling get in the way of her school work, only working in the evenings, weekends and holidays, but far from hindering her progress, this actually added to her overall appeal, with designers queuing up for her services via her agency at Premier.

There have been many highlights in the short, so far, career of Alice Gibb. After debuting at the spring Christopher Kane show in London in September of 2006, she became one of the faces of Burberry in 2008, as well as the face of Alexander McQueen's autumn ad campaign in the same year. In between Alice Gibb has had glittering success, appearing in various Vogue editions round the world, has figured at New York fashion week as well as high ranking shows in London and Milan. Having modelled for D&G, Fashion East, Jens Laugesen, Christopher Kane, Jil Sander, Daks by Giles Deacon, Vivienne Westwood Red Label and Luella, among others, the sky really is the limit for this rather shy, yet hugely intelligent model.


Burberry Ad Campaign:



View the full website biography of Alice Gibb.