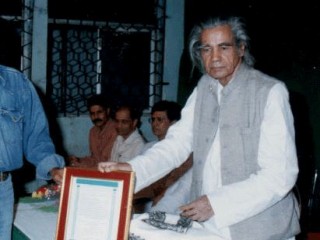 Ali Sardar Zafri
Date of birth : 1913-11-29
Date of death : 2000-08-01
Birthplace : Balrampur, Uttar Pradesh
Nationality : Hindi
Category : Famous Figures
Last modified : 2010-10-21
Ali Sardar Zafri was born in Balrampur, Uttar Pradesh. He came to Mumbai in 1942 and made it his home. Arrested for writing against British rule in India, Zafri was among the votaries of the progressive movement in Urdu literature. Zafri 's literary career began at the young age of 17. He has written nine books of verse, two plays, one memoir-reportage, three collections of critical essays and one volume of short stories. With the publication of his very first collection of Nazam and Ghazal, Parwaz, in 1943, he established himself as a poet to reckon with.

Five years later 'Nai Duniya Ko Salaam', an unconventional, longish Nazam brimming with revolutionary optimism, took the Urdu world by pleasant surprise. Sardar had by then become a familiar and revered name. Among his other poetic works Khoon Ki Lakeer (1949), Ashia Jaag Uttha (1951), Patthar Ki Deewar (1953), Pairahan-e-Sharar (1966), Lahoo Pukarta Hai (1978) and November, Mera Gahwara (1998) is remarkable, both for their theme and style. Sardar's early works reflected a restless yearning for India's independence from the colonial yoke. Equally intense was his yearning for the freedom and dignity of the proletariat. This was because of the strong impact of the Progressive Writers' Movement inspired by Marxism.

The principal theme of his poetry was compassion, love, perseverance and sensitivity surviving amidst the callous inhumanity of our times. In his unique style, he depicted the exemplary survival of the human spirit in face of all-pervasive adversity and defeatism. He was awarded the Iqbal Gold Medal by the Pakistan government in 1978. In India, he was awarded the prestigious Jnanpith Award in 1998. His memorable work, Ek Khwab Aur, received the Sahitya Akademi award. Ali Sardar Zafri died of prolonged illness in the year 2000.
View the full website biography of Ali Sardar Zafri.