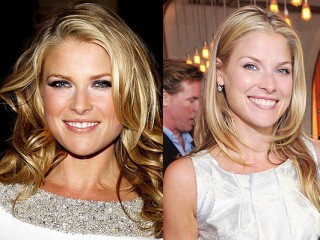 Ali Larter
Date of birth : 1976-01-28
Date of death : -
Birthplace : Cherry Hill, New Jersey, U.S.
Nationality : American
Category : Arts and Entertainment
Last modified : 2011-01-07
Ali Larter is an American actress. Despite beginning her career as a model, Larter soon transitioned into acting after appearing in several guest roles on television shows in the 1990s. She is well-known for playing the dual roles of Niki Sanders and Tracy Strauss on the NBC science fiction drama Heroes.


Early years and career:
Born
Alison Elizabeth Larter
on Feb. 28, 1976 and raised in the suburb of Cherry Hill, NJ, Larter was the daughter of a homemaker mother and an executive father who worked for a trucking company. The baby of the family, she traded in her childhood penchant for sports and tomboyish pursuits at the onset of her teens, in favor of commercial acting and modeling across the river. An association with New York's famed Ford Modeling Agency at age 14 allowed the young Larter a chance to appear in publications like Seventeen and to do extensive traveling to places such as Australia and Japan - the latter of which served as the location of her first overseas shoot at the age of 17. With enough success in the industry, Larter eventually made a decision to eschew her senior year of high school in favor of a burgeoning career as a model.
By 1996, following a stint modeling in Miami, FL, Larter had decided to make the leap to Hollywood in an attempt at an acting career. She was encouraged in this new pursuit by a friend and fellow model-turned-actress, Amy Smart, whom she had met while on a modeling job in Milan. She enrolled in an acting class and fell in love with it. That year, she was also offered a unique modeling job for Esquire magazine, one which even came with its own backstory. Appearing on the November cover as the fabricated rising "star" Allegra Coleman of its lead article, "Hollywood's Next Dream Girl: The Allegra Coleman Nobody Knows," Larter's serious Hollywood profile caused quite a stir, prompting appearances on several national morning talk shows including ABC's "Good Morning America" (1975- ).
With some early heat on her almost fictional entry into Hollywood, Larter landed an agent and found work quickly, putting in legitimate guest appearances during the first half of 1997 on the NBC sitcoms "Suddenly Susan" (1996-2000) and "Chicago Sons" (1997). In what seemed like perfect casting, she was attached to a previously-written movie script called "The It Girl," about a fictional magazine model personality similar to the one she portrayed in Esquire. That project stalled, but, not content to merely serve as a pretty face, Larter opted to mix things up and the following year by adding some drama to her resume. First, she appeared on the CBS medical series, "Chicago Hope" (1994-2000), before wrapping up 1998 with a pair of episodes of The WB's teen drama, "Dawson's Creek" (1998-2003).
In 1998, Larter and Smart auditioned for the same role in the MTV Films teen sports drama, "Varsity Blues" (1999). Larter nabbed the role, but Smart was cast shortly thereafter as well, portraying James Van Der Beek's girlfriend. It was Larter's first film role, but in a genre populated by attractive twenty-somethings, she established herself as anything but an arbitrary presence. An instant, sexy impression was forged with viewers when her character, Darcy Sears, seduced Van Der Beek's with a makeshift bikini shaped entirely from whipped cream.
The now very memorable Larter was starting to land more speaking parts with some regularity, culminating with a lead role in the remake of "House on Haunted Hill" (1999). She was then cast as a lead in the cast of "Final Destination" (2000) - a moody thriller about a group of plane crash survivors stalked by Death itself - a film franchise that became a modest success. Larter then returned to comedy, playing a legal client in the Reese Witherspoon vehicle, "Legally Blonde" (2001), just as the film rocketed its star into leading lady status. That year, she went east and stepped onto the stage to appear in an off-Broadway production of "The Vagina Monologues." Retaining her East Coast state of mind, she was also tapped by director and fellow Jerseyite Kevin Smith to be part of a sexy trio of thieves in "Jay and Silent Bob Strike Back" (2001).
Although Later was enjoying her work, she was becoming less of a fan of Los Angeles and the hard knocks it took to make it in the business. After taking some time off midway into 2002, she decided to exit Hollywood and reassess her career goals, planting roots in Manhattan. Still, it seemed Tinseltown was willing to follow her lead. She was working less fervently and choosing projects more sporadically, but the studios remained fans. She was offered top billing to reprise her role as Clear Rivers in "Final Destination 2" (2003) before landing a supporting role in the big screen romantic comedy, "A Lot like Love" (2005), starring Amanda Peet and Ashton Kutcher.
In 2005, a rejuvenated Larter journeyed back to Los Angeles. The first audition she gave, for a primetime television pilot, was a hit with producers. The show, fortuitously, was NBC's "Her s," which began airing in the fall of 2006. Larter, who could walk on either the troubled or the sweet and sexy side onscreen, returned to television to play both and became a household name when the show - about ordinary people discovering their own super gifts - took flight as a surprising phenomenon. As Niki, a loving, single mother whose personality is shared with one of violent Hulk-like brutality named Jessica, Larter found an opportunity to sink into one of the hit series' most complex roles. During her stint on "Her s," Larter continued to develop a film career, first battling evil in the ravaged world of the successful sci-fi thriller "Resident Evil: Extinction" (2007). From the post-apocalyptic future, she went back in time to play the prehistoric woman in an ingenious caveman's dreams in "National Lampoon's Stoned Age" (2007), which was released straight to DVD.
After her leading role as an American B-movie actress stranded in India in the limited release, "Marigold" (2007), Larter took a few years off from the big screen to recover from her breakout year. When she returned to the "Her s" set for the third season, she found that her character Niki Sanders had been written out of the series. Instead, the actress portrayed Tracy Strauss, Sanders' aspiring politician sister who possessed the power to turn anything into ice and herself into water. The twenty-something still proved to be a teen draw with a pair of Supporting Actress nominations and one win from the Teen Choice Awards. She returned to theaters with a starring turn in the profitable, but critically reviled sex thriller "Obsessed" (2009), where she played a temp office worker who stalks her married boss (Idris Elba).
View the full website biography of Ali Larter.