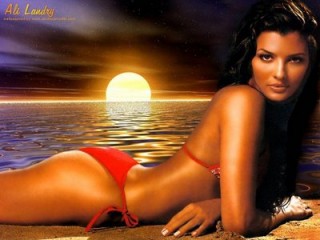 Ali Landry
Date of birth : 1973-07-21
Date of death : -
Birthplace : Breaux Bridge, Louisiana, USA
Nationality : American
Category : Arts and Entertainment
Last modified : 2011-02-11
Ali Landry is a former Miss USA (1996),tv personality, model and actress. She is perhaps best known as the Doritos Girl from her 1998 Super Bowl commercial, and for her portrayal of Rita Lefleur on the UPN sitcom Eve. In 1998, she was named by People magazine as one of 50 most beautiful people in the world .

Landry's first foray into the pageant world came in 1990 when the high school beauty was named Miss Louisiana Teen USA. After high school, Landry attended the University of Southern Louisiana (now University of Louisiana at Lafayette) before representing her home state in the Miss USA competition and taking home the crown. She also competed that year in the Miss Universe pageant and finished among the top six finalists. She would later co-host the "Universe" competition, first in 2000 (for which she would receive a 2001 ALMA nomination), followed by 2002.

Landry's first acting roles came in 1997 with small roles in episodes of "Clueless" (UPN/ABC, 1996-99) and the syndicated "Conan" (1997) series, as well as a regular role on the NBC soap opera "Sunset Beach" (1997-99). She also gained early hosting experience on the short-lived sketch comedy show "Prime Time Comedy" (NBC, 1998) and UPN's clip show "America's Greatest Pets" (1998).

That same year, Landry received what was probably her greatest post-pageant exposure as the star of a Doritos commercial (co-starring future "Will and Grace" star, Sean Hayes) which put her gymnastic training to excellent use. As an attractive woman just doing her laundry but whose passion for the snack nearly defies physical law, Landry did the splits in such fashion, that American men collectively drooled. Originally aired during the Super Bowl (a second was broadcast for the '99 Super Bowl) the memorable ad launched Landry into the spotlight. The attention was not without its downside, though, as she was pelted on more than one occasion with bags of Doritos by overeager fans.

Though some of Landry's roles were based strictly on her looks (in the pilot for the short-lived 1998 Fox series "Significant Others," she is billed simply as "Gorgeous Woman"), she handled character parts as well, including a multi-episode arc on the syndicated "Pensacola: Wings of Gold" (1997-2000) and a recurring role on "Felicity" (WB, 1998-2002) as Natalie, the unexpected spouse of series regular Scott Foley.

Things were looking up in Landry's personal life as well. In 1998, Landry met former "Saved by the Bell" (NBC, 1989-93) Mario Lopez while serving as a commentator for the Miss Teen USA pageant. After a six year courtship, often profiled by tabloids, the pair were married in 2004. Unfortunately, the union was annulled shortly thereafter; reportedly after Landry learned her new husband had cheated on her during the bachelor festivities. They couple also appeared together in the interesting low-budget feature film, "Outta Time" (2002).

Landry remained a consistent presence in low-budget and independent features, as well as network and syndicated television. In addition to her sole big-screen feature, the 2000 beauty pageant comedy "Beautiful," she also appeared in the horror film "Soulkeeper" (2001), the National Lampoon sci-fi sex comedy "Repli-Kate" (2002), in which she played a genetically created "perfect woman," and a Playmate-style model in the juvenile "Who's Your Daddy?" (2003). Meanwhile, her post-2000 television work included hosting the reality TV-revenge series "Spy TV" (NBC 2001-02), co-hosting the concert series "Farmclub.com" (USA Network, 2001), and the syndicated "Full Frontal Fashion" (2002-03). Landry returned to acting in 2003 with a pair of performances on the short-lived Fox action series "Fastlane" (2002-03) before joining the cast of "Eve" (UPN, 2003-06) as one of rap-star Eve's girlfriends, a former model.

In 2005, Landry reportedly met Mexican director Alejandro Gomez Monteverde in a church Bible study. Putting her painful brief first marriage behind her, she and Monteverde got engaged on Memorial Day of that year before tying the knot in early 2006. She is among the cast of his next feature, "Bella."

Doritos - Super Bowl commercial:



View the full website biography of Ali Landry.