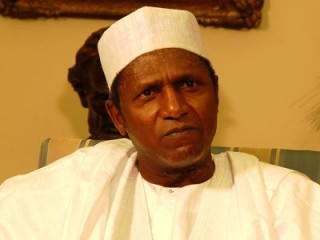 Alhadji Abubakar Imam
Date of birth : -
Date of death : -
Birthplace : Kagara, Northern Nigeria
Nationality : Nigerian
Category : Famous Figures
Last modified : 2010-11-22
Alhadji Abubakar Imam (1911-1981), Nigerian writer and teacher, was a pioneer in the establishment of modern Hausa literature. The Hausa peoples of northwestern Nigeria and adjacent southern Niger constitute the largest ethnic group in the region. Islamic traditions profoundly influence the Hausa culture
Alhadji Abubakar Imam was born at Kagara, Northern Nigeria, in 1911. After a traditional Arabic education, he enrolled at the Katsina Training College in 1927 to become a teacher.
In 1933, the Translation (later Literature) Bureau in the Hausa province of Zaria announced a competition that led to a dramatic change in the long history of Hausa literature. Composition had traditionally been either oral or in Arabic script, but the publications from Zaria initiated the use of the Roman alphabet for creative works. This marked the beginning of prose fiction as a recognized art form in the land of the Hausa.
Imam won second prize in the competition for Ruwan Bagaja (The Water of Cure), a quest story whose hero experiences many adventures on his various travels. While the book was being printed, Imam left his teaching post and joined the Translation Bureau, where he composed a three-volume collection of tales, Magana Jari Ce (The Art of Speech Is a Capital Investment), for which he drew on Arabian, European, and Oriental sources, retelling the stories in typical Hausa narrative style. Thus began Iman's long career devoted to the educational, political, and literary betterment of his people.
In 1939, Imam was appointed editor of a government-sponsored journal, Gaskiya Ta Fi Kwabo (Truth Is Worth More than a Penny). This first Hausa newspaper proved very popular, partly because of its vivid writing style, so different from the highly formal and traditional Hausa prose.
In 1943, during a visit to England as a member of a West African press delegation, Imam asked British authorities for more reading materials to educate the Hausa people and as an outlet for public opinion in Northern Nigeria. This led to the formation of the Gaskia Corporation in 1945. Imam became head of its book section in 1951, thus becoming the first Northern Nigerian to be given a senior service post, a status previously reserved for white officials.
A talented and versatile writer, Iman was fluent in Hausa, Arabic, and English. His fame as a Moslem preacher and as a teacher brought about his election to the House of Representatives under the 1951 Nigerian constitution. Although a prominent Hausa poet, Sa'adu Zungur, once called him the "political pilot of Northern Nigeria," Imam gave up political activity in 1954 and devoted himself to improving the civil service and promoting literature in Northern Nigeria.
After pioneering in prose fiction, Imam was one of the first Hausa authors to produce formal stage drama. His non-fiction publications include works on Islam and on Muslim history, a life of the prophet Mohammed, and accounts of his 1943 journey to the United Kingdom and of his pilgrimage to Mecca in 1953.
From 1959 to 1966, Iman was a member of the Public Service Commission of the northern region of Nigeria. Thereafter, the country was plunged into a devastating civil war when the eastern region seceded and called itself the Republic of Biafra. Iman held public service posts over the next several years of military rule, including public service commissioner of the north central state.
By the time Nigeria returned to a peaceful civilian government in 1979, Iman was in ill health. He died at the University of Zaria in 1981. Two years later, Nigeria once again was plunged into a long series of military coups that successfully ended democratic rule.
There is no biography of Imam. Some information on his life is in Sir Bryan Sharwood Smith, Recollections of British Administration in the Cameroons and Northern Nigeria 1921-1957: "But Always as Friends" (1969). Brief mention is made in James S. Coleman, Nigeria: Background to Nationalism (1958); John P. Mackintosh, Nigerian Government and Politics
(1966); and Billy Dudley, Parties and Politics in Northern Nigeria (1968).
View the full website biography of Alhadji Abubakar Imam.