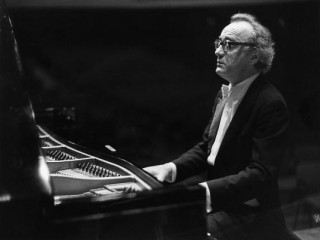 Alfred Brendel
Date of birth : 1931-01-05
Date of death : -
Birthplace : Wiesenberg,Czech Republic
Nationality : Austrian
Category : Arts and Entertainment
Last modified : 2011-10-31
Alfred Brendel is an Austrian pianist,poet and author.
By the 1990s, Alfred Brendel was regarded as the foremost living classical pianist in the world. A name chiefly familiar to fans of classical music only, Brendel is far removed from the stereotype of the eccentric, flamboyant concert pianist in the vein of Arthur Rubinstein or David Helfgott. Furthermore, his performance repertoire is lacking in the more popular classics that are regarded as "crowd-pleasers," and on stage Brendel is quite restrained in demeanor. "Perhaps no other pianist of our time has so willfully avoided the ordinary channels to success and formulas for stardom and still arrived at the top of his profession," wrote Bernard Holland in a 1977 New York Times article.

Brendel is of Austrian heritage. He was born in 1931 in Wiesenberg, a locale in Moravia that now belongs to the Czech Republic, but at the time of his birth was home to many German-speaking peoples. When he was three, his father abandoned his profession as an architect and took the family to the Adriatic coast of Yugoslavia; on a resort island called Krk he ran a hotel. There, the young Brendel loved to entertain guests by operating the hotel's phonograph records; he sang along with the operas, which no doubt delighted the guests. Brendel also recalls being quite fond of German cabaret music of the era as a small child.

After a few years on Krk, the family moved to the city of Zagreb, where his father then ran a cinema. It was here that at the age of six Brendel began piano lessons, as most children of his middle-class background did at the time. By the time he was eleven, it became obvious that he possessed a great talent for the instrument. But World War II brought hardship, and in 1943 the family relocated once more to Graz, Austria. As a teenager, Brendel was recruited to dig ditches for the war effort, but suffered frostbite and managed to return the safety of home as a result of his mother's efforts. He studied formally only till the age of sixteen, receiving a state diploma in music from the Graz Academy of Music in 1947. His studies were also rounded out with courses in composition and conducting, and like many other musical prodigies, he wrote his own works for the piano. One of these was performed in his debut recital in 1948 in Graz, an evening billed as "The Fugue in Piano Literature"; he also played selections from Bach, Liszt and Brahms.

Brendel's talents were not limited to music, however: at the time of his first recital, he was also enjoying a solo show of his watercolors in a Graz gallery just a few blocks away. His career as a pianist, however, began in earnest in 1949 when he won a tough European competition for pianists called the Concorso Busoni, held in Bolzano, Italy. For the next few years, Brendel alternated intermittent master classes with renowned musicians of his day, such as Paul Baumgartner, Eduard Steuermann, and Edwin Fischer, with a great deal of self-study and practice. He would later term Fischer as perhaps the greatest impact on his style; he made several extended stays in Lucerne, Switzerland to study with him in 1949, 1950, and 1956.

But Brendel's virtuosity did not immediately pack concert halls, nor did his agents have an easy time booking engagements for him during these early years. Part of the blame perhaps lay in his playing style, once Brendel saw himself on television, and was surprised to see that his demeanor, in comparison to his playing style, was anything but restrained. He learned to tame his stage flailings and grimaces by practicing with a mirror.

And yet that same quiet, serious interpretation of the works of the great composers would also hinder Brendel's success. Audiences adore the flamboyant classical pianist,the David Helfgott, for instance,subject of the 1996 film Shine,or the Ignatius Paderewsky, a popular international figure in the interwar years who also headed the Polish government in exile,because they are entertaining to watch and were known to take great liberties in interpreting the classics. Brendel, however, was dedicated to performing the sonatas of Ludwig van Beethoven, or those of Franz Schubert or Johannes Brahms, with as much faithfulness to the composer's original intent as possible.

Brendel, who eventually abandoned writing his own music, has said that he never really expected a career as a renowned pianist. He debuted in London in January of 1958, and in North America in Montreal in 1961; three years later, he played New York City for the first time at Hunter College. Over the next few years, he appeared in several dozen concert engagements per year, often with famed orchestras in Vienna, Berlin, London, and New York, among other top cities. During these years he became associated with the Hammerklavier sonata from Beethoven, a very difficult piece. But it was his recorded work for which Brendel first made a name for himself: he became the first pianist to record Beethoven's entire set of works for the piano. These sonatas appeared on the Vox label between 1962-65.

Brendel later re-recorded the complete cycle again in the 1970s for Philips, which has been his label for much of his career. He has also performed the entire body of sonatas on a few occasions. For Philips he has also recorded the works of Schubert and Mozart, and once more recorded the Beethoven works, making him possibly the only performer to ever do this three times in his career. This 10-CD set appeared on Philips in 1996. In some cases such works were re-recorded because of great advances in recording technology, a topic which Brendel addressed in a 1996 interview with Stephen Plaistow for the British journal Gramophone. "There are cases where I've found that the old tapes with their slightly dusty sound are more natural than the digitally recorded and all-too-clean sounds that were considered more realistic," Brendel said.

Mid-career, Brendel often performed extensively throughout the season, and regularly sold out venues such as New York's Carnegie Hall. During the 1982-83 performing calendar, he gave 77 recitals in eleven cities across two continents. His repertoire, in addition to the Beethoven sonatas, was generally confined to the brooding, nineteenth- century Central European composers. In light of this, one of Brendel's most notable achievements has been his efforts in reviving interest in the piano sonatas of Schubert, written in the 1820s and then largely ignored in the classical canon. Brendel included many of these works in his tour of the Soviet Union and Japan in 1988. The complex fugues of J. S. Bach have also been a favorite. The few times Brendel has ventured outside this repertoire have been in performing the more ebullient works of Franz Liszt and the twentieth-century compositions of a fellow Austrian, the modernist Arnold Schoenberg.

Brendel has been awarded a gold record, which he received when he passed the million-selling mark in 1978. Until 1972, he lived in Vienna, and occasionally conducted the master class both there and in visiting professor stints abroad. In 1972 he relocated to London, and concentrated his energies on music rather than teaching. He prefers to spend the majority of his time immersed in the study of scores, which is a requisite for both his concert recitals and hours in the recording studio. Poring over the scores helps him determine what the composer meant, and for this academic approach, for not injecting his own personality into the work, he has suffered criticism.
On the other hand, his peers are far more forgiving: "When I'm with Brendel, I know I'm in the presence of a man of genius," the renowned political scientist Sir Isaiah Berlin told A. Alvarez in a 1996 New Yorker profile on the pianist. Alvarez termed Brendel's style an example of "selflessness.... He has a wonderful grasp of the structure of each piece, of the way it develops emotionally as well as intellectually, and this makes his playing strangely inward, as though he were following the composer's own train of thought and enabling the audience to share in the act of creation," the essayist wrote in the New Yorker.

Still an avid art-lover, in his spare time Brendel visits galleries and museums, and reads prodigiously. He lives in the Hampstead section of London and has a house in Dorset as well that boasts a swimming pool, which he uses to relieve his back problems,a common occupational hazard for pianists in later years, especially ones of above-average height such as Brendel. He collects art from around the world, and is especially fond of ethnographic works, but loves morbid cartoons as well, particularly the work of Edward Gorey and Gary Larson. He has published two collections of essays,Musical Thoughts and After-Thoughts, (1977) and Music Sounded Out (1990); he is an occasional contributor to the New York Review of Books.

Brendel is the recipient of numerous Grammy Awards for his records, and has been feted with several international prizes. He has received honorary degrees from London, Sussex, Oxford, and Yale universities, and was honored with the title of Knight of the British Empire in 1989. In London, he has also been made an Honorary Bencher of the Middle Temple of the Inns of Court, London, England, which very few outside the legal profession ever receive. In honor of Brendel's 65th birthday in 1996, his label issued a 25-CD deluxe limited edition, The Art of Alfred Brendel, which provided a comprehensive look at his career and included selections from the works of Beethoven, Brahms, Haydn, Liszt, Mozart, Schubert, and Schumann. "What particularly satisfies me about these achievements is that I owe my reputation not to the media or to the power of record companies but to my own playing," Brendel told Bernard Holland in the New York Times.

In recent years, Brendel has worked with younger pianists such as Paul Lewis, Mark Gasser, Roberto Carnevale, Andrew von Oeyen, Till Fellner and, most recently, Kit Armstrong.He has also performed in concert and recorded with his son Adrian.

In November 2007, Brendel announced that he would retire from the concert platform after his concert of 18 December 2008 in Vienna, which featured him as soloist in Mozart's Piano Concerto No. 9 in E flat; the orchestra (the Vienna Philharmonic) was conducted by Sir Charles Mackerras. His final concert in New York was at Carnegie Hall on 20 February 2008, with works by Haydn, Mozart, Beethoven, and Schubert.

Selected discography:
-On Philips Classics (Netherlands) or Philips USA
-The Art of Alfred Brendel (25-CD set), 1996.
-Beethoven: The Five Concertos for Piano , 1996.
-Alfred Brendal Recital .
-Amnesty International Concert .
-Beethoven: Sonatas op. 31, no. 1 in G Major, no. 2 in D Minor, no. 3 in E-flat Major .
-Beethoven: Sonata in C Major, op. 53; Sonata in F Major, op. 54; Sonata in A Major, op. 101.
-Beethoven: 32 Sonatas (11-CD set).
-Beethoven: Variations on a Theme by Diabelli, op. 120 .
-Brahms: Concerto No. 1 in D Minor, op. 15 .
-Haydn: Sonatas .
-Liszt: Annees de Pelerinage .
-Mozart: Concertos .
-Mozart: Sonatas in E-flat Major, K. 282; Sonata in F Major, K. 533/494; Fantasy in C Minor, K. 475; Rondo in A Minor, K. 511 .
-Schubert: Impromptus D. 899 and D. 935 .
-Schubert: Sonata in B-flat, D. 960; Wanderer Fantasy .
-Schubert: Sonata in C Minor, D/ 958; Moments Musicaux, D. 780 .
-Schubert: Sonata in D Major, D. 850, Sonata in A Minor, D. 784 .

Selected writings
-Musical Thoughts and After-Thoughts , Princeton University Press, 1977.
-Music Sounded Out , Robson Books, 1990.






View the full website biography of Alfred Brendel.