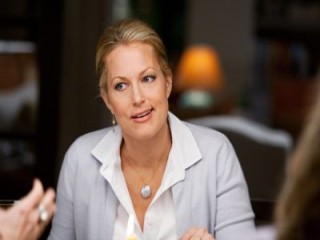 Alexandra Wentworth
Date of birth : 1965-01-12
Date of death : -
Birthplace : Washington, D.C., United States
Nationality : American
Category : Arts and Entertainment
Last modified : 2011-06-18
Alexandra Wentworth is an American comedienne, actress and author, currently starring in Head Case on Starz.

Alexandra Wentworth was born on Jan. 12, 1965, growing up in a political household in the Georgetown area of Washington D.C. that included an older brother and sister and three half-siblings. Her mother was a social secretary for Nancy Reagan; her father, a staff reporter for The Washington Post; and her stepfather a Washington correspondent for The London Times. Wentworth was always surrounded by dinnertime chatter about politics and current events – serious subjects for which she found an antidote in performing. As a child, she would often act and dance for her parents and her mother's guests, which included the likes of Henry Kissinger, Jackie Kennedy-Onassis and Richard Nixon. At the age of 12, Wentworth went her own way, beginning to take an acting class run out of a local house and already had a clear idea about her career aspirations.

Wentworth had hoped to pursue an acting career right after high school, but agreed to go to college at her parents' request. She compromised by attending Bard College in upstate New York to learn acting, then moved to New York City to earn her degree from New York University's Tisch School of the Arts. Wentworth acted in student films and onstage in works by the likes of Chekov, but expanded her training by studying at New York's Circle in the Square Theatre and San Francisco's American Conservatory. While in New York, she and a friend set up their own production company, during which time she wrote and starred in a one-woman show called "Deaf, Blind and PMS." The strength of the show, in turn, landed her an agent in Los Angeles, prompting her to head west at the turn of the 1990s.

In L.A., Wentworth took on a myriad of creative challenges. Her first television appearance was on the NBC soap, "Santa Barbara" (1984-1993). Comedic by nature, she sensed her abilities were not only not suited to daytime drama, but to stand-up comedy as well – an experience she found somewhat restricting after a handful of attempts, preferring sketch comedy as a member of the famed improv group, The Groundlings. Her ability to accurately mimic such celebrities as Sharon Stone, Hilary Clinton, Cher and Cindy Crawford helped land her an audition with "In Living Color," Fox's multiracial sketch comedy series. She was chosen to join the cast from a pool of applicants that included at least 5,000 hopefuls. From 1992 until the show's demise in 1994, Wentworth did her impressions alongside original characters like Candy Cane, and her personal favorite, Super Bimbo, whose alter ego was the clumsy supermodel Sue Goober.

In 1992, Jay Leno took the late-night reigns with NBC's "The Tonight Show with Jay Leno." Wentworth spent two years as a recurring correspondent on over 100 sketches, and at one point, her prominent visibility put her as a frontrunner for the role of Phoebe Buffay on NBC's in-development-at-that-time sitcom, "Friends" (1994-2004). Though the role famously went to Lisa Kudrow, Wentworth was snatched up for the female lead role of Lee Emory, a tough-minded locker reporter on Fox's sports comedy "Hardball" (1994). The show was short-lived, ending after just seven episodes, but Wentworth's curious ascent within the Hollywood ranks would continue.

It was in August of 1994 that Wentworth first met NBC's newest primetime star, Jerry Seinfeld. During a baseball game in their mutual studio parking lot, Seinfeld had accidentally hit a ball that smashed her car's windshield, prompting the guilt-ridden comic to track her down with an offer to pay for a rental car. The next year, she was a guest star on an episode of "Seinfeld" (1990-98), playing the girlfriend with whom he maddeningly shared the term of endearment "schmoopie."

While Wentworth's quick wit had not gone unnoticed by Hollywood, her career at times seemed to be a series of near-miss opportunities. By 1995, she was in the midst of finalizing a deal with ABC to host her own late-night talk show, when the network was suddenly acquired by Disney in August. The job offer was pulled from the table and the network chose to lure Comedy Central's hot talk show "Politically Incorrect" (1994-2002) into the time slot instead. One year later, she was acting opposite Tom Cruise in Cameron Crowe's "Jerry Maguire" (1996), but her minor role was frustratingly cut down to a fraction of its original size. Her dreams of late-night television show hosting duties were somewhat revived when she was also one of several subs for the recently-departed Greg Kinnear on "Later with Greg Kinnear" (NBC, 1994-2000).

Wentworth resolved to remedy these career setbacks by working. In May of 1997, she was a sexy foil for Jeff Daniels in the big screen comedy, "Trial and Error" (1997) and also appeared onscreen in "The Real Blonde" (1997). Warner Books had already signed her to a book deal after being a fan of her "Tonight Show" appearances, and she managed to make light of her upbringing when the tongue-in-cheek The WASP Cookbook hit the bookshelves in October to positive reviews. The book's publishing would lead to her become a sometime columnist for magazines such as Cosmopolitan, Marie Claire and Vogue. That November, Wentworth was at the forefront of television screens once more as the co-lead of Disney's telefilm, "The Love Bug" (ABC, 1997) remake.

Soldiering ahead, Wentworth starred with Jim Belushi in a CBS pilot, "Better Days," in 1998, which didn't make the network schedule, before landing a small role as the hard-edged girlfriend of Ron Livingston in the cult comedy hit "Office Space" (1999). She put in a two-episode arc on the WB's teen drama "Felicity" (1998-2002), before segueing back to the feature film world in a pair of independents, "American Virgin" (2000) and "Meeting Daddy" (2000).

Midway into 2001, Wentworth's personal and professional life began to take some unexpected detours. That May, she found a parallel journeyman in former President Clinton advisor George Stephanopoulos, when the two were fixed up by a mutual friend. They went out on two dates on their first day of meeting and three months later were engaged. Three months after that, in November of 2001, they were married, and shortly after their honeymoon, were expecting their first child. Wentworth opted to take time off to spend with her growing family, which now included daughter Elliott Anastasia, but was soon signed on to host a new CBS morning show. "Livin' It Up with Ali and Jack" (2003-04) paired her with Jack Ford, a former ABC newsmagazine show correspondent. She commuted back and forth from her home in Washington D.C. to New York, but despite her deft handling of the type of gentler morning banter reserved for the "Live with Regis and Kelly" crowd, the pairing did not gel with audiences. The series eked out just one season on the air.

By June 2005, Wentworth and Stephanopoulos were the parents of a second daughter, Harper Andrea, and Wentworth was weighing her next opportunities. She appeared as herself as a commentator for various E! Network and VH1 specials, and in 2007, starred and co-executive produced the series of short episodes "Head Case" for the Starz! network.

View the full website biography of Alexandra Wentworth.