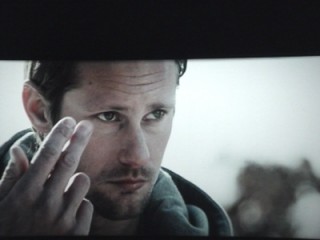 Alexander Skarsgard
Date of birth : 1976-08-25
Date of death : -
Birthplace : Stockholm, Sweden
Nationality : Swedish
Category : Arts and Entertainment
Last modified : 2011-06-18
Alexander Johan Hjalmar Skarsgård is a Swedish actor. He is best known for his roles as vampire Eric Northman on the HBO series True Blood, a male model in Zoolander and Brad Colbert in the HBO miniseries Generation Kill.

Alexander Skarsgard's mother is My Skarsgard, and his father is Swedish actor Stellan Skarsgard, who has appeared in such films as The Hunt for Red October, Good Will Hunting, Pirates of the Caribbean and Mamma Mia! With such a pedigree, it was only natural for Alexander Skarsgard to pursue acting as a child. At age seven, in 1984, he appeared in his first film, an adaptation of the popular children's book Ake and his World.

After acting in several other minor film and television roles as a child, Skarsgard had a breakthrough when his 1989 film The Dog That Smiled became a surprise hit and made the young actor, still only 13 years old, a national celebrity. Unlike most teenage boys who would be thrilled to become famous, Skarsgard was put off. "The fame was scary to me," he recalls. "When people stare at you and you read about yourself in papers — at 13 it just got very confusing. I thought that if this is what it's like to be famous, I don't like it one bit."

Skarsgard quit acting and for the next seven years, he says he "did nothing." After this prolonged period of goofing off with his buddies, at the age of 19 he joined an antiterrorist unit in the Swedish marines. "It was national service," he says. "Although when I did it, it was quite easy to get out of. Most of my friends didn't do military service. But they spent those 15 months hanging out drinking and smoking pot. The reason I did it — I was 19 and grew up in downtown Stockholm. It's like any other European city, and I was a city kid. If it rains, you don't go outside. I wanted the challenge. I was curious. I wanted to see what it would do to me to go through all of this." During his 15 months in the marines, he trained in hand-to-hand combat, small-squad battle tactics and anti-sabotage attacks. "I hated it most of the time," he admits. "A lot of the guys I served with wanted to be James Bond, whereas I was a hippie. But it was good for me."

After his stint in the military, Skarsgard and a friend decided to enroll at Leeds Metropolitan University in England. After those tough months in the marines, he explains, "I just needed a break, to be able to chill. So did my friend. So we went there and studied, but it was basically just hanging out and having fun. We lived in this basement with no heating, sleeping in sleeping bags, and shared a bathroom with a drug dealer, who was obsessed with the queen of Sweden for some reason… It was kind of scary." Skarsgard spent six months mostly partying at Leeds until, he says, "These thoughts came up — what do I want to do with my life? Acting came up again and I thought maybe I should give it a last go."

Skarsgard moved to New York City to study theater for a year at Marymount Manhattan College and then returned to his native country to resume his acting career. In 1999, a full decade after he quit acting, Skarsgard began pursuing a variety of Swedish film and television roles. He made his American film debut as an airheaded male model in the wildly popular 2001 comedy Zoolander. He then returned to Sweden to write and direct To Kill a Child (2003), an acclaimed short film featured at the Tribeca and Cannes film festivals.

Although he was very successful in Sweden over the next several years, he longed to return to the American screen. The opportunity came when he was cast as Marine Sergeant Brad "Iceman" Colbert in the acclaimed HBO miniseries Generation Kill, which was based on Evan Wright's book about the 2003 American invasion of Iraq. The show was shot over seven intense months in Namibia, South Africa and Mozambique. It received rave reviews, and Skarsgard earned critical acclaim for his performance.

Asked whether his experience in the Swedish marines prepared him for the role, Skarsgard says, "My training was very similar to what those guys went through — the details, the level of respect and how you handle your weapons and gear. It was very helpful for me to have gone through that in the Swedish marines… That being said, it's still the Swedish marines. We don't go to Iraq. People don't shoot us… Our last war was 200 years ago."

Very shortly after filming Generation Kill, Skarsgard was cast in Alan Ball's HBO series True Blood. He plays Eric Northman, a powerful 1,000-year-old Viking vampire locked in a love triangle with another vampire (played by Stephen Moyer) and a human waitress (played by Anna Paquin). Skarsgard, who frequently appears in the buff in love scenes on the show, has accrued throngs of adoring fans.

Alexander Skarsgard is unmarried and without children, and although various media outlets have speculated that he dated True Blood costar Evan Rachel Wood, neither has confirmed the reports.

Long a critically acclaimed and popular actor in Sweden, his prominent role on HBO's True Blood has helped make Skarsgard a full-fledged star in the United States as well. Fans can see him in two upcoming American films, Straw Dogs, with James Marsden and Kate Bosworth, in 2011, and Battleship with Liam Neeson in 2012. He is also set to appear for the first time with his father, Stellan, and opposite Kirsten Dunst in Melancholia, a movie directed by Lars von Trier.

View the full website biography of Alexander Skarsgard.