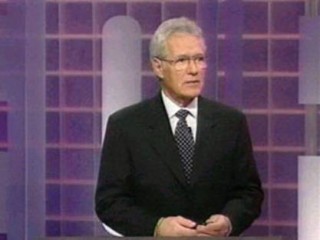 Alex Trebek
Date of birth : 1940-07-22
Date of death : -
Birthplace : Sudbury, Ontario, Canada
Nationality : Canadian
Category : Famous Figures
Last modified : 2010-09-07
Alex Trebek, born July 22, 1940 in Sudbury, Ontario, Canada is an Canadian television game show host.


Sidelights
For more than a generation, when high-IQ game show fans think of the ultimate quiz show, one person immediately comes to mind: the debonair and quick-witted host of
Jeopardy!
, Alex Trebek. Trebek is a Canadian-American cultural icon who has had a career with as many ups and downs as the most exciting episode of his series. Born on July 22, 1940, in the Ontario suburb of Sudbury, Trebek graduated from the University of Ottawa in the early 1960s with a bachelor's degree in philosophy, and entered the broadcasting world as a correspondent and television presenter for the Canadian Broadcasting Corporation (CBC). While working for the CBC, Trebek covered news events and interviewed political and celebrity figures, his French-speaking skills giving him a leg up during the 1960s, when controversy over Quebec separatism was building. On a much lighter note, Trebek broadened his base by hosting several game and teenage-variety shows in Canada, including Music Hop, Vacation Time, Outside/Inside, and the long running Canadian quiz show Reach for the Top, which ran from 1966 until 1973.
That year, the telegenic and handsome CBC star caught the eye of one of the most powerful new programming executives in the United States: The newly appointed head of NBC daytime, the controversial Lin Bolen. Bolen, who was roughly the same age as Trebek, was one of the first women to hold such a powerful position within the film or television industry. She was also widely considered, in Hollywood, to be the model for Faye Dunaway's amoral, ratings-mad programmer in the classic 1976 film satire, Network. In an interesting irony, the show that Trebek would later become synonymous with, Jeopardy! was on NBC daytime (it originally ran from 1964 until 1975, with the late actor and broadcaster Art Fleming as host), and Bolen was looking at Trebek as a possibility to replace the show. Numerous articles and interviews quote Bolen as having made it a top priority to replace NBC's middle-aged, veteran talk and game show personalities like Dinah Shore, Bill Cullen, and Art Fleming with handsome and telegenic "young studs" to attract a younger and hipper audience. (Bolen herself offered no argument. Interviewed for an E! True Hollywood Story about Wheel of Fortune, she freely admitted that she decided to cancel Jeopardy!--despite its popularity--almost immediately upon taking her position, citing its aging "fifty-plus" audience and stodgy question-and-answer format as the main reason.)
Bolen's first assignment for Trebek was to host the 1973-74 NBC game show The Wizard of Odds, and no sooner was Odds cancelled than Bolen shifted Trebek to his most popular and successful show before Jeopardy!, High Rollers. Also in 1974, the now Hollywood-based Trebek married his first wife, Elaine Callei.
High Rollers was an immediate success, paired with NBC's biggest daytime hit, Hollywood Squares, and was so popular that it spawned a weekly nighttime edition in syndication. But in 1976, NBC went through yet another housecleaning of its daytime schedule, and High Rollers ended--although it would prove to be only temporary--in June of 1976. The syndicated version also expired by September.
Six months after the unexpected and premature demise of High Rollers, Trebek moved on to his sole effort for CBS, a short-lived guessing game called Double Dare. It gave way to CBS' intention to expand its soap operas by the spring, but a much higher profile job awaited Trebek almost immediately. In 1977, Trebek was called back to his native Canada for six months (off and on) to tape The $128,000 Question, an inflation-adjusted revival of the top-rated 1955-58 quiz show, The $64,000 Question. Along with High Rollers, this was by far Trebek's most memorable pre-Jeopardy! gig, as the once-a-week show was syndicated for the early evening prime time access, ensuring a far larger potential audience than daytime television.
Unfortunately, the show was quite troubled almost from the get-go. Producer Steve Carlin (who had produced the original Question in the 1950s, as well as working on shows with legendary comedian Jackie Gleason) thought that he had a firm commitment from the CBS-owned stations for his show, until CBS Standards & Practices overruled the deal. The original Question had been cancelled by CBS not due to failing ratings, but to suspicions that the show had been "rigged" to ensure that its most popular contestants would be brought back (as winners) week after week. Not only that, but CBS had since instituted a firm game-show winnings limit of $25,000 per contestant at the time (later abolished) which was, of course, a preventative measure against the "fixing" of future quiz shows.
Robbed of a spot on the CBS-owned stations and forced to go on lesser-rated, independent channels in the nation's largest cities, the new Question suffered from a highly curtailed budget and production values when it had debuted with its original host, Canadian television personality Mike Darrow, in the fall of 1976. It also struck many 1970s television and film critics as something of a throwback, compared to frantic, screaming-contestant game shows like The Price is Right and Name That Tune, and the venturesome humor and risqué situations on other '70s games like Candid Camera, Family Feud, Match Game, Hollywood Squares, The Newlywed Game, and The Gong Show.
After production on its second season ended in early 1978, The $128,000 Question was withdrawn by its syndicator, Viacom. Trebek returned to Los Angeles on a full-time basis, just in time to learn that NBC had realized its earlier mistake and was reviving High Rollers as the centerpiece of their morning lineup. With a bigger budget, more prizes, and the high-fashion supermodels Becky Price, Linda Hooks, and Lauren Firestone as hostesses, High Rollers seemed like it was headed for a long and prosperous run.
But like a losing game-show contestant, once again luck was not on Trebek's side. By 1978, NBC had fallen far behind both CBS and a rising ABC in the ratings, in both daytime and primetime television. New NBC chief Fred Silverman was cold to most of the game shows on their lineup, which were being beaten badly by their CBS and ABC competition or preempted on local NBC stations for syndicated and local shows. Silverman also had just signed a promising young comedian named David Letterman to an NBC holding contract, and needed to find a place for Letterman until Tom Snyder's contract for NBC's late-late night The Tomorrow Show ran out, and announced his intention to install Letterman in a short-lived daytime talk show (which ended up running only three months.)
On Friday, June 20, 1980, NBC wiped out half of their six daytime game shows to make room for Letterman, including High Rollers. Trebek would be off the air for a year, until returning in 1981 with two short-lived, low-budget games: the Canadian-produced trivia game Pitfall (syndicated in the United States), and the NBC daytime celebrity game Battlestars (known to some game show aficionados as "Hollywood Triangles," as it was a clear reworking of the just-ended Hollywood Squares). Pitfall ended before the 1981-82 season was out, and Battlestars was finished by the spring of 1983. Things were equally grim in Trebek's personal life. At the end of 1981, he and his first wife Elaine filed for divorce.
In 1984 talk and game show legend Merv Griffin announced that he was going to be syndicating a revival of his 1960s and '70s hit, Jeopardy! The previous year, Griffin had launched a syndicated nightly version of NBC's popular daytime hit Wheel of Fortune, which almost instantly shot to the Top Five of syndicated programs on the air. Griffin was eager to pair the red-hot Wheel with another entry, especially since he--approaching age 60--was getting ready to retire from his long-running, top-rated syndicated talk show (he ended it in 1986.)
Since original Jeopardy! host Art Fleming was 63, he was not a serious candidate in the eyes of modern-minded syndicator King World. Griffin needed a modern, new host for the updated quiz show, and none other than movie and television legend Lucille Ball suggested the perfect choice. In a 2003 interview with Larry King, Merv revealed that Lucy had been a huge fan of High Rollers, and freely told Merv how much she loved Trebek when Merv was developing the Jeopardy! revival.
In September of 1984, Jeopardy! premiered on dozens of stations across the United States and Canada. With syndicator King World aggressively pairing the show with league-leading hit Wheel of Fortune, after a slow start initially, Jeopardy! began to take off. By the end of the 1980s, Jeopardy! and Wheel had knocked off almost all other syndicated game shows in the early-evening time slot. Only Family Feud remained as direct competition, along with relationship-oriented reality shows like Love Connection and People's Court. Prime-time television shows such as The Golden Girls, Seinfeld, Beverly Hills 90210, and even The Simpsons did episodes where their characters competed on Jeopardy!, while the show was referenced on everything from Touched by an Angel to the 1992 movie White Men Can't Jump, in which Rosie Perez played a barrio girl hitting the books to prepare for going on television's toughest quiz show.
In contrast to his stormy first decade in U.S. broadcasting, Trebek seemed headed for smooth sailing in his personal life as the 1980s drew to a close. In April of 1990, Trebek married his second wife, real-estate businesswoman Jean Currivan, and the two would go on to have two children together, Matthew and Emily. He also added a daytime show to his duties, the revival of the 1958-78 "game of puzzles and prizes" Concentration, titled Classic Concentration, and briefly subbed as host of a short-lived 1990-91 revival of To Tell the Truth.
Even though Jeopardy! had beaten all of its game show competition, by the mid-1990s its own future began to look perilous. Station managers were becoming more and more conscious of demographics (the age and income profile of the viewing audience), and just as Lin Bolen had commented years ago, Jeopardy! and Wheel were increasingly becoming "50-plus" shows. Along with the established Entertainment Tonight, sensational tabloid television shows like A Current Affair, Access Hollywood, Extra, and Inside Edition, not to mention rerun packages of top-rated sitcoms, proved far more desirable for delivering younger, upscale audiences in syndication.
Two new trends in television came to the rescue at the end of the decade. In 1998, syndicator King World revived Jeopardy!'s old NBC stablemate Hollywood Squares, in a successful version starring future Dancing With the Stars host Tom Bergeron, and top-name guests like Whoopi Goldberg and Ellen DeGeneres. The show was a clear and immediate hit, and enjoyed a six-year run until 2004. Less than a year later, in the summer of 1999, ABC premiered a prime-time game with more than a passing similarity to Trebek's 1977-78 show, The $128,000 Question: the big-money quiz show Who Wants to be a Millionaire. Almost overnight, Millionaire became a national obsession, rocketing to number one in the ratings for ABC in 1999-2000, and setting the stage for the reality television explosion to come with Survivor and American Idol. Since Jeopardy! was seen on the ABC-owned stations in the nation's largest markets, things could not have been more compatible.
By the turn of the millennium, Trebek and Jeopardy! had become inseparable in the American (and Canadian) imagination. Late-night variety shows like Saturday Night Live and Mad TV made regular skits satirizing Jeopardy! Will Ferrell often played Trebek on Saturday Night Live, just as Eugene Levy had done on the groundbreaking Canadian television satire, SCTV, during Trebek's 1970s High Rollers days. As evidenced by the popularity of reality contests like Big Brother, The Biggest Loser, and Celebrity Apprentice, game shows had made a clear comeback by the time that genius contestant Ken Jennings made his record-breaking string of appearances on the show in the fall of 2004, becoming a celebrity in his own right after racking up a score of more than $2 million in winnings. Earlier that year, Trebek barely averted catastrophe when he fell asleep at the wheel of his car in the hills of California's central coastline, returning home after a brief winter vacation. His car flew 45 feet over an embankment and destroyed several mailboxes, but Trebek escaped relatively uninjured and no charges were filed.
In 2006, Trebek inspired a creative nonfiction best-seller by stand-up comedian and five-time Jeopardy! winner Bob Harris called Prisoner of Trebekistan, based on his adventures as a stand-up comedian with a photographic memory and his attempts to get on the legendary program. The next year, however, boasted a far more unpleasant shock when Trebek suffered a minor heart attack at age 67. Jeopardy! went on a brief taping hiatus to allow Trebek time to heal, and he fortunately did make a full recovery.
In December of 2009, a feature-film adaptation of the Bob Harris book, tentatively titled Prisoner of Trebek was announced with Tobey Maguire set to star as Harris. Trebek himself has received a star on the Hollywood Walk of Fame in 1999 and another one on the Canadian Walk of Fame in 2006. The official Jeopardy! Web site noted that, "Trebek is active with a number of educational organizations and charities. With World Vision, he has traveled to many Third World countries taping reports on the group's efforts on behalf of children around the world. He traveled with his family to Zambia where he adopted a village and helped build a school, three homes for teachers, and a medical facility."
In 2009 Trebek celebrated his 25th anniversary with Jeopardy!, which was still among syndicated television's top-rated programs. Though he was poised on the edge of 70, the snarky and erudite Trebek shows no more sign of slowing down than his rocket-paced game show.
PERSONAL INFORMATION
Various sources cite name as George Alexander Trebek, Giorgi Suka-Alex Trebek, or Georgi Suri-Alex Trebek; born July 22, 1940, in Sudbury, Ontario, Canada; immigrated to the United States, 1973; became a naturalized U.S. citizen, 1998; son of George Edward and Lucille (Lagace) Trebek; married Elaine Callei, 1974 (divorced, 1981); married Jean Currivan (in real estate), April 30, 1990; children: (from second marriage) Matthew, Emily. Education: University of Ottawa, B.A., 1962.
AWARDS
Emmy Award for outstanding game show host, Academy of Television Arts and Sciences, for Jeopardy!, 1989, 1990 (with Bob Barker), 2003, 2006, 2008; star on Hollywood Walk of Fame, 1999; star on Canadian Walk of Fame, 2006.
CAREER
Began hosting numerous game and talk/variety shows in Canada, including Music Hop, Vacation Time, Outside/Inside, Strategy, Pick and Choose, TGIF, and Reach for the Top, 1963-74; began hosting U.S. game shows in 1973, starting with The Wizard of Odds, NBC, 1973-74; High Rollers, NBC, 1974-80; The $128,000 Question, syndicated, 1977-78; Pitfall, syndicated, 1981-82; Battlestars, NBC, 1981-83; Jeopardy!, 1984--; Classic Concentration, NBC, 1987-91; Super Jeopardy!, ABC, 1990; To Tell the Truth (subhost), NBC, 1991. Numerous appearances in other television and film projects, mostly as self, including (television series) Mama's Family, Cheers, The Golden Girls, The Larry Sanders Show, Ellen, Blossom, Beverly Hills 90210, Dave's World, The Nanny, Ned and Stacey, The Weird Al Show, The Simpsons, Baywatch, Mad About You, Ladie's Man, Married to the Kellys, Celebrity Poker Showdown, and Family Guy. Feature film appearances (almost always as self or a parody of self) include Universe of Energy, WrestleMania VIII, Dying Young, White Men Can't Jump, Short Cuts, Jane Austen's Mafia, The Male Swagger, Random Hearts, Finding Forrester, Little Manhattan, and The Bucket List. Narrated Lifetime's Intimate Portrait, 2000, and PBS and CBC projects; spokesman for Colonial Penn Life Insurance.
View the full website biography of Alex Trebek.