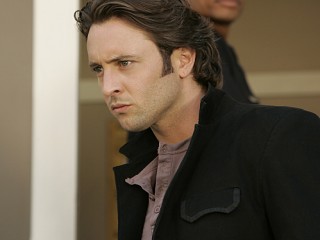 Alex O'Loughlin
Date of birth : 1976-08-24
Date of death : -
Birthplace : Canberra, Australia
Nationality : Australian
Category : Arts and Entertainment
Last modified : 2011-06-18
Alex O'Loughlin is an Australian actor, currently starring in CBS's Hawaii Five-0 as Lieutenant Commander Steve McGarrett. His best known earlier roles include Kevin Hiatt in The Shield, Mick St. John in Moonlight, Dr. Andy Yablonski in Three Rivers, and Stan in The Back-up Plan.

A dedicated actor in film, television and theater, he first gained popularity with his role of Jack Flange in the acclaimed 2004 Australian film, "Oyster Farmer." Drawing his first major critical notices, he played a man who takes on a new job as an oyster farmer to pay his sister's medical bills, only to discover that it is not enough and that he must hold up an armored car.

He followed his "Oyster Farmer" role with a part in the Australian made-for-television crime movie, "Blackjack: Sweet Science," followed by the horror film, "Man-Thing" (2005). Based on the lower-rung Marvel comic book character, he played Deputy Fraser in the film which, not surprisingly, was broadcast on the Sci-Fi Network before its release on DVD.

O'Loughlin's counted as his next project, the Australian low-budget thriller "Feed" (2005), in which he starred and produced. Teaming again with "Man-Thing" director Brett Leonard, O'Loughlin was credited with originating the idea for the story, centering on an investigator, played by O'Loughlin, in pursuit of a cyber-criminal suspected of killing women by force-feeding them to death.

While neither film was a critical success, O'Loughlin's star continued its steady rise Down Under, after appearing in the Australian television movies, "White Collar Blue" (2002) and "Love Bytes" (2004). He next starred in the Showtime miniseries, "The Incredible Journey of Mary Bryant" (2005), another homeland hit, in which he played Will Bryant, the husband of the title character – a woman who was among the first of the British convicts sentenced to an experimental penal colony in Australia in the late 1700s. For his performance, O'Loughlin won an Australia Film Institute Award for Best Actor. Proving himself on camera, O'Loughlin was also active in theater, acting in stage productions of "Jarrabin," "Country Music," "Saved," "The Fruits of Enlightenment," "Bodyline – in Transit," "Faust is Dead" and "Face to Face."

O'Loughlin had hoped to land the part of the new James Bond, in "Casino Royale," (2006) and auditioned for the role, only to lose out to Daniel Craig. Instead, his big-screen U.S. debut was decidedly more modest, as one half of a kissing couple in the Christmas romantic comedy, "The Holiday." But O'Loughlin was still set to make his mark stateside, after winning a pivotal role on "The Shield" (FX, 2002-). While serving as an ostensible replacement for a beloved character who had been killed off in the season five finale – Det. Curtis Lemansky (Kenneth Johnson) – may not have been the dream role for an actor new to a show already in its sixth season, O'Loughlin could not have come aboard at a better time. Being dropped into a super-charged storyline that promised higher ratings and more critical attention than ever before, O'Loughlin played a former Internal Affairs officer newly assigned to the Strike Team, an elite and often corrupt special unit lead by Vic Mackey (Michael Chiklis).

Continuing his upswing, O'Loughlin returned to the big screen with the 2007 teen thriller, "Invisible" – the tale of a boy who returns to his high school as an unseen ghost. He also appeared in "August Rush" (2007) a dramatic fairy tale starring Keri Russell and child star, Freddie Highmore.

He is also the current ambassador for Donate Life America.

View the full website biography of Alex O'Loughlin.