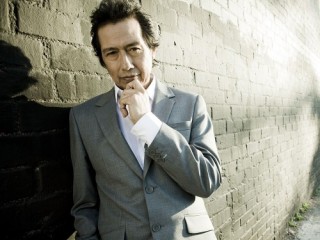 Alejandro Escovedo
Date of birth : 1951-01-10
Date of death : -
Birthplace : San Antonio, Texas
Nationality : American
Category : Arts and Entertainment
Last modified : 2011-01-31
Alejandro Escovedo is an American Country singer-songwriter.

Alejandro's family tree includes former Santana percussionist Pete Escovedo and Pete's daughter Sheila E (also Prince's former drummer and later a pop star). He began his music career with the Nuns, a mid-'70s punk band based in San Francisco. He co-founded the pioneering cowpunk band Rank and File in 1979, which moved to Austin, TX, in 1981 after a stint in New York City. The band released Sundown on Slash Records in 1982, but shortly after, Escovedo left to form the True Believers with brother Javier.

The band recorded two albums for EMI and toured the country, often as an opening act for Los Lobos. However, EMI opted not to release the second album, which eventually led to the group's breakup. (It eventually surfaced as a bonus item when Rykodisc reissued the first set on CD in 1994.) Escovedo released a solo album in 1992 on Watermelon Records, Gravity, uniting his wide variety of styles; the album was produced by Stephen Bruton of Bonnie Raitt's band. Escovedo also began gigging periodically with the band Buick MacKane, which fused old-school punk with '70s glam rock; after Rykodisc released Escovedo's With These Hands in 1996, they followed it up with Buick MacKane's long-awaited album. After Escovedo parted ways with Rykodisc, he signed in 1998 with the Chicago-based alt-country label Bloodshot, which released the live album More Miles Than Money: Live 1994-1996 and the acclaimed studio set A Man Under the Influence.

In April 2003, Escovedo collapsed following a show in Phoenix, AZ, after which it was subsequently revealed that he had been diagnosed with Hepatitis C in the late '90s but had not sought treatment. An outpouring of support from musicians led to a series of successful benefit concerts to help pay Escovedo's medical expenses and keep his music before the public, followed by a tribute album, Por Vida: A Tribute to the Songs of Alejandro Escovedo, which was released in 2004. In 2006, Escovedo released Boxing Mirror and toured with the Alejandro Escovedo String Quintet to promote the album. His next album, Real Animal, was produced by Tony Visconti and released in June 2008. Escovedo re-teamed with Visconti for 2010's Street Songs of Love.

Some Selected Albums of Alejandro Escovedo:

* Gravity (1992)
* Thirteen Years (1994)
* The End/Losing Your Touch (1994)
* With These Hands (1996)
* More Miles Than Money: Live 1994-1996 (1998)
* Bourbonitis Blues (1999)
* A Man Under the Influence (2001)
* By the Hand of the Father (2002)
* Room of Songs (2005)
* The Boxing Mirror (2006)
* Real Animal (2008)
* Live Animal (2009)
* Street Songs of Love (2010)

Watch here Alejandro Escovedo's Street Songs music video:



View the full website biography of Alejandro Escovedo.