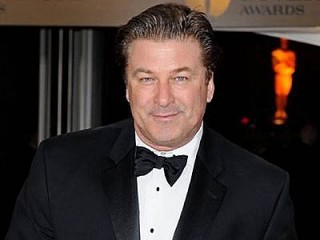 Alec Baldwin
Date of birth : 1958-04-03
Date of death : -
Birthplace : Massapequa, New York
Nationality : American
Category : Arts and Entertainment
Last modified : 2010-11-10
Alec Baldwin is the most famous of all the Baldwin brothers in Hollywood. Starting his career with theatre and small screen, his sheer talent and hard work earned him rave reviews for his work. Though Alec did not get a great start on the big screen, he worked his way to earn accolades and appreciation for his skill. In his short career span, of just about two decades, Alec has already made it big in the industry, by grabbing Emmy and Golden Globe Awards, apart from an Academy Award nomination, to his credit.


Childhood & Education
Alec BaldwinComing from a Catholic family, with Irish, English and French descent, Alec Baldwin was born in Massapequa, in New York City. His father, Alexander Rae Baldwin, was a professor in history/social studies and also a football coach. Alec completed his primary education from Alfred G. Berner High School in Massapequa, Long Island. Like his father, Alec was also interested in football and played under Coach Bob Reifsnyder. He worked as a busboy at the well-known New York City disco Studio 54.
Alec went on to complete his graduation from George Washington University. It was, here, that he was known by the name Alex. The childhood dream, to be an actor, took Alec to New York University (NYU), where he enrolled at the Lee Strasberg Theatre Institute. Under ace acting gurus, Elaine Aiken and Geoffrey Horne, Alec learned all the technicalities of acting. In 1994, he came back to NYU and graduated with a BFA degree.
Career
Television
Baldwin's career graph started with TV, where he debuted with the soap opera 'The Doctors'. Thereafter, he plunged into prime-time TV, being a part of the tele-series 'Cutter to Houston' and 'Knots Landing'. The latter also earned him an award for outstanding performance. Talking about small screen guest appearance, Alec Baldwin was seen in one of the episodes of 'Who Wants To Be A Millionaire', 'Friends' and 'Will & Grace'. He also wrote an episode of Law & Order, entitled 'Tabloid', and hosted 'Saturday Night Live' a number of times. Alec is also a part of the Emmy Award-winning NBC sitcom '30 Rock'. Started in the year 2006, the tele-series is at its 3rd season, with Alec in the role of 'Jack Donaghy', the producer of the show.
Theater
In 1986, Alec took a step further and made his debut in the world of theatre. His first project was the revival of Joe Orton's 'Loot', alongside Who's Who of theatre - Zoe Wanamaker, Zeljko Ivanek, Joseph Maher and Charles Keating. It also won him a 'Theatre World Award'. After this, there was no looking back for this talented actor. Alec's work earned him instant recognition. Some of his great works include Caryl Churchill's 'Serious Money' and the admirable and much appreciated, revival of Tennessee Williams' 'A Streetcar Named Desire'.
With a couple of high-rated awards under his belly, Alec was prepared to hit the big screen to make his dreams a reality. However, he did not leave the theatre completely. Alec played the role of Macbeth in 1998, under the direction of George C. Wolfe and was seen in a revival of Twentieth Century in 2004. In 2005, Alec starred at the concert version of the Rogers and Hammerstein musical 'South Pacific'.
Films
Alec's film career started on a soft note, with a minor role in the 1986 flick 'She's Having a Baby'. However, in the following year, he took a leap further as he played one of the main characters in the movie 'Forever Lulu'. Though the movies did not hit a jackpot, it gave Alec the start he wanted. Alec's first big hit came with 'Beetlejuice' and 'Working Girl'. These movies established his position in Hollywood. Alec added variety to his career graph - right from playing a short, yet effective role of a ferocious sales-executive in 1992's 'Glengarry Glen Ross' to the title role in the fiction-based movie, 'The Shadow'.
The thriller flicks, 'The Edge', 'The Juror' and 'Heaven's Prisoners', further gave Alec the kind of diversity every actor aims for. However, it was the Academy Award-nominated gambling drama, 'The Cooler' that gave him the kind of peak he wished for. To add to the glory were Martin Scorsese directed 'The Aviator' and 'The Departed', in which he starred along with Leonardo Di Caprio. Alec has also given voice-over for movies like 'Cats & Dogs', 'Final Fantasy: The Spirits Within' and 'The Royal Tenenbaums'. Alec has received numerous honors for his work, which include two Golden Globes and two Screen Actors Guild Awards.
Other Interests
Apart from the world of glitz and glamour, Alec Baldwin has also been associated with animal rights activist groups. A vegetarian by diet, he is a strong supporter of PETA (People for Ethical Treatment of Animals). He is also one of the board members for 'People for the American Way'.
Personal Life
It was during the 1991 flick, 'The Marrying Man', that Baldwin met his future wife Kim Basinger. While playing the romantic lovers in reel life, the two ended up marrying each other in real life as well.However, the marriage did not last long and the couple sought a divorce in 2000. The court gave the custody of their daughter, Ireland Eliesse, to Kim Basinger.
Awards
1985: Soap Opera Digest Awards for Outstanding New Actor in a Prime Time Serial (Knots Landing)
1992: Valladolid International Film Festival - Best Actor (Glengarry Glen Ross)
2000: Cinequest San Jose Film Festival - Maverick Tribute Award, National Board of Review of Motion Pictures - Best Acting by an Ensemble
(State and Main)
2001: Gemini Award for Best Dramatic Mini-Series for (Nuremberg), Florida Film Critics Circle Awards for Best Ensemble (State and Main), Online Film Critics Society Awards - Best Ensemble (State and Main)
2003: Best Supporting Actor for (The Cooler)
2004: Dallas-Fort Worth Film Critics Association - Best Supporting Actor (The Cooler), Phoenix Film Critics Society Awards - Best Performance by an Actor in a Supporting Role (The Cooler), Vancouver Film Critics Circle- Best Supporting Actor (The Cooler)
2005: Hamptons International Film Festival - Golden Starfish Award for Career Achievement
2006: Best Ensemble for (The Departed)
2007: Golden Globe Award for Best Performance by an Actor in a Television Series - Musical or Comedy (30 Rock), Television Critics Association Awards for Individual Achievement in Comedy (30 Rock), Screen Actors Guild Awards for Outstanding Performance by a Male Actor in a Comedy Series (30 Rock)
2008: Outstanding Performance by a Male Actor in a Comedy Series (30 Rock), Emmy Award for Outstanding Lead Actor in a Comedy Series (30 Rock)
2009: Golden Globe Award for Best Performance by an Actor in a Television Series - Musical or Comedy (30 Rock)
Filmography
1987: Forever Lulu
1988: She's Having a Baby, Beetlejuice, Married to the Mob, Working Girl,
Talk Radio
1989: Great Balls of Fire!, Tong Tana
1990: The Hunt for Red October, Miami Blues, Alice
1991: The Marrying Man
1992: Prelude to a Kiss, Glengarry Glen Ross
1993: Malice
1994: The Getaway, The Shadow
1995: Two Bits
1996: Wild Bill: Hollywood Maverick, The Juror, Heaven's Prisoners,
Looking for Richard, Ghosts of Mississippi
1997: The Edge
1998: Thick as Thieves, Mercury Rising
1999: The Confession, Notting Hill, Outside Providence, Scout's Honor
2000: The Acting Class, Thomas and the Magic Railroad, State and Main, Clerks: The Animated Series
2001: Pearl Harbor, Cats & Dogs (Voice), Final Fantasy: The Spirits Within(Voice), The Royal Tenenbaums (Voice)
2002: The Adventures of Pluto Nash
2003: The Cooler, Broadway: The Golden Age, by the Legends Who Were There, The Cat in the Hat, Walking with Cavemen, Brighter Days
2004: Along Came Polly, Double Dare, The Last Shot, The Aviator,
2005: Elizabethtown, Fun with Dick and Jane
2006: Mini's First Time, The Departed, Running with Scissors, The Good Shepherd
2007: Suburban Girl, Brooklyn Rules, Shortcut to Happiness, World in Conflict (Video game)
2008: My Best Friend's Girl, Madagascar: Escape 2 Africa (Voice), Lymelife
2009: My Sister's Keeper
View the full website biography of Alec Baldwin.