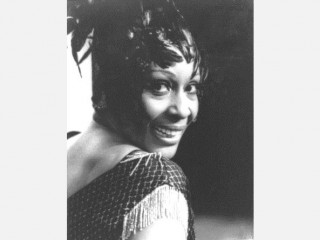 Alberta Hunter
Date of birth : 1895-04-01
Date of death : 1984-10-17
Birthplace : Memphis, Tennessee
Nationality : American
Category : Famous Figures
Last modified : 2010-11-15
One of the seminal blues and cabaret singers, Alberta Hunter gained international fame in the first half of the 20th century as a recording artist and nightclub and stage performer. Many of her recordings are considered classics and her accompanists were some of the greatest jazz musicians of the era. Hunter actually had two careers as a singer; during the 20-year interlude that separated them, this strong-willed and independent-minded woman worked as a nurse in New York City.
Hunter was born on April 1, 1895, in Memphis, Tennessee, and named for the doctor who delivered her. Her father, a railroad porter, abandoned the family while she was a young girl, though for years Hunter repeated the story that he had died while she was a child. Her mother eventually remarried, but Hunter did not get along with her new family and ran away from home. The exact date when this occurred has been lost, but most accounts say she was either 11 or 12 years old.
Hunter went to Chicago where she found work in a boarding house—her pay included room, board, and $6 a week. Captivated by Chicago's nightlife, she began sneaking into clubs. Her professional debut came in 1911 when she sang in a club in Chicago's Southside called Dago Frank's, a shady place that was a hangout for underworld characters. Hunter remained there for two years and left only after the club was closed down. Her mother joined her in Chicago soon after.
Hunter's first big connection in the music business came when she started singing in another Southside nightclub, the Elite Café. There she met ragtime pianist and songwriter Tony Jackson. Among the songs Jackson wrote was "Pretty Baby," which Hunter helped popularize. Over the next few years Hunter sang in a string of Southside Chicago nightclubs including the Panama Café, which catered to whites; the De Luxe Café; and, beginning in 1917, the fabled Dreamland Café where she established herself as one of Chicago's top blues singers. At the Dreamland she became friends with the King Oliver Creole Jazz Band, which featured Joe "King" Oliver on cornet and a young Louis Armstrong on second cornet. Hunter was especially friendly with Lil Hardin, Oliver's pianist and Louis Armstrong's first wife. Three years younger than Hunter, Hardin was also from Memphis. The Dreamland Café also drew an elite white and African American clientele; it was where Hunter first met Paul Robeson, with whom years later she would star in Showboat in London. Other patrons included Al Jolson and Bix Beiderbecke. On her off days and after hours Hunter worked as what was then known as a "drop-in girl," making the rounds of other nightclubs.
By 1919 Hunter was a celebrity in Chicago and began paying more attention to her image, including the rumor that she was a lesbian. In that era few performers were openly homosexual (especially blues singers, who flaunted heterosexuality) and Hunter was no exception. In January she sang at a club in Cincinnati where one of the young waiters caught her eye, an army veteran named Willard Saxby Townsend. Hunter and Townsend were married in Covington, Kentucky, on January 27, 1919, but by all accounts their marriage was never consummated. Two months after they returned to Chicago Townsend filed for divorce, which was granted in March 1923. By then Hunter was living in New York with the love of her life Lottie Tyler, niece of the African American vaudeville comedian, Bert Williams.
In the early 1920s Hunter was the queen of the Dreamland Café and indeed of the Chicago blues scene. Back then Chicago was the place to be as far as jazz and blues musicians were concerned. As Hunter herself said of the era as quoted by Frank C. Taylor and Gerald Cook in Alberta Hunter: A Celebration in Blues: "If you had worked in Chicago and had been recognized there, you were somebody, baby. New York didn't count then."
Whether it counted or not, Hunter was soon traveling to New York to record for a label called Black Swan records. Her earliest recordings, in May 1921, were "He's a Darned Good Man to Have Around" backed by "How Long, Sweet Daddy, How Long," "Bring Back the Joys," and "Some Day Sweetheart." On all of these, Fletcher Henderson accompanied her on piano (though the identities of the other musicians have been lost). During the next two years Hunter traveled back and forth between her performing base in Chicago and her recording base in New York. In July 1922 she recorded a slew of songs for the Paramount label, including the now-classic "Down Hearted Blues," which Hunter cowrote with pianist Lovie Austin, "Daddy Blues," and accompanied by Eubie Blake on piano, "Jazzin' Baby Blues." The next year Bessie Smith recorded "Down Hearted Blues" for Columbia Records and it became that label's first hit. Hunter, however, received very little in royalty payments—and only from Paramount. In February 1923 Hunter broke ground when she became the first African American singer to be back by an all-white band—the Original Memphis Five. Among the three songs they recorded that month was "Tain't Nobody's Biz-ness If I Do." In all Hunter recorded 14 songs in the month of February 1923 alone (the other songs were backed by Fletcher Henderson's Orchestra), all for Paramount Records. With so much recording activity, not to mention Broadway, the lure of New York became stronger and stronger for Hunter and she finally moved there in April 1923.
She was not without a job for long. On April 18 she joined the cast of the musical How Come? and was an immediate (and literal) "showstopper." Her singing and glamour (Hunter always appeared onstage in beautiful dresses) captured the sophisticated Broadway audience. Unfortunately most critics found little else to praise in How Come? and the show closed after five weeks. Meanwhile Hunter continued recording for Paramount. In May and June 1923 she cut "Stingeree Blues" and "You Can't Do What My Last Man Did," with piano accompaniment on both songs by Fats Waller.
In 1924 Hunter, feeling slighted by Paramount, recorded five songs on the Gennett label using the name Josephine Beatty. This was a technical violation of her contract with Paramount, and as a result she lost her contract at the end of the year. The five Gennett songs became minor cult classics as Hunter was backed up by the Red Onion Jazz Babies, featuring Louis Armstrong on cornet. The following year she began recording with Okeh Records and stayed with them through 1926; she also decided to hit the vaudeville circuit. Upon returning to New York from her vaudeville tour Hunter bought an apartment on West 138th Street, which placed her both professionally and personally in the midst of the famed Harlem Renaissance.
At the end of 1926 Hunter recorded three songs for a Chicago record company, Vocalion, but they were never released. In 1927 she left Okeh to record for Victor. Among the seven Victor recordings she made that year was "Beale Street Blues," with Fats Waller on pipe organ.
New York was home, but Hunter was a traveling woman by nature, and in August 1927 she and Tyler embarked for Paris, where Josephine Baker was already a star. It was an opportunity to escape American racism and become recognized for her talent that Hunter could not pass up. As quoted in Alberta Hunter: A Celebration in Blues she said, "The Negro [sic] artists went to Europe because we were recognized and given a chance. In Europe they had your name up in lights. People in the United States would not give us that chance."
In Paris Hunter's name was indeed up in lights, and she moved in the expatriate high cultural circles of the era. She also published letters in the Amsterdam News, New York's most prominent African American newspaper, detailing her Parisian life, serving more or less as a correspondent. However Paris was also where she broke up with Tyler, though they remained good friends afterward. In January 1928, without Tyler who had returned to the United States, Hunter left Paris for London.
Her first professional appearance in London, two days after she arrived, was at the London Pavilion located at Picadilly Circus. Her biggest triumph of her European "tour" came in May 1928 when she performed the role of Queenie in the London stage version of Showboat, which also featured Paul Robeson. The musical closed after three months, but Hunter remained in London until March 1929. After a brief return to Paris to open the Paris Cotton Club she returned to the United States in May 1929. Back in the U.S. she cut two more songs, this time for Columbia Records. These were her only recordings until 1934 when she recorded 12 songs in London that were released on the HMV (His Master's Voice) label.
If she had thought her unqualified success in Paris and London would be enough to open doors in the United States she was mistaken. Other than some vaudeville work, a role in a musical called Change Your Luck, and a revue titled This Way Out (in which she appeared only for a week and was never paid), Hunter found work hard to come by. There were a few bookings in Harlem's Alhambra Theatre. By 1933 things had got so bad for her—the Great Depression having exacerbated the already hard-to-come-by bookings—that she decided to return to Paris. This time her success was a bit qualified—the economic depression was keeping people away from the nightclubs. In the spring of 1934 she went to Copenhagen, Denmark, where the reception given her by the public was even warmer than that of the French.
In July 1934 Hunter was back in London, and she effortlessly picked up where she had left off five years earlier. She toured the British and Scottish music hall circuit and recorded 12 songs including "I Travel Alone," written by Noel Coward. Originally recorded for HMV, they were later released as an LP, The Legendary Alberta Hunter: The London Sessions-1934. She also appeared in the first British film shot in color, Radio Parade of 1935. In January 1935 her British work permit was not renewed and after a brief return to Paris, Hunter returned to the United States. In 1937 following another sojourn abroad, which took her not only to Europe but Egypt as well, Hunter began singing on NBC radio. Her contract expired in early 1938, whereupon she returned to Europe. With war becoming more of a likelihood, Hunter returned to New York in the fall of 1938 and resumed her radio singing. When war did break out and Paris fell to the Nazis African American entertainers returned to New York, making competition for jobs that much stiffer. Adding to this was the next generation of singers led by Ella Fitzgerald, Billie Holliday, and Lena Horne.
By then Hunter's recording career had cooled off somewhat. In 1935 she recorded four songs for the American Record Company, which the company never released. In 1939 she recorded six songs for Decca, including another version of "Down Hearted Blues." In 1940 she recorded four songs for Bluebird, accompanied by Eddie Heywood Jr. on piano. These were her last recordings until after the war.
During the World War II, Hunter entertained troops as a member of the United Service Organizations (USO). She did various tours in the Pacific (where she experienced an air raid) and European theaters, entertaining General Eisenhower, Field Marshal Montgomery, and Marshal Zhukov. She continued entertaining troops during peacetime and later toured again with the USO during the Korean War (1950-1953). During the postwar years she also continued performing in clubs and shows.
Hunter resumed her recording career in 1946 with two small companies: Juke Box, for whom she recorded two songs, and Stash, recording just one song. In 1950 she recorded on Regal and in 1952 she cut two songs for Wheeler and four songs for Prestige/Bluesville, but her career was obviously slowing down. Never the Broadway star she had hoped to become when she moved to New York, she appeared in a number of revues and plays into the mid-1950s, but work was sporadic and when one play in particular, Debut, closed after four days on Broadway she decided to call it a career. Or rather, she decided to change careers.
On August 14, 1956, Alberta Hunter graduated from the Harlem YWCA nursing school and became a licensed practical nurse. She had lied about her age to get into the school, declaring that she was twelve years younger than she was, thus coming full circle from her earliest Chicago days when she had pretended to be older to sneak into clubs. She worked as a nurse for more than twenty years and retired in 1977 at what officials thought was the mandatory retirement age of 70; she was 82 years old. The only nod Hunter gave to her performing career during her years as a nurse was in 1961 when one of her old accompanists and songwriting partner, Lovie Austin, talked her into recording an LP for the Riverside label tiled, Alberta Hunter with Lovie Ausin's Blues Seranaders. The songs included "Down Hearted Blues," "Moanin' Low," "Streets Paved with Gold," and "St. Louis Blues."
After retiring as a nurse Hunter effortlessly resumed her career as a New York cabaret singer and recording artist. This second career made her a bigger star than she had previously been. In 1977 she was performing at the Cookery in New York's Greenwich Village. By the end of the year she had a recording contract with Columbia Records and had recorded the LP Remember My Name, the soundtrack of the film of the same name. Hunter played Carnegie Hall on June 27, 1978, and also gave command performance for the Carter White House. In 1979 she recorded the album Amtrak Blues. She followed this up in 1981 with The Glory of Alberta Hunter and in 1983 completed Look for the Silver Lining . Alberta Hunter died on October 17, 1984, in New York City.
Taylor, Frank C. and Gerald Cook, Alberta: A Celebration in Blues, McGraw-Hill Book Company, 1987.
New York Times, October 19, 1984.
View the full website biography of Alberta Hunter.