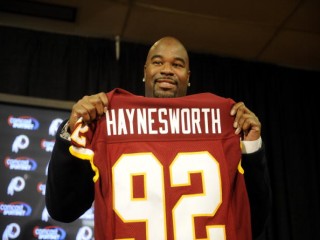 Albert Haynesworth
Date of birth : 1981-06-17
Date of death : -
Birthplace : Hartsville, South California
Nationality : American
Category : Sports
Last modified : 2010-11-03
Albert Haynesworth is an American football nose tackle for the Washington Redskins of the National Football League. He was drafted by the Tennessee Titans in the first round (15th overall) of the 2002 NFL Draft. He played college football at Tennessee.

Massive and athletic Albert Haynesworth anchors the interior of the Redskins' defense. At 6-foot-6, 350 pounds, the defensive tackle creates mismatches for opposing offenses with his strength and incredible agility for a player his size. These traits and a renewed emphasis on technique with his hands helped Haynesworth produce dominant seasons. Playing for the Tennessee Titans in 2007 and 2008. he was voted Associated Press first-team All-Pro and earned Pro Bowl berths both years.

HIGHLIGHTS

* Has totaled 510 career tackles, 28 sacks, 51 tackles for loss, 18 passes defended, seven forced fumbles and four fumble recoveries in 100 games (84 starts).
* Earned Associated Press first-team All-Pro team honors in 2007 and 2008.
* Only player to finish in the top five of the Associated Press NFL Defensive Player of the Year balloting the last two seasons (fourth in 2008 and third in 2007).
* Was named a starter for the AFC in two consecutive Pro Bowls (2007 and 2008).
* Totaled a career-best 8.5 sacks in 2008.
* Finished the 2009 season, his first with the Redskins, third on the team in sacks (four).

2009 (Redskins)
* Played in 12 games with 12 starts during the regular season; declared inactive for four games (at Dallas, 11/23; at Philadelphia, 11/29; at Oakland, 12/13; and at San Diego, 1/4) with an ankle injury
* Compiled 56 tackles (29 solo), four sacks, six passes defensed and a fumble recovery.
* Recorded five tackles (two solo) and his first sack as a Redskin, the 25th of his career, at Detroit (9/27).
* Recorded six tackles (three solo), a pass defensed, and a sack vs. Kansas City (10/18).
* Totaled five tackles (three solo) and his third sack of the season vs. Philadelphia (10/26).

2008 Season (TEN):
* Named an AFC starter in the 2008 Pro Bowl
* Played in 14 games, with 14 starts, during the regular season
* Finished seventh in the AFC and led the team with a career-high 8.5 sacks
* Finished second on the team with 22 quarterback pressures
* Led or tied the team in sacks six times (vs. Jacksonville, 9/7; vs. Houston, 9/21; vs. Minnesota, 9/28; at Kansas City, 10/19; at Jacksonville, 11/16; and vs. New York Jets, 11/23)
* Led or tied the team in quarterback pressures seven times (vs. Jacksonville, 9/7; at Kansas City, 10/19; vs. Indianapolis, 10/27; vs. Green Bay, 11/2; vs. New York Jets, 11/23; at Detroit, 11/27; and at Houston, 12/14)
* Tied for the team lead in tackles and passes defended against Minnesota (9/28)

2007 Season (TEN):
* Played in 13 games, with 12 starts, during the regular season
* Set career highs with six sacks (tied for third on the team) and had 69 tackles, 23 QB pressures (third on team), six tackles for a loss and three passes defended
* Led AFC defensive tackles (tied for fifth in NFL) in sacks
* Named starter in first Pro Bowl and earned first-team All-Pro honors from the Associated Press, Sports Illustrated and PFW/PFWA
* Totaled six tackles, one sack, three QB pressures and one passe defended against Indianapolis (9/16)
* Provided highlight reel play against Atlanta (10/7) as leaped over offensive line between guard and center, timing play just after the snap, and brought down QB Byron Leftwich as he was pitching the ball; the play helped preserve a 20-13 victory
* Totaled seven tackles against Oakland (10/28) and helped thwart a late rally with a sack of QB Daunte Culpepper
* Set a career high with three sacks and led defense with eight tackles against Carolina (11/4)

2006 Season (TEN):
* Played in 11 games, with 10 starts, at right defensive tackle
* Totaled 59 tackles, two sacks, 13 QB pressures and three tackles for a loss
* Missed five games after being placed on reserve/suspended list on Oct. 2
* Recorded season-high 10 tackles, one tackle for a loss and two QB pressures in season opener against New York Jets (9/10)

2005 Season (TEN):
* Played in 14 games, with 14 starts, and posted 85 tackles and three sacks
* Contributed 11 quarterback pressures, nine tackles for a loss and one forced fumble
* Was inactive for two games (vs. Indianapolis, 10/2; at Houston, 10/9) with a knee injury
* Helped hold Baltimore Ravens (9/19) to a franchise low 14 rushing yards

2004 Season (TEN):
* Played in 10 games, with 10 starts
* Posted 62 tackles, 11 tackles for a loss, two forced fumbles, one sack and 13 QB pressures
* Sidelined for six games due to a right elbow dislocation
* Totaled six tackles, one sack, one tackle for a loss, and a forced fumble against Cincinnati (10/31); hit Carson Palmer's arm as he was attempting to pass, and the ball was intercepted by Andre Dyson; sacked Palmer in closing minutes and forced a fumble to secure the 27-20 victory

2003 Season (TEN):
* Played in 12 games, with 11 starts
* Totaled 49 tackles, 2.5 sacks, four tackles for a loss, three pass deflections and two fumble recoveries
* Was declared inactive for three games due to a dislocated left elbow

2002 Season (TEN):
* Saw action in every game, registering starts in final three games against New England (12/16) and road games at Jacksonville (12/22) and Houston (12/29)
* Finished rookie campaign with 55 tackles, one sack, three pass deflections, 23 QB pressures and seven stops behind the line of scrimmage
* Made first NFL start against New England on Monday Night Football (12/16), registering two tackles and three QB pressures in a 24-7 win.
* Made first appearance in NFL game in season opener against Philadelphia (9/8), posting four tackles in a 27-24 win

COLLEGE

* Three-year letterman at Tennessee who compiled 66 tackles, five sacks, 31 quarterback pressures, 20 stops behind line of scrimmage and nine pass deflections during career.
* Named Second All-Team Southeastern Conference after junior season, starting 10 of 12 games, recording 36 tackles, 1.5 sacks, 12 stops behind the line of scrimmage, 20 quarterback pressures and seven pass deflections
* Named Sporting News Freshman All-American and Knoxville News-Sentinel Freshman All-Southeastern Conference selection

PERSONAl

* Has two sons, Ahsharri (8) and Albert IV (3) and one daughter, Alanie (5).
* Earned Super-Prep All-America and listed on ESPN's top 100 players in nation as senior at Hartsville (S.C.) High School. Rated as best defensive tackle by National Recruiting Advisor.
* Completed season with 110 tackles, 51 quarterback pressures and six sacks.
* Named to all-star team for North Carolina-South Carolina Shrine Bowl. Also led team to state championship in Class 4A as junior.
* Credits University of Tennessee assistant Dan Brooks as the one coach who deserves most credit for his success in his football career because of his tough discipline and reinforcements of the fundamentals of the game.
* With the help of his teammates and celebrities from the music and NASCAR industry, hosted the "Dining for Dimes" celebrity dinner and auction benefiting the March of Dimes for the past two years; the events have raised more than $120,000 to help prevent premature child births.
* For the past few years, has spent quality time supporting at-risk youth from the YMCA Community Action Project (Y-Cap) in Middle Tennessee.
* In January 2008, a week prior to heading to Hawaii for his first career Pro Bowl appearance, held a free meet and greet/autograph session at Nashville Italian restaurant Mafiaoza's, thanking fans for their support of the All-Pro defensive tackle. The event raised money for the March of Dimes through optional donations.
* In 2004, began hosting his own weekly radio show.
* Active in Redskins Charitable Foundation; participated in Make-a-Wish at Morton's, Take a Player to School, and distributed coats to under privileged children with Randle El Warms Up Washington's Youth.
* After being selected by the Titans, became the first Tennessee Volunteer to make a contribution ($50,000) to the newly-created Judy Jackson Scholarship Endowment Fund. The gift was in honor of Student Life Associate Director Judy Jackson, who helped Haynesworth during his time in school.
* Was one of 10 players selected in the 2002 NFL Draft from the University of Tennessee, the most in school history. He joined first rounders John Henderson (Jacksonville Jaguars, 9th) and Donte' Stallworth (New Orleans, 13th) as the first three players chosen from the Southeastern Conference in the draft, half of the conference's six players taken in the opening round.
* Born Albert Haynesworth III.
View the full website biography of Albert Haynesworth.