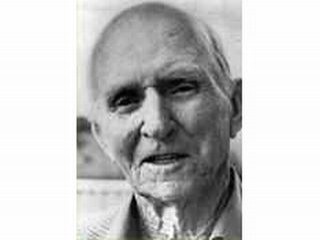 Albert Barnett Facey
Date of birth : 1894-08-31
Date of death : 1982-02-11
Birthplace : Maidstone, Melbourne, Victoria, Australia
Nationality : Australian
Category : Famous Figures
Last modified : 2011-03-24
FACEY, ALBERT BARNETT (BERT) was born on 31 August 1894 at Maidstone, Melbourne, youngest of seven children of Joseph Facey, quarryman, and his wife Mary Ann, nee Carr.

Bert'€™s parents, who were born and raised on the Victorian goldfields, had moved from Barkers Creek, near Castlemaine, to Melbourne in 1890. With the collapse of the building boom in the 1890s, Joseph Facey and his two eldest boys went to the Western Australian diggings. When Joseph died of typhoid in 1898, his wife left Bert and the other children with her parents at Barkers Creek and set out to bring her sons home. Instead of returning she remarried, and her new husband refused to take in the younger children. Bert stayed with the Carrs until his grandfather died in 1901. His grandmother then took him, his two brothers and a sister to Kalgoorlie, Western Australia, where her daughter Alice and son-in-law Archie McCall were living. With the McCalls he became a pioneer on a farm at Wickepin, in the wheat-belt.

Aged 8, Bert was sent to work on neighbouring properties. He learnt bush skills but was badly treated by some employers. At 14 he moved to Perth to live with his mother and stepfather' who now accepted him because he could pay board'€"but he soon struck out on his own, droving in the North-West. He led a roving life, prepared to 'have a go'€™ at anything: `I have always believed if you want to do something you usually can'. Returning to the wheat-belt, at 16 he was managing a property. He fenced dams, lumped wheat, cleared scrub, laid railway sleepers and travelled with a boxing troupe. On 4 January 1915 he enlisted in the Australian Imperial Force. He served on Gallipoli with the 11th Battalion until August, when he was diagnosed with 'heart trouble'€™ and repatriated.

Discharged on 3 June 1916, he attributed later health problems to a bullet wound and the effects of a shell blast that blew bags of sand on him. Back in Western Australia, on 21 August 1916 at St David's Church of England, South Bunbury, Facey married Evelyn Mary Gibson (d.1976), a domestic. Employed on Perth trams until 1922, he then took up a soldier-settler block at Wickepin but had to abandon it in the Depression. He went back to driving trams. Active in the Western Australian Government Tramways, Motor Omnibus and River Ferries Employees'€™ Union of Workers, he was elected president in 1945. When he was 86 Facey published A Fortunate Life (1981), the autobiography that made him and his life famous. His ordinariness and decency, and the enjoyment he took from a life that by the usual standards was far from fortunate, endeared him to his fellow Australians. The style of the book passed beyond plainness into an elemental purity. The chapters are short, each one like a yarn. Facey'€™s only harsh judgment was that his mother deserted him. Critics have suggested that the book had been heavily edited, but surviving manuscripts of his several versions refute this contention.

The final version reveals considerable artifice. He was uncertain about dates and the book contains some factual errors. It won the New South Wales Premier'€™s Literary Award for non-fiction and a National Book Council prize and was made into a play and a television series. Facey'€™s success as an author was the more remarkable because he had had little schooling and had taught himself to read and write. Six feet (183 cm) tall with blue eyes, as a young man Facey had dark brown hair. He always kept his promise to his grandmother that he would not drink alcohol. Survived by his three daughters and three of his four sons, he died on 11 February 1982 at Midland and was buried in the local cemetery.

His eldest son, Albert Barnett, had died on 15 February 1942 while on active service in Singapore during World War II.



View the full website biography of Albert Barnett Facey.