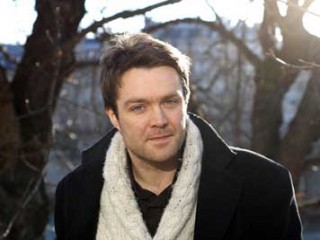 Alban Lefranc
Date of birth : -
Date of death : -
Birthplace : Caen , France
Nationality : Française
Category : Famous Figures
Last modified : 2011-06-13
Alban Lefranc, né à Caen en 1975, est un écrivain et traducteur français.
Bibliographie
Romans
Vous n'étiez pas là (Verticales/Gallimard, 2009)
Des foules, des bouches, des armes (Melville/Léo Scheer, 2006)
Attaques sur le chemin, le soir, dans la neige (Le Quartanier, 2005)
Angriffe (Blumenbar, 2008) ; traduction en allemand, par Katja Roloff des 3 livres précédents sous forme de trilogie
Collectifs
Face à Lamarche-Vadel (Inculte, 2009)
Ecrivains en série 2 (Laureli, Léo Scheer, 2010)
Sacha Lenoir (Capricci, 2011)
Traductions (de l'allemand)
Roman de l'au-delà, (Jacqueline Chambon, 2011), Mathias Politycki
L'ombre du corps du cocher (Editions Perturbations, 2009), Peter Weiss.
Le duel (Melville/Léo Scheer, 2006), Peter Weiss.


View the full website biography of Alban Lefranc.