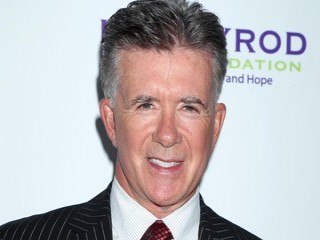 Alan Thicke
Date of birth : 1947-03-01
Date of death : -
Birthplace : Kirkland Lake, Ontario, Canada
Nationality : Canadian
Category : Arts and Entertainment
Last modified : 2011-06-18
Alan Thicke, born Alan Willis Jeffery is a Canadian actor, songwriter, and game and talk show host. He is best known for his role as Jason Seaver, the patriarch on the ABC television series Growing Pains.

During the mid-1980s to early 1990s, Alan Thicke played one of television's most beloved sitcom dads, psychiatrist Jason Seaver on Growing Pains. He got his start in show business as a writer for Canadian Broadcasting Corporation.

In the 1970s, Thicke continued to find success behind the scenes. He received his first Emmy Award nomination for his work on The Barry Manilow Special in 1977. The next year, he wrote and produced a satirical look at talk shows with America 2Night, garnering him two more Emmy Award nominations. Thicke was also a talented composer, creating the theme songs for such shows as The Wheel of Fortune, The Facts of Life, and Diff'rent Strokes.

Back in his native Canada, Thicke became a popular daytime talk show host. From 1980 to 1983, The Alan Thicke Show had strong ratings. But Thicke unsuccessfully tried to make the leap from daytime to late night in 1983. Competing against The Tonight Show with Johnny Carson, his show, Thicke of the Night, had trouble attracting an audience from the start. While the show didn't last, the program did launch the career of Thicke's on-air sidekick, Arsenio Hall. The show was cancelled in 1984.

In 1985, Thicke took on one of his most memorable roles as the sensitve, caring dad Jason Seaver on Growing Pains. With Joanna Kerns co-starring as his journalist wife, Thicke played work-from-home dad to his three on-screen children, Mike (Kirk Cameron), the troublemaking teenager; Carol (Tracey Gold), an academically gifted teenager, and Ben (Jeremy Miller), the youngest son. A fourth child, Chrissy, was added in a later season. Much of the show's comedy was derived from the kids' misadventures growing up.

After the series ended in 1992, Thicke wanted to break away from his "good guy" image. He did just that with his next stab at series television. In the sitcom Hope & Gloria, he played Dennis Dupree, an arrogant, vain talk show host. Unfortunately, the show only lasted for about a year.

Since then, Thicke has become a popular host for several shows, including the game shows Pictionary in the late 1990s and Three's a Crowd in the early 2000s. He also has appeared in numerous television movies, including The Growing Pains Movie (2000) and Growing Pains: Return of the Seavers (2004). In addition to acting, Thicke has authored two books on pregnancy and parenting: How Men Have Babies: The Pregnant Father's Survival Guide (1999) and How to Raise Kids Who Won't Hate You (2006).

In February 2009, Thicke made a guest appearance on adult swim's Tim and Eric Awesome Show, Great Job. In the same month, he made a guest appearance on the web series Star-ving.

Thicke had a role in the 2009 film The Goods: Live Hard, Sell Hard. On July 10, 2009, Thicke appeared on the 1000th episode of Attack Of The Show, and sang a song with Kevin Pereira and Olivia Munn, at the end kissing Munn.

He appeared in the season 6 finale of Just Shoot Me, "The Boys in the Band". He made a guest appearance on a few episodes of Canada's Worst Handyman 5. In 2010 Thicke appeared in his godson's television program, Tosh.0. In 2011 he appeared in a celebrity edition of Don't Forget the Lyrics.

Married three times, Thicke has two sons from his first marriage to actress and singer Gloria Loring—Brennan and Robin (who has become a popular R&B singer and songwriter). He also has another son, Carter, with second wife Gina Marie Tolleson, Miss World 1991. Thicke is currently married to Tanya Callau.
View the full website biography of Alan Thicke.