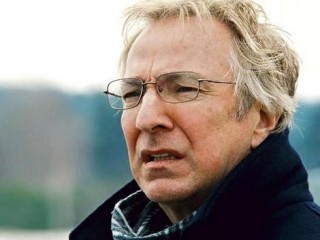 Alan Rickman
Date of birth : 1946-02-21
Date of death : -
Birthplace : Hammersmith, London, England
Nationality : British
Category : Arts and Entertainment
Last modified : 2011-07-18
A suave, urbane British actor recognized internationally as the sinister Professor Snape in the "Harry Potter" franchise, Alan Sidney Patrick Rickman also enjoyed a distinguished stage career with the Royal Shakespeare Company and dozens of memorable character roles in Hollywood films. Rickman was labeled as a favorite villain following his breakthrough as German terrorist Hans Gruber in the action film landmark "Die Hard" (1988), and for his acclaimed performance as the scheming Sheriff of Nottingham in "Robin Hood: Prince of Thieves" (1991).

However, the Tony, Emmy, Golden Globe and BAFTA awards winner went on to offer a wide range of performances, including the romantic lead in "Sense and Sensibility" (1995) and a deft comic turn in the warped sci-fi comedy, "Galaxy Quest" (1999). Rickman's exquisite voice, dramatic command, and lanky, cool presence made him a favorite film actor in his homeland, as well as a Rickman was born into a working class home. Displaying a talent for art as a child, Rickman earned a scholarship to a private school that positioned him well to go on to the Chelsea College of Art and Design. He enjoyed a successful career in the graphic design world during London's swinging 1960s, even co-founding a design company. But eventually he succumbed to his love of theater and in 1972, was accepted into the Royal Academy of Dramatic Art. He studied there for two years, during which time his talent was recognized with a number of drama prizes. Rickman's subsequent stage career took off rather quickly, and during the remainder of the 1970s, he appeared with The Royal Shakespeare Company in such productions as "The Tempest" and "Love's Labour's Lost," and as Tybalt in "Romeo and Juliet" (1979). He expanded his repertoire with appearances all over the UK in a range of pieces, from Chekov's "The Seagull" to the screwball comedy "The Philadelphia Story." He landed British TV roles in the terrifying miniseries "Therese Raquin" (BBC, 1981) and the amusing "Barchester Chronicles" (BBC, 1984), then returned to the Royal Shakespeare Company in another string of productions including "Mephisto" and "Les Liaisons Dangereuses," earning acclaim as the elegant, heartless seducer Le Vicomte de Valmont. From a successful run on London's West End, the production went to Broadway in 1987 where Rickman was nominated for a Tony Award for his performance.

A seasoned stage player with relatively zero screen experience, Rickman was fortunate to be cast in the big budget Hollywood action film, "Die Hard"(1988). His memorable film debut as the vicious German terrorist Hans Gruber, who taunts hero John McLane (Bruce Willis) as he makes his way to the top of the office building where his wife (Bonnie Bedelia) is being held prisoner, piqued the interest of filmmakers in the U.S. and UK. So impressive was his villainous turn, Rickman was next offered a supporting role as Kevin Kline's artsy pal in "The January Man" (1989) and as a tyrannical landowner in "Quigley Down Under" (1990). He made for an engaging, if deceased, romantic lead in Anthony Minghella's ghostly love story, "Truly, Madly, Deeply" (1990), before returning to the dark side as a sadistic interrogator in "Closet Land" (1991). In 1991, Rickman virtually stole the hugely budgeted "Robin Hood: Prince of Thieves" from its miscast star Kevin Costner, delightfully tearing into the scenery as the evil Sheriff of Nottingham and winning a BAFTA Award in the process. Next, he co-starred in the low-budget British drama "Close My Eyes" (1991) as a man whose girlfriend has an incestuous relationship with her brother, and essayed the campaign manager of a deceptive political candidate (Tim Robbins) in the satirical "Bob Roberts" (1992). Never one to stay away from the theater for long, Rickman took some time off from his new film career to offer performances in "Hamlet" and "Tango at the End of Winter" on the London stage in 1991 and 1992.

His years in the theater made Rickman an excellent casting choice for the Irish film "An Awfully Big Adventure" (1995), in which he starred as an actor in a ramshackle repertory theater company. That same year, he successfully reinvented himself as a romantic lead, playing Kate Winslet's dark, smoldering suitor in the Emma Thompson-scripted and Ang Lee-directed "Sense and Sensibility" (1995). From that internationally loved costume drama that earned Rickman a BAFTA nomination, he went on to garner Emmy and Golden Globe awards for portraying the enigmatic Russian mystic "Rasputin: Dark Servant of Destiny" (1996) in the HBO television movie. The same year, Rickman directed a film adaptation of "The Winter's Guest" starring Emma Thompson - a piece he had directed several years earlier for the London stage - and supported Liam Neeson in Neil Jordan's biopic of Irish revolutionary, "Michael Collins" (1996). Teaming with frequent collaborator Emma Thompson yet again, Rickman and the actress-director made a lively showing as a pair of detectives trailing bumbling kidnappers in "Judas Kiss" (1998). Also in 1998, Rickman earned kudos for playing Antony to Helen Mirren's Cleopatra in a Royal National Theater production of "Antony and Cleopatra."

Onscreen, anyway, Rickman devoted the year 1999 to comedy; first as Metaron, an angel who appears inside a pillar of fire only to be doused with a fire extinguisher in "Dogma" (1999), writer-director Kevin Smith's comedic pillorying of religious doctrine. He reached tremendous comic heights in the "Star Trek"-skewering comedy "Galaxy Quest" (1999), starring as the bitter, Leonard Nimoy-esque actor Alexander Dane, a serious Shakespearean thespian who resents being typecast on a cheesy sci-fi TV show. Keeping things light, Rickman voiced the titular sea creature in the Danish animated film "Help, I'm a Fish!" (2000) and took the lead in "Blow Dry" (2001), an amiable, bittersweet British comedy from "Full Monty" writer Simon Beaufoy and director Paddy Breathnach, playing a former world champion hair stylist who has become a small-town barber taunted for his lack of achievement by his former rivals. While that film was in theaters, Rickman returned to the stage in London and New York with runs in N l Coward's romantic comedy "Private Lives," which was nominated for a Tony Award.

Rickman next tackled a part which, while relatively small, made him an icon in the minds of a young generation of book lovers and movieg rs. He essayed the skulking, seemingly malevolent Professor Severus Snape in "Harry Potter and the Sorcerer's Stone" (2001). He repeated the scene-stealing role the following year in "Harry Potter and the Chamber of Secrets" (2002). While that pair of mega-blockbusters made Rickman unmistakably recognized by mainstream audiences the world over, he continued to explore all kinds of onscreen territory. He joined the large ensemble of writer-director Richard Curtis' popular romantic comedy "Love Actually" (2003), as a man contemplating being unfaithful to his wife (Emma Thompson), and portrayed the heart surgery pioneer Alfred Blalock in the acclaimed HBO film, "Something the Lord Made" (2004). Reminding audiences of his ability to play for laughs, he voiced Marvin, the manic depressive robot with a brain the size of a planet who has been relegated to menial tasks by his far less intelligent human masters in "The Hitchhiker's Guide to the Galaxy" (2005), the film version of Douglas Adams' sci-fi masterwork.

Rickman reprised his role as Professor Snape in "Harry Potter and the Goblet of Fire" (2005), the first of the film franchise to be helmed by a British director (Mike Newell). There were far fewer tots and teens in the audience for "Zodiac" (2005), about a serial killer who terrorized the San Francisco area during the 1960s and 1970s, and "Perfume: The Story of a Murderer" (2006). "Harry Potter and the Order of the Ph nix" (2007) was another blockbuster, with many critics lauding it as the best offering of the series so far, with Variety hailing that for his latest performance as Severus, Rickman had really "outdone himself." The same year, Rickman gave a chilling performance as bullish Judge Turpin in Tim Burton's lush gothic musical "Sweeney Todd: The Demon Barber of Fleet Street" (2007). In a rare leading performance, Rickman played an adventurous wine shop owner credited with introducing American wines into the European market during the 1970s in the fact-based "Bottle Shock" (2007). In 2009, Rickman's Snape character was promoted from Potions master to teacher of Defense Against the Dark Arts in the sequel "Harry Potter and the Half Blood Prince" (2009), in addition to revealing a crucial personal detail that would figure into future sequels. The following year Tim Burton recruited Rickman again for his psychedelic version of "Alice in Wonderland" (2010), tapping the actor's admired voice to play The Caterpillar.

View the full website biography of Alan Rickman.