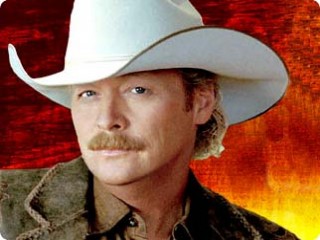 Alan Jackson
Date of birth : 1958-10-17
Date of death : -
Birthplace : Newnan, Georgia, U.S.
Nationality : American
Category : Arts and Entertainment
Last modified : 2011-02-11
Alan Eugene Jackson is an American country music singer, known for blending honky tonk and mainstream country sounds and penning many of his own hits.

As the first artist signed to Arista Records' country division, Alan Jackson's first single, Blue Blooded Woman, peaked at a dismal No. 45 on the country charts in 1989. Clearly, things improved substantially with the next single -- the title track from his debut album, Here in the Real World -- and the hits haven't stopped yet. Fifteen years into his career, the superstar has sold more than 40 million albums and scored more than 30 No. 1 singles -- 21 of which he either wrote or co-wrote.

Playing in country bands in Georgia, Jackson worked as a mechanic, used car salesman and forklift operator to pay the bills while writing songs. He and Denise moved to Nashville in 1985, but his first impressions of Music City were a tiny basement apartment and a genre whose radio prerequisites had almost nothing to do with his own songwriting. That same year, Denise met Glen Campbell in an airport when she was working as a flight attendant. She told Campbell about her husband and gave him a tape. Campbell gave her his business card and suggested that Alan should call his publishing company. Soon after, Jackson became a staff songwriter at Campbell's music publishing company.

Jackson hit No. 1 three times in 1991, with "I'd Love You All Over Again," "Don't Rock the Jukebox" and "Someday." In 1992, he released the spooky video for "Midnight in Montgomery," which won a CMA Award. That same year, he returned to No. 1 with "Love's Got a Hold on You" and "She's Got the Rhythm (And I Got the Blues)." In 1993, he spent four weeks at the top with "Chattahoochee," which propelled the corresponding album A Lot About Livin' (And a Little 'Bout Love) to sales of more than 6 million copies. "Chattahoochee" won a CMA award for single of the year in 1993 and song of the year in 1994. Jackson took his first CMA entertainer trophy in 1995, coinciding almost exactly with The Greatest Hits Collection.

Following several novelty hits, like "I Don't Even Know Your Name," Roger Miller's "Tall, Tall Trees" and Tom T. Hall's "Little Bitty," Jackson then found inspiration (and chart success) in more challenging material, such as Harley Allen and Carson Chamberlain's "Between the Devil and Me" and Kieran Kane's "I'll Go On Loving You."

Although Jackson's albums emphasize his original material, he frequently tips his hat to the sounds that molded his music. Prime examples include "Summertime Blues" (a country version of Eddie Cochran's 1958 rockabilly smash) and "Who's Cheatin' Who" (a remake of Charly McClain's 1981 hit). He took an additional step with the 1991 album, Under the Influence, offering his versions of songs made famous by Merle Haggard, Charley Pride, Conway Twitty, Don Williams, Gene Watson, Mel McDaniel and others. The album netted Jackson another Top 10 single with "Pop a Top," a Nat Stuckey song that was a major hit for Jim Ed Brown in 1967. Other highlights included Jackson's take on Hank Williams Jr.'s "The Blues Man."

Others have had major hits with Jackson's compositions as well. Among his credits are Randy Travis' "Forever Together" and "Better Class of Losers," Clay Walker's "If I Could Make a Livin'" and Faith Hill's "I Can't Do That Anymore."

Already one of country's most respected songwriters, Jackson ascended to yet a higher level at the 2001 CMA Awards show when he debuted "Where Were You (When the World Stopped Turning)." His song about the 9/11 terrorist attacks in New York City stunned the awards show audience and ultimately proved to be the most honest, heartfelt song written about the tragedy.

In 2002, "Where Were You (When the World Stopped Turning)" won Jackson his first Grammy, as best country song. At the 2002 CMA Awards, the song netted Jackson song of the year and single of the year honors. That same year, Jackson received the CMA's album of the year award for Drive while being named male vocalist and entertainer of the year. He tied Johnny Cash for the most CMA wins in a year. Drive went on to sell 4 million copies, and the title track spent several weeks at No. 1 as well.

Jackson remains a favorite of the Nashville business community, but he has occasionally commented on the country music industry in songs such as the No. 1 hit "Gone Country" (co-written with Bob McDill), "Three Minute Positive Not Too Country Up-Tempo Love Song" and his CMA award-winning collaboration with George Strait on "Murder on Music Row." By then accustomed to sold-out concerts at huge arenas throughout the U.S., Jackson gained rave reviews from the big city media in 2002 when he took his show to the tiny confines of New York City's premiere punk club, CBGB.

By 2003, Jackson had achieved enough chart success to warrant the release of another retrospective of his recording career. It was released in two versions -- the two-CD Greatest Hits Volume II and Some Other Stuff and the single disc Greatest Hits Volume II. The album's first single, "It's Five O'Clock Somewhere," was a duet with Jimmy Buffett. The No. 1 hit was named vocal event of the year at the 2003 CMA Awards and gave Buffett his first chart-topping single -- and his first major music award. That same year, Jackson won his second male vocalist CMA award and his third CMA entertainer trophy.

In 2004, he hit No. 1 with "Remember When" (from the album What I Do and toured arenas with Martina McBride. He offered Precious Memories, a gospel album originally recorded as a gift to his mother and mother-in-law, in early 2006. Later that year, he offered the critically acclaimed Like Red on a Rose, produced by Alison Krauss.



View the full website biography of Alan Jackson.