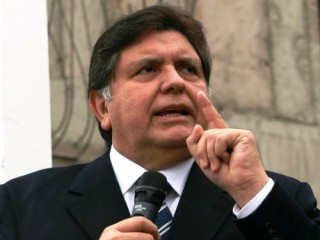 Alan Garcia Perez
Date of birth : 1949-05-23
Date of death : -
Birthplace : Lima, Peru
Nationality : Peruvian
Category : Politics
Last modified : 2010-07-21
Alan Garcia Perez, also known as Alan Garcia, Alan Gabriel Ludwig Garcia Perez born May 23, 1949 in Lima, Peru is a Peruvian politician, lawyer and President of Peru since 2006.


In 1985, when Peruvians were in despair over their crumbling country, they voted into office a charismatic young politician named Alan Garcia Perez amid a wave of public optimism that he could turn the country around and make democracy work. Garcia ended his presidential term, fleeing into exile. But he returned to Peru and reclaimed the presidency in 2006.

Born to Politically Active Parents

Alan Garcia Perez was born May 23, 1949, in Lima, Peru, to Carlos Garcia Ronceros and Nyta Perez de Garcia. His parents met during a meeting of the Aprista party, also known as the American Popular Revolutionary Alliance (APRA). Two months before Garcia's birth, his father was sent to jail as a political prisoner and spent several years locked up.

Showing allegiance to his father, Garcia joined the Aprista party at the age of 11. Because of his father's prison ordeal, "Politics became a vital obligation to me," Garcia told Business Week.

Garcia studied literature and law at the universities in his homeland. In 1972, he went abroad, earning a doctorate in law from the University of Madrid. Restless, he continued studies in Europe and made a living playing guitar and singing in bistros.

Became Active in Politics

In 1977, Garcia returned to Peru, ready to enter politics. In 1988, Garcia was named APRA's national organization secretary, the same position his father held when he was thrown in prison. In 1982, Garcia became secretary-general of the party, paving the way for him to become the party's next presidential candidate. The stage was set and the APRA began working in earnest to turn the chubby, shaggy-haired drifter into a smooth-talking, charismatic gentleman.

As the April 1985 election approached, Peru was in a state of shambles. Garcia was running to govern a country many thought was ungovernable: Inflation rates were practically increasing by the hour, unemployment ran rampant. The country was also racked by foreign debt and terrorized by guerrillas.

During his campaign, Garcia promised he would work toward greater self-sufficiency for Peru. Touting his campaign slogan, "My promise is to all Peruvians," Garcia struck a chord with the nation.

Garcia was thought to be Peru's great hope for democracy. The last military government had stepped down in 1980, but Peru had yet to have an uncorrupt democratic government or a government that actually helped the people.

Became Peru's Youngest President

On April 14, 1985, Peruvians took to the polls. In a nine-way race, Garcia fell just short of a majority, but was the top vote-getter. Peruvian law then called for a runoff between the top two candidates, but the second-place finisher had fallen so far short of Garcia that he withdrew.

Crowds gathered outside Garcia's campaign headquarters on the night of the vote. "The country will advance," he told them, according to the New York Times Magazine. "The people will be saved, the gates of history will open up and our future will be made."

In his inaugural address in July 1985, the 36-year-old president shocked the world and gained praise from his homeland when he announced that Peru would limit its interest and principal payments to the International Monetary Fund. Peru's debt totaled $14 billion.

During his early months in office, Garcia worked tirelessly. He held his first cabinet meeting at 1:30 a.m. Garcia pledged war on the cocaine trade, formed a commission to seek rapport with guerrilla groups and shook up the police force, firing 37 police generals, many purported to have ties to the drug trade. To help the poor and unemployed, Garcia froze prices on consumer goods and rents and raised minimum wage. He also cut the defense budget, funneling the savings into the domestic economy. In the short term, his economic policies worked, but over the long hall, the economic situation worsened.

Fled Country in Exile

It all went so bad so quickly. At the end of his term, in 1990, Garcia fled to Colombia in exile. Clifford Krauss, writing for the New York Times, described Garcia's downfall best. "After serving as president between 1985 and 1990, Mr. Garcia left office widely abhorred. Terrorism raged across the country. Consumers were forced to wait on long lines for food, with bags of money made almost worthless by a four-digit inflation rate and repeated devaluation. The government was virtually bankrupt and several social programs were ruined by corruption."

Returned to Stage Comeback

Naturally, when Garcia returned from exile in 2001 and announced his run for the presidency, he was greeted with scorn. During his 2001 campaign, Garcia repeatedly apologized for the mistakes of his youthful presidency, saying he recognized the errors and learned from the experience. According to the New York Times, he even went on a talk show and practically groveled. "It's been tough for me to take 10 years of insults," he purportedly said. "I need to put my name right in Peruvian history."

No one took Garcia too seriously, until he came in second in April's first round of voting, forcing a runoff between himself and top vote-getter Alejandro Toledo. Garcia's comeback is a testament to his skills as a great orator. He did especially well with voters in the 18 to 26 category-voters who are too young to remember him as president.

Peruvians were nervous right up to election day as polls showed Garcia closing in on Toledo's lead. In the end, Toledo won the June 3 runoff. Garcia, however, proved he had enough clout to make him a formidable opposition voice during Toledo's term.

Reclaimed Presidency in 2006

In May of 2006, first-round presidential elections showed that Garcia placed second, with 24 percent of the vote, behind Ollanta Humala. In the runoff one month later, Garcia was president for the second time. Later that year, Garcia admitted he had fathered a son during an extramarital affair in 2005.

His first actions as president included asking the Peruvian Congress to allow the execution of people convicted of terrorism-related offenses, and calling for a legal, non-drug market for the coca plant, which is used to make cocaine. Garcia called for the use of coca leaves as an herb in salads and baked dishes and as a remedy for sore throats, saying that the best way to stop cocaine trafficking was to allow farmers to sell the coca plant legally.

In 2007, parliament empowered Garcia to rule by decree for sixty days. The emergency powers only pertain to offenses related to organized crime, including drug trafficking. Garcia in 2008 swore in the new Peruvian government, after the previous one resigned amid a corruption scandal.

Garcia's popularity rating dropped in mid-2009 to 21 percent after protests over the country's handling of resources in the Amazon jungle resulted in the deaths of 34 people. Garcia reshuffled the Cabinet, but could face a tought re-election challenge from Humala in 2011. Reuters cited "widespread discontent with Garcia's investor-friendly policies, which critics say have failed to lift the income of workers and the poor despite spurring economic growth."

Garcia and his wife, Pilar, have four daughters. The youngest is named Luciana, after Garcia's favorite singer, Luciano Pavarotti. He has two other children from previous relationships.
View the full website biography of Alan Garcia Perez.