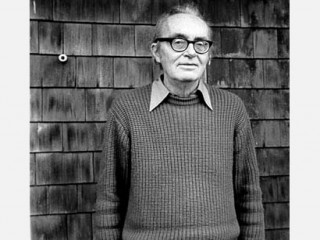 Alan Dugan
Date of birth : 1923-02-12
Date of death : 2003-09-03
Birthplace : Brooklyn, New York, U.S.
Nationality : American
Category : Famous Figures
Last modified : 2010-11-12
A strictly contemporary American poet, Alan Dugan was noted for his intelligent, unsentimental, and humorously mocking examination of life's mundane realities.
Alan Dugan was born on February 12, 1923, in Brooklyn, New York. He attended Queens College and Olivet College, served in the Air Force during World War II, won an award from Poetry Magazine in 1946, and received a B.A. in English from Mexico City College in 1951. His first publication, General Prothalamion in Populous Times, was privately printed in 1961.
Dugan's early works are generally relegated to obscurity, but his Poems (1961) was greeted with enthusiasm and led to much recognition for its poet, who later held a Pulitzer Prize, National Book Award, and a Prix de Rome.
In addition to his career as a poet, Alan Dugan worked in advertising and publishing and, oddly enough, as a model maker for a medical supply house in New York. He taught at Connecticut College, Sarah Lawrence College, the University of Colorado at Boulder, and the Fine Arts Work Center in Massachusetts. In 1982 he received the Shelley Memorial Award in Literature from the American Academy and Institute of Arts and Letters.
Given some of the titles in POEMS six, published in 1989, it is obvious that Dugan still liked to cut through all the sentimentality and tell it like it is, for his poems are usually free of either joy or grief in their treatment of the human condition. Opting instead for self-control and fostering skepticism in his readers, Alan Dugan writes to shock his readers into recalling memories they would rather forget because they contradict established beliefs. In his "On a Benign Bureaucratization of Death," for instance, he recounts the aftermath of his father's death. In a terse, conversational voice he recalls thinking after his father died "fighting at/my mother for life as usual,/like the yard dog with the house cat," that his mother would wither up and die "like so many old Irish ladies do." Instead, she goes to her sister's place, which is located next to a funeral home, after her husband dies, spending her days there and realizing that "mortuary talk/was all business at the dinner table,/all rational, all accountable,/and she could get a good night's sleep"—which underlines her apparent adherence to the fixed rules and a hierarchy of authority, but which really records the mourning widow's actions honestly and renders the sentiments as real and uncontrived.
In "Why There Is No Class Solidarity in America. I read it in the Times, Aug. 2, 1987" (in POEMS six), Dugan wrote about an actual crime that happened in New Jersey at the time. The witty narration tells the story of the Italian who got mad at the Jewish woman who lived downstairs in his apartment building and hired a Polish man who owned three rattlesnakes to kill her. When the snakes slipped under her door, the lady's cats raised such an uproar that the cops came and caught the culprits. One of the rattlers bit one of the cats, but the cat recovered. Dugan's moral: "All this proves/that there is no class solidarity in America,/and that cats are better than rattle-snakes/if they come from Hackensack and are Jewish cats."
The poet's point, concisely developed, brusquely stated, and full of mockery, is well taken and underpins many of his poems. Dugan was also fond of using lots of invective, vulgar slang, and scatological terms to achieve his effects. He was never dull. In, for instance, "In Memoriam: Aurelius Battaglia, and Against His Tragic Sense of Life," which appears in POEMS six. Aurelius is the "greatest loudmouth in the world." He has the reputation of having bored "everybody everywhere." When the author meets him at a bar, he can't talk: "he can only whisper, constantly" and explains that he got cancer of the larynx because "he's being punished for the sin of hubris." He claims that "he's paying out to all the people he has pissed off/by his immoral shouting domination of all conversation." The first person narrator tells Aurie not to "really believe in appropriate fates or tragedies/or just punishment for hubris" because "that's just bullshit." When your number is up, your number is up, he argues, explaining, "we live like herds of animals, impersonal personal accidents/happen regardless of personal characteristics, vices or/virtues." So it's not fate, it's not tragic, it's just death, ridiculous death; and there's no point arguing about it until after the bars close and nobody is really listening anyway.
Dugan was largely well received as a contemporary American poet. His poetry, the critics agreed, is intelligent and inventive. As Robert Boyers pointed out: "Dugan invites us to witness with him, without any redemptive qualification, the sordid spectacle of our common humiliation."
Dugan's first person persona was without self-importance or self-pity. He spoke a tough, everyday language and talks about the commonplace: jobs, money, birth, death, sex, and booze. His terrors were the grim realities that all human beings confront:
Alicia Ostriker described Dugan as an extraordinary craftsman: "He loads every rift with concrete; he makes a hard, crunching music; and his control of momentum is peerless: the poems, one after another, come barreling down the alley like big black bowling balls and down you go."
School is not out on Dugan yet. His work remained consistent throughout his career, but his predictability led some critics to accuse him of stagnation. Alan Brownjohn remarked that the "sameness of poems suggests someone who is concerned not to seek variety or development, and continue working the same weirdly attractive yet essentially limited vein." Other critics argued that his limited range was an asset since Dugan was able to focus in on his narrow range of subjects and exercise his caustic intelligence more effectively.
Dugan was different, and it's difficult to compare him to any other poet, although he created a significant number of poems. One possible explanation for this is that Dugan had no desire to "fit in," as it were. He wrote without regard to popular approval, as some have noted. As Robert Boyers so aptly remarked, "One does not get terribly excited about his work, but one nevertheless returns to it with increasing regularity, for it successfully inhabits that middle ground of experience which our best poets today seem to loathe to admit."
Critical overview of Dugan's works is provided in Contemporary Literary Criticism, Volume 2 (1974) and Volume 6 (1976). Also worth reading are: Stephen Stepanchev, American Poetry Since 1945 (1965); Salmagundi (Spring-Summer 1968); The Hudson Review (Autumn 1974); Village Voice (August 22, 1974); Poetry (February 1972, 1975); and Partisan Review (Spring 1972).
View the full website biography of Alan Dugan.