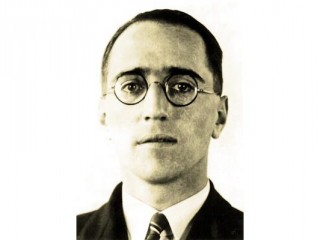 Alan Blumlein
Date of birth : 1903-06-29
Date of death : 1942-06-07
Birthplace : Hampstead, England
Nationality : English
Category : Arhitecture and Engineering
Last modified : 2011-09-27
Alan Blumlein was an British electronics engineer, notable for his many inventions in telecommunications, sound recording, stereo, television and radar. He received 128 patents and was considered as one of the most significant engineers and inventors of his time.

Alan Blumlein was attempting to improve cinema sound systems by having sound emanate from more than one speaker, when in 1931 he devised a system for embedding two separate sound channels into a single record groove. Calling it binaural sound -- now known as stereo -- he made several experimental recordings and films, but his employer, EMI, had little interest in stereo, and instead focused Blumlein's attention on television. With Isaac Shoenberg, he invented 405-line monochrome TV broadcasting, the first TV format widely used, which was the standard in the UK from 1936 to the mid-1960s. Earlier, while working at Columbia Graphophone, he invented a wax cutting machine for making better gramophone masters, and a moving coil microphone.

He was testing an improved targeting system for bombing when he was killed in a plane wreck in 1942, about fifteen years before stereophonic recordings became popular.

View the full website biography of Alan Blumlein.