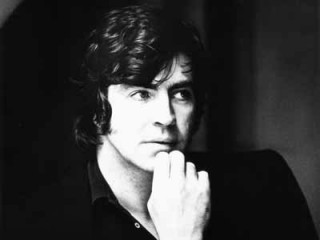 Alan Bates
Date of birth : 1934-02-17
Date of death : 2003-12-27
Birthplace : Allestree, Derbyshire, England, U.K.
Nationality : English
Category : Famous Figures
Last modified : 2011-02-17
Sir Alan Arthur Bates was an English actor, perhaps best known for the firm Women in Love directed by Ken Russell in the role of Rupert Birkin.

His maverick performances in Angry Young Men, Women In Love and The Fixer are esteemed in film history as some of the finest character portrayals of all time.
Born in Derbyshire, Alan Arthur Bates was encouraged by his parents to become a concert pianist and, from an early age, he knew his talents lay in the performing arts.

Having won a scholarship at the Royal Academy of Dramatic Arts in London, he went straight into the Royal Air Force to complete two years of military.

He burst onto the theatre scene in 1956 as one of Britain's 'Angry Young Men' -artists rebelling against English middle-class values. But he refused to be typecast, and there was never a typical Alan Bates character. On stage, he moved comfortably between modern playwrights like O'Neill and Pinter and the classics of Shakespeare and Chekhov.

His 50-plus films are a testament to his incredible range. From 'Zorba the Greek' and 'Georgy Girl' to 'Far From the Madding Crowd' and 'Gosford Park' - Bates was always guided by a love of acting rather than the box office.

He picked up his only Oscar nomination for John Frankenheimer's 'The Fixer'.

In 1970, he married Victoria Ward and the couple had twin sons, Benedick and Tristan, in 1971. Unfortunately tragedy struck in 1990 when Tristan died following an asthma attack. His wife, Victoria Ward, passed away two years later.

In 1995 he received a CBE from the Queen and continued to appear on the both the stage and screen.

When he died in December of 2003, he was remembered for dozens of stage and screen roles spanning five decades. Bates gave his all to every character he played, right down to his last, in 'Fortune's Fool' on Broadway, when he was already ill with pancreatic cancer.

His companion at the end of his life was actress Joanna Pettet.

He won the Tony Award for Best Actor that year. Yet he was the definitive non-star star, the quiet chameleon who never made the gossip pages.


View the full website biography of Alan Bates.