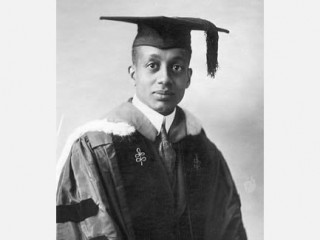 Alain Locke
Date of birth : 1886-09-13
Date of death : 1954-06-09
Birthplace : Philadelphia, Pennsylvania
Nationality : American
Category : Famous Figures
Last modified : 2010-10-11
Alain Locke, the distinguished African American intellectual of his generation, was the leading promoter and interpreter of the artistic and cultural contributions of African Americans to American life. As a professor of philosophy (the study of knowledge), his theory of "cultural pluralism" valued the uniqueness of different styles and values available within a democratic society.

>h2>Locke's childhood
Alain LeRoy Locke was born on September 13, 1886, in Philadelphia, Pennsylvania, into a well-known family. Alain's father, Pliny Locke, had obtained a degree in law from Howard University, and then became a mail clerk in Philadelphia. Mary Hawkins, Alain's mother, was a teacher.

Pliny Locke and Mary Hawkins were engaged for sixteen years, not marrying until they were middle aged. Alain, their only child, was brought up in a cultured home environment. When Alain was just six years old his father died, and his mother supported her son through teaching. Alain attended the Ethical Culture School, which was a school with modern ideas about education, teaching moral principles and human values. Young Alain became ill with rheumatic fever early in his childhood. The disease permanently damaged his heart and restricted his physical activities. He dealt with his weak physical condition by spending time reading books and learning to play the piano and violin.

Locke attended Central High School, graduating second in the class of 1902, and then studied at the Philadelphia School of Pedagogy, where he was first in his class. He attended Harvard University and completed Harvard's four-year program in three years, graduating magna cum laude (second in his class) in 1907, being elected to Phi Beta Kappa (an honor society made up of high-ranking American college and graduate students in the subject of liberal arts and sciences), and winning the school's most distinguished award, the Bowdoin Prize, for an essay in English. It was a remarkable achievement for anyone, especially an African American during this highly segregated (separated because of race) era.

Locke was named a Rhodes Scholar (a person who receives a scholarship to Oxford University for two to three years), the first African American chosen for this award, and sailed to England in 1907 to attend Oxford University. In 1910 he received a bachelor's degree in literature. From Oxford he moved to Germany for advanced work in philosophy at the University of Berlin from 1910 to 1911. This time in Europe helped to intensify his interest in modern art, music and literature.


Became an educator
In September 1912, Locke was appointed assistant professor of English at Howard University, an African American college, in Washington, D.C. Frustrated, because Howard's Board of Trustees would not approve courses on comparative race relations, Locke turned his attention back to philosophy. In 1916, he received a one-year appointment as an Austin Teaching Fellow at Harvard. Two years later he received his doctorate degree and returned to Howard as a full professor of philosophy. He would head this department until his retirement in 1953.
During these years Locke was a major contributor to Opportunity: Journal of Negro Life and Survey Graphic. He edited a special issue of the latter publication devoted to the Harlem Renaissance, the flourishing of African American art, literature, and music in New York City during the 1920s and 1930s. Expanding it into a book and shifting the focus from Harlem to overall African American cultural life, Locke authored The New Negro: An Interpretation in 1925. It was an outstanding collection of the leading African American fiction, poetry, drama, and essays written by himself and others describing the changing state of race relations in the United States.
Locke became the leading authority on modern African American culture and used his position to promote the careers of young artists. He encouraged them to seek out subjects in African American life and to set high artistic standards for themselves.
Locke's cultural influence
Locke served as secretary and editor of the newly established Associates in Negro Folk Education. Between 1936 and 1942 this organization published nine "Bronze Booklets" written by leading African American scholars. Locke wrote two of these, Negro Art: Past and Present and The Negro and His Music, and edited a third, The Negro in Art: A Pictorial Record of the Negro Artist and of the Negro Theme in Art. The latter reemphasized his belief that African American artists should look to the works of their African ancestors for subject matter and styles to apply to modern painting and sculpture.
Locke continued his work in philosophy, actively promoting his theory of cultural pluralism (a society made up of several different cultures and their beliefs). This interest led to his pioneering 1942 social science anthology, coedited with Bernhard Stern, When Peoples Meet: A Study in Race and Culture Contacts, an examination of dominant and minority populations in various countries around the world.
In demand as a visiting scholar
By the middle of the twentieth century, Locke was a member of the editorial board of the American Scholar and, in 1945, the first African American elected president of the American Association for Adult Education, a mainly white national organization.
During the 1945 and 1946 academic year he served as visiting professor of philosophy at the University of Wisconsin. The following year he was a visiting professor at the New School for Social Research in what had become his second home for many years, New York City, and held a similar appointment the next year at the City College of New York (CCNY).
After 1948 Locke began teaching at both CCNY and Howard. His final achievement was to secure a Phi Beta Kappa chapter at Howard in 1953, a major milestone in the history of African American education.
Locke retired later that year and was awarded an honorary doctorate (a degree given without the usual proceedings) by Howard. He moved permanently to New York City and continued working on his magnum opus (highest achievement), The Negro in American Culture, a definitive study of the contribution of African Americans to American society. Unfortunately his recurrent heart problems returned in the spring of 1954, causing his death on June 9, 1954, in New York City. His unfinished manuscript was completed by Margaret Just Butcher.
View the full website biography of Alain Locke.