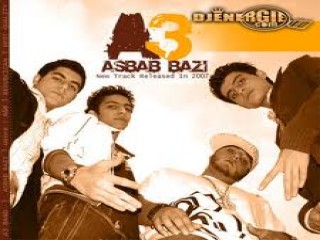 Alabama 3
Date of birth : -
Date of death : -
Birthplace : Brixton, London
Nationality : British
Category : Arts and Entertainment
Last modified : 2011-06-23
Alabama 3 are a British band mixing rock, dance, blues, country, and gospel styles, founded in Brixton, London, in 1995. In the United States, they are known as A3, allegedly to avoid any possible legal conflict with the country music band Alabama. The group achieved international fame when the producers of hit TV series The Sopranos chose their track "Woke Up This Morning" for the show's opening credits.

Alabama 3 was one of the oddest musical outfits to arise from late-'90s London, but also one of the most original. The band's origins are shrouded in urban myth -- the band likes to claim that the three core members met in rehab, while their Southern accents have many believing they are from the U.S. state of Alabama, although it appears vocalists Rob Spragg and Jake Black met at a London rave when Spragg heard Black singing Hank Williams' "Lost Highway." Bonding, they set out about creating an agenda of Americana, electronica, leftist politics, and laughter. Joined by DJ Piers Marsh, the trio issued two 12" dance singles that combined their interest in gospel and country music, yet these went over the heads of the London dance scene. In Italy, where Spragg and Black began singing Howlin' Wolf songs over Marsh mixes, the idea of the band began to take shape and back in Brixton, South London, they recruited a crew of musicians to shape their vision. This, combined with brilliantly theatrical live shows, meant the band attracted a huge South London following long before they had a record deal.

Signed to One Little Indian, their 1997 debut, Exile on Coldharbour Lane, was a groundbreaking work that effortlessly fused gospel, country, blues, and house music. Dubbed "chemical country," Alabama 3 broke down the barriers between line dancers and ravers. The band's penchant for absurdity was displayed in Spragg and Black's insistence on singing, rapping, and preaching in deep Southern accents alongside samples of cult leader Jim Jones preaching Maoist philosophy and the renaming of all members -- Spragg became the Reverend Larry Love; Black became D. Wayne Love. Yet the songs were strong and imaginative and their observations on contemporary U.K. culture were spot-on: country and blues were used to look at the excesses of dance culture -- all with a pumping 808 beat behind them. The band was picked up on by U.K. roots DJs Charlie Gillet and Andy Kershaw, but the U.K. music press, at the height of its infatuation with Britpop, ignored the group or derided them as a novelty. Fortunately, U.S. audiences displayed a greater degree of irony, and cult TV series The Sopranos employed the band's "Woke Up This Morning" as its theme music. Unfortunately, country-lite vocal outfit Alabama sued over the group's name, which means in the U.S. Alabama 3 is now known as A3.

Album number two, La Peste, followed in 2000 and found the band in more muted form. Again, the gospel-country-blues axis was there and the shows were wonderfully outrageous, but it appeared that two years of touring and a stronger awareness of the mounting casualties of rave culture and New Labor Britain had made the band wear a bleaker face. Where their debut cheekily nodded at the Stones' seminal double album, La Peste shared with it a bleak, murky sound that demanded the listener dig into the songs to discover their meaning. In 2007, with a continuing reluctance to conform, the band completed an equally dark and wonderfully uncompromising album titled M.O.R. Unfortunately, it's doubtful that A3 will shake loose their cult status anytime soon, considering that their constant mashing of opposing genres results in a tremendously original soundscape, and this makes it nearly impossible to classify the band or nail it down to a single specific genre.

View the full website biography of Alabama 3.