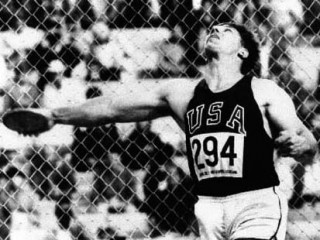 Al Oerter
Date of birth : 1936-08-18
Date of death : 2007-10-01
Birthplace : New York City, New York, U.S.
Nationality : American
Category : Sports
Last modified : 2010-06-23
Al Oerter (also known as: Alfred Adolf Oerter, Jr.) born August 18, 1936 in Astoria, New York, United States - died October 1, 2007 in Fort Myers, Florida, United States is an American track and field athlete .


Four World Records.
Al Oerter was the first man ever to throw the discus over 200 feet, the first of his four world records in a sport he excelled at throughout the 1960s. At the age of twenty, the 6 feet 4 inches, 290 pound sophomore at the University of Kansas was rated second in the world in the discus throw. He had set a national high-school record and had won two NCAA championships. At the 1956 Olympic games Oerter won the gold medal with a personal best throw of 184 feet 11 inches.

A Career-Threatening Accident.
He returned to college and to a career-threatening challenge. In 1957 Oerter was involved in a serious automobile accident that nearly took his life. He trained furiously to regain his strength, and he never again competed without pain. After graduating from the University of Kansas in 1958, he continued to compete as a discus thrower as a member of the New York Athletic Club.

The 1960 Olympics.
In 1960 Oerter lost in the Olympic trials to the world-record holder Richard Babka, but he made the Olympic team. He threw poorly in the early rounds, and then Babka suggested he adjust his throwing position. On his last throw in the competition, Oerter tossed the discus 194 feet 2 inches to win his second gold medal.

The 1964 Olympics.
In 1964 Oerter was twenty-eight and hurting. He had a chronic cervical-disc problem and tore cartilage in his ribcage during practice for the Olympics. At the games Oerter faced a Czechoslovakian who had won in forty-five consecutive meets. On his fifth throw, again, Oerter won the gold and set a world record of 800 feet 1 inch.

The 1968 Olympics.
His fourth Olympic gold medal came in 1968 at the politically charged games in the thin air of Mexico City. He had a pulled muscle in his right thigh in addition to his chronic neck problems that by now required him to wear a neck brace, even in competition. After two throws he was in fourth place. Then, in frustration, he removed the neck brace and won the gold medal with a throw of 212 feet 6 inches, 5 feet further than the next best throw of the games.

Return to Competition.
Oerter persevered for one more season before he retired--for a time. In 1977 he reentered world competition stronger than ever. He made a throw of 227 feet 11 inches to qualify for the 1980 Olympic Games in Moscow, but he did not compete because of the American boycott of that competition. When he is not training or competing, Oerter is a systems analyst for a New York electronics company.
View the full website biography of Al Oerter.