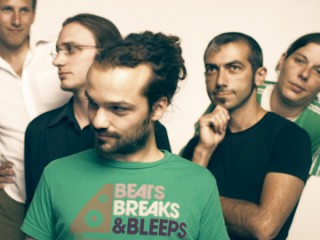 Al Jawala
Date of birth : -
Date of death : -
Birthplace : Deutschland
Nationality : Deutsche
Category : Arts and Entertainment
Last modified : 2011-03-04
With their combination of Balkan Soul and funky dance beats Äl Jawala boil European clubs and festivals from France to the Black Sea.

Äl Jawala
Genre: Alternative / Big Beat / Fusion
Location: Deutschland
Record: Label Jawa Records / Soulfire / RoughTrade
Type of Label: Indie

Äl Jawala create an absorbing and innovating urban sound that takes the soul of Balkan-brass out to the Dancefloors.

An explosive and highly charged cocktail, in which cultural limits fade. Äl Jawala reaches out further than the common "Style-Mix-Formats". They dare to reach into the unexplored, they break loose, transform into a orchestra, become DJ, Punkband and Storyteller.

Äl Jawala combine dancefloor-capability with virtuosity and stunning musical open-mindedness. "Challenging, fiery, fascinating, cosmopolitan, technically exiting but still accessible without digression. An absolutely emotive band that certainly can bring every crowd to a boil" writes the Drums & Percussion magazine.

In 2005 Äl Jawala got awarded with the Kulturpreis of their hometown Emmendingen and their track A heymischer Bulgar appears on the Gypsy Garden compilation. Shortly after Äl Jawala recorded Live At Jazzhaus - the first album presenting the new instrumentation.

Also in 2005 Äl Jawala traveled to Romania for the first time, where a lot of their musical roots can be found. After their concert at Stufstock Festival at the Black Sea, Äl Jawala got famous very quickly in the whole country.

In 2007 Äl Jawala won the German "Creole-Award for World music". Besides the price given by the international jury, they even won the audience Award of the festival.

In May 2009 the German Pioneers of Balkan Big Beats released their first studio album "Asphalt Pirate Radio" Focused energy, the quintessence after nine years of live experiences, lyrical, up-front and 100% dancing pleasures guaranteed! Rooted in the soul of the Balkans and grown from the European streets, "Asphalt Pirate Radio" presents a concentrate of new dancefloor poetry. It was followed by a second album called "Lost in Manele" .

Äl Jawala - Step Into The Jungle 'Live' :



View the full website biography of Al Jawala.