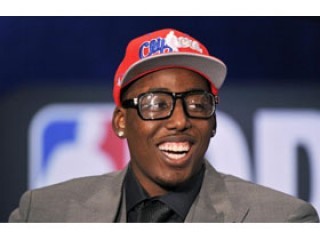 Al-Farouq Aminu
Date of birth : 1990-09-21
Date of death : -
Birthplace : Norcross, Georgia, United States
Nationality : American
Category : Sports
Last modified : 2011-03-25
Al-Farouq Ajiede Aminu is an American basketball player for the Los Angeles Clippers.

COLLEGE:

2009- 10:
Honorable mention AP All- American...Second Team All-ACC...averaged 15.8 points, 10.7 rebounds and accumulated 44 blocks in 31 games while shooting 44.7 percent from the field...one of five players in major conference college basketball to average a double-double...led Demon Deacons in scoring, rebounding and blocks...became first Demon Deacon to lead ACC in rebounding since Tim Duncan did it in 1997...one of three players to rank in top 10 in ACC in seven statistical categories...led ACC with 19 doubledoubles... recorded team-high 46 dunks... 11/13/09 vs. Oral Roberts, opened the season with a double-double of 25 points and 13 rebounds...11/15/09 at East Carolina, followed with 23 points, 9 rebounds and 3 steals... named the ACC Player of the Week on Nov. 16...11/18/09 vs. High Point, posted a doubledouble with 22 points and 10 rebounds... 11/24/09 vs. Winston-Salem State, had 13 points and 4 rebounds...11/28/09 vs. William & Mary, posted a double-double of 11 points and a career-best 20 rebounds... 12/1/09 at Purdue, turned in a double-double of 12 points and 10 rebounds...12/13/09 vs. Elon, finished with a double-double of 11 points and 10 rebounds…12/16/09 at UNC Wilmington, posted a double-double of 17 points and 13 rebounds, to go along with 3 steals...12/20/09 vs. NC State, led the team with 18 points and 13 rebounds...12/28/09 at UNC Greensboro, finished with 23 points, 17 rebounds, 6 blocks and 3 assists...1/3/10 vs. Xavier, posted a double-double of 26 points and 18 rebounds...went 11-for-19 from the field and had 3 blocks, 2 assists and 2 steals in 41 minutes vs. Xavier...1/12/10 vs. Maryland, turned in a double-double of 24 points and 13 rebounds, in addition to 3 blocks and 2 steals...1/17/10 at Duke, finished with a doubledouble of 22 points and 10 rebounds...2/9/10 vs. BC, had 22 points on 8-of-12 shooting, along with 8 boards and 4 blocks...2/13/10 vs. Georgia Tech, finished with 19 points, 10 rebounds and 4 steals...2/16/10 at Virginia Tech, scored 21 firsthalf points and finished with a double-double of 25 points and 11 rebounds...2/20/10 at NC State, had a double-double of 15 points and 14 rebounds…3/7/10 vs. Clemson, posted a doubledouble of 18 points and 12 rebounds…3/18/10 vs. Texas, recorded a double-double with 20 points and 15 rebounds in the NCAA Tournament...

PERSONAL:

Attended Norcross High School in Norcross, Georgia...descends from a line of Nigerian kings...name Al-Farouq means "the chief has arrived"...son of Aboubakar Aminu and Anjirlic Aminu… averaged a team-high 14.8 points to go with 5.4 rebounds for the Clippers' entry in the 2010 NBA Summer League…older brother Alade was a 2010 D-League All-Star with Erie and Bakersfield and was signed to a 10-day contract by the Miami Heat on March 28, 2010...played in the NIKE Hoop Summit as a member of the USA Jr. National Select Team as senior in high school...also has a younger brother…led Norcross High School to backto- back Georgia 5A state titles in 2007-08...a member of the 2008 McDonald's All- American Team and played in the Jordan Brand Classic.


View the full website biography of Al-Farouq Aminu.