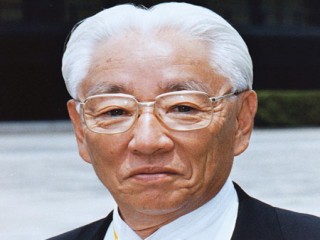 Akio Morita
Date of birth : 1921-01-26
Date of death : 1999-10-03
Birthplace : Aichi, Japan
Nationality : Japanese
Category : Science and Technology
Last modified : 2010-04-23
Akio Morita (January 26, 1921, Tokoname, Aichi – October 3, 1999, Tokyo) was a Japanese businessman and co-founder of Sony Corporation along with Masaru Ibuka.

With a global vision where Sony would be a common household name, Akio Morita founded a company that was not only to become one of the most powerful business entities in Japan or the United States, but in the world. With ingenuity in the design of electronics and cutting-edge business practices, it did not take long to see how or why his visions all became reality.
Akio Morita was brought up in Japan in a family of sake brewers, which is an alcoholic beverage made of rice. Taught to work hard while learning about the family business from a very young age, Morita learned how his father had kept the business going, even during hard times. And, since his family's business was successful, Morita was exposed to some aspects of western culture – namely the phonograph and automobile. It was said that when he was little, young Akio would take apart the family's phonograph and put it back together again simply because he was fascinated with it.
Expected to take over the family business after studying in Osaka, Morita instead became a Lieutenant in the Navy. Japan was deeply involved in the Pacific War and the Navy's Wartime Research Committee recruited Morita. While serving, Morita met the now famous Masaru Ibuka, who was to eventually co-found Sony Corporation with Morita.
Following the war, Akio Morita decided not to pursue further education at the prestigious Tokyo Institute of Technology, but instead worked with Ibuku to found Tokyo Tsushin Kogyo, which would later be renamed Sony due to the difficulty for foreigners to pronounce the name and its limited connotation as an electronics producer. Morita and Ibuku felt the company should keep its eyes on the horizon, going global onto the New York Stock Exchange some years later. Eventually, Sony Corporation would invest in insurance companies, movie studios, and other prominent corporations in the USA, UK, and Europe.
Later in his career, Akio Morita was awarded the Albert Medal from the UK's Royal Society of Arts. Following, he was awarded the National Order of the Legion of Honor in France, and the precious First Class Order of the Sacred Treasure from the Emperor of Japan. Throughout his life, he always maintained an honest business policy that has set the international precedent for decades. While Akio Morita never authored his own autobiography, he did release a book entitled Never Mind School Records, which appealed to the minds of young entrepreneurs to follow their dreams, no matter what any institution says is not possible. He invited anyone to follow his life as an amazing example of someone who succeeded with his own ideas even when others believed he never would.
View the full website biography of Akio Morita .