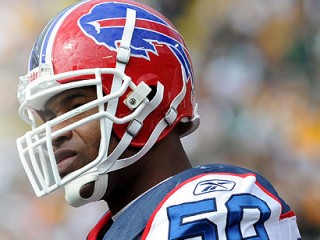 Akin Ayodele
Date of birth : 1979-09-17
Date of death : -
Birthplace : Irving, Texas, U.S.
Nationality : American
Category : Sports
Last modified : 2010-10-23
PRO: Signed with the Bills as a free agent on September 10, 2010 after being released by Denver on August 24… Released by the Dolphins (3/5/10) after being traded to Miami (4/26/08) from Dallas… signed by the Cowboys as an unrestricted free agent (3/13/06)… originally entered the NFL as a third-round (89th overall) draft choice of Jacksonville in 2002.

CAREER:
* Entering his ninth season in the NFL and has played in all 128 possible regular season games during his career with Jacksonville (2002-05), Dallas (2006-07) and Miami (2008-09)
* Joins Keith Brooking and London Fletcher as one of three linebackers in the NFL to have appeared in all 16 regular season games every year since 2002

2009: w/ Miami Dolphins
* Played in all 16 games with 15 starts for the eighth consecutive season, finishing third on the team with 70 tackles (60 solo) and forced one fumble while recovering two
* Posted two fumble recoveries vs. TB (11/15)
* Notched a season-best eight tackles vs. HOU (12/27)

2008: w/ Miami Dolphins
* Started 13-of-16 games played, posting 75 tackles (68 solo) with two interceptions four passes defensed
* Ranked third on the team in tackles

2007: w/ Dallas Cowboys
* Saw action in all 16 games, making 14 starts
* Finished fourth on the team with 57 tackles (36 solo) and four pass break-ups
* Started in the team's NFC Divisional Playoff game vs. NYG (1/13), making six tackles (3 solo)

2006: w/ Dallas Cowboys
* Started all 16 games in his first year with Dallas and recorded 84 tackles (64 solo) with one sack and two interceptions
* Started the NFC Wild Card Playoff game at SEA (1/6), finishing with eight tackles (7 solo)

2005: w/ Jacksonville Jaguars
* Saw action in all 16 games with 11 starts, posting 70 stops (54 solo) and 2.5 sacks
* Finished third in the team in tackles, helping the defense rank sixth in the NFL in yards per game allowed (290.9)
* Recorded eight tackles in AFC Wild Card game at NE (1/7)

2004: w/ Jacksonville Jaguars
* Started all 16 games for the second consecutive season, notching 92 tackles (75 solo) with two sacks… tackle total placed him second on the defense
* Blocked Kris Brown's 34-yard field goal attempt vs. HOU (12/26)

2003: w/ Jacksonville Jaguars
* Started all 16 games, amassing a career-best 115 tackles (85 solo), one sack and two interceptions
* Helped pace the NFL's sixth-best defense in yards per game allowed (291.1) and second in the league in rushing yards per game allowed (87.9)
* Scored his first career touchdown after recovering a Kyle Boller fumble and returning it 15 yards at BAL (11/2)

2002: w/ Jacksonville Jaguars
* Appeared in all 16 games, making three starts in his rookie campaign with Jacksonville finishing with 66 tackles (57 solo) and three sacks
* Made four tackles in his first career start at KC (9/15)

COLLEGE:
Was a three-year starter at defensive end at Purdue after transferring from Coffeyville (Coffeyville, KS) Community College… started all 35 games played for the Boilermakers, totaling 194 tackles, 29.0 sacks, five fumble recoveries and four forced fumbles… posted 64 tackles, nine sacks and 20 stops for a loss as a senior to earn first-team All-Big Ten Conference accolades… received second-team all-conference recognition following his sophomore and junior campaigns.

PERSONAL:
Attended MacArthur (Irving, TX) High School where he played linebacker and tight end, earning all-district honors as a senior… active in the community and was named the Jaguars' 2003 Walter Payton Man of the Year Nominee and the 2003 Blue Cross/Blue Shield Community Champion of the Year…

Presents a $10,000 college scholarship to a high school student from his alma matter in memory of his best friend, Michael Tilmon, who was killed in a car accident during their senior year of high school... Worked gamedays at Texas Stadium as a high school student... Younger brother, Remi, is a fourth-year defensive tackle for the New Orleans Saints... First name, Akinola, is an African word that means 'a warrior who has gone through many wars and has never been defeated'... Attended the NFL Business Management and Entrepreneurial Program at the Harvard School of Business during the 2007 offseason... Involved in the management of the Jerseyville Classic Sports Restaurant in Plano, Texas... Graduated from Purdue with a double major in sports psychology and law & society with a minor in business... Full name is pronounced AY-kin AY-dell.

View the full website biography of Akin Ayodele.