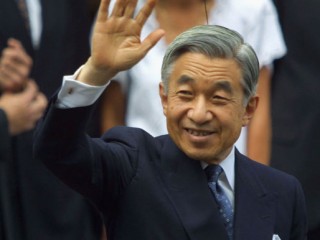 Akihito
Date of birth : 1933-12-23
Date of death : -
Birthplace : Japan
Nationality : Japanese
Category : Politics
Last modified : 2010-07-22
Akihito, Emperor of Japan, also known as Tsugu no Miya Akihito, Akihito, Emperor born December 23, 1933 in Japan is the current Japanese Emperor.

The 125th emperor of Japan, Akihito, succeeded to the throne upon the death of his father, Hirohito, Jan. 7, 1989. He formally took office Nov. 12, 1990.

Crown Prince Akihito was born Dec. 23, 1933, to Emperor Hirohito and Empress Nagako. In keeping with rigid tradition, the boy was separated from his parents (except for once-a-week visits) at the age of three and brought up by court attendants. It was evidently a loveless, lonely existence made worse by World War II, when he was moved out of Tokyo for safety from Allied bombing attacks.

At war's end, the American occupying forces ended the boy's isolation, enabling him to attend high school and college with the sons of the established privileged classes. In addition, a Philadelphia Quaker, Elizabeth Gray Vining, was hired to tutor the royal heir in Western customs and values. It was a happy choice. Vining awakened the young man's interest in many things besides tropical fish and horseback riding.

The postwar constitution of Japan, written by the United States, stripped the emperor of all but ceremonial powers and religious obligations as chief priest of Shinto. Emperor Hirohito never seemed comfortable in the new role of being only the "symbol of the state," and after a long illness he died on Jan. 7, 1989, at the age of 87. Although Akihito became emperor at once, he had to observe a long period of mourning before official enthronement.

During this time, tradition and rituals enabled the new emperor to hold the attention of his nation. He further endeared himself to the people by establishing his goal of serving as a constitutional monarch (not unlike British rulers). And unlike his father, Akihito adopted an informal style in dealing with his subjects, sometimes shaking hands instead of waiting to receive a bow. In general, the emperor won the affection of his people.

Akihito was the first emperor to marry a commoner, Michiko Shoda, in 1959, daughter of a successful industrialist, whom he met on a tennis court. Akihito also became the first emperor to raise his own children. Such innovations made the empress unpopular with her mother-in-law and others at the imperial court. In time, however, Michiko's style and grace prevailed. The couple raised Crown Prince Naruhito, Prince Akishino, and daughter Nori.

On Nov. 12, 1990, at the age of 56, Akihito ascended the Chrysanthemum Throne in an elaborate ritual attended by representatives of 158 countries. Empress Michiko ascended her own smaller throne (the Michoda) set up nearby. The ceremony cost an estimated $80 million, and included 3,400 guests, with many world leaders and dignitaries in attendance. Akihito continued a 2,600-year line of successor emperors, but he stated before the coronation that a monarch still should be accessible. "I find it natural that the imperial family should not exist at a distance from the people," Akihito said.

The Emperor and Empress travel the world representing Japan, and wherever they go, it is a major event. In 1992, they toured China in an effort to improve relations and build commerce. In 1994, the royal couple made a whirlwind 16-day tour of the United States, their first since ascending the throne, and their stay included a large white tie dinner with President Bill Clinton and First Lady Hillary Rodham Clinton. In a speech in Washington, D.C., Akihito talked about the 50 years of support between the United States and Japan. "It is my earnest hope that peaceful interchange will continue to flourish for many more years to come and that the Pacific will become a true ocean of peace," the Emperor said. The tour included 10 cities, including Los Angeles, where the royal couple visited the Japanese American National Museum.

The royal couple is described as sincere, respectful, and diplomatic. Wherever they travel, it becomes a large media event, yet they appear to handle the notoriety with grace. Both the couple and their children are accomplished musicians; Akihito plays cello, and the Empress plays the harp. They make their home in a Western-style house outside of Tokyo.

June 28, 2005: Akihito and his wife visited a memorial to Koreans killed on Saipan during World War II.

PERSONAL INFORMATION

Born Crown Prince Akihito, December 23, 1933, in Tokyo, Japan; son of Emperor Hirohito and Empress Nagako Kuni; married Michiko Shoda, April 10, 1959; children: Crown Prince Hiro, Prince Aya, Princess Nori. Education: Tutored privately in the Imperial Palace; then attended Gakushin University. Addresses: Address: Home ---The Imperial Palace, Tokyo, Japan.

CAREER

As Crown Prince of Japan served as representative of royal family, to 1989; on the death of father, Emperor Hirohito, became 125th Emperor of Japan, 1989---; also amateur marine biologist and musician.
View the full website biography of Akihito.