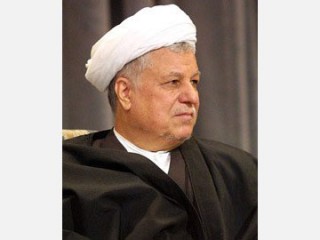 Akbar Hashemi Rafsanjani
Date of birth : 1934-08-25
Date of death : -
Birthplace : Nough, Iran
Nationality : Iranian
Category : Politics
Last modified : 2010-11-11
Raised on a pistachio farm, Akbar Hashemi Rafsanjani rose to become the most important political leader in revolutionary Iran. Known as a shrewd survivor, Iran's "smiling powerbroker" worked towards building a "kinder, gentler" Iran.
Akbar Hashemi was born in 1934 as the second of nine children of Ali Hashemi, a modest farmer and local clergyman in the remote Kermanian town of Rafsanjan—thus the family name, Rafsanjani. At age 14, Akbar Rafsanjani traveled to Qom to pursue advanced Islamic studies. He soon was involved in the "Devotees of Islam" agitation for nationalization of Iran's oil industry. After the demise of Premier Mussadiq's nationalist movement, Ayatollah Borujerdi, one of Rafsanjani's eminent mentors, prevailed upon clergy not to criticize politicians. During this period of quietism Ayatollah Rohollah Khomeini had the greatest impact upon Rafsanjani's formal education, which resulted in his clerical recognition as hojatolislam, a rank just below an ayatollah.
With Borujerdi's death in 1961, Ayatollah Khomeini organized mass protests against the westernizing "White Revolution" of Mohammad Reza Shah Pahlavi. After the Shah's agents stormed the Qom Seminary and forced Khomeini into exile, Rafsanjani became a key operative link in Khomeini's underground resistance. Along the way, Rafsanjani's writings included two significant books that presaged subsequent thinking. The Story of Palestine angrily chronicles a "Black Record of Colonialism." His 1967 biography of Amir Kabir admires the 19th-century Iranian prime minister's early conception of foreign policy non-alignment.
The Shah's agents suspiciously watched Rafsanjani and meted out periodic imprisonments, tortures, and even an illegal forced stint in military service. According to an official biography, his 1975 imprisonment resulted from his efforts to "correct the ideological thinking" of the Mujahedin-e-Khalq guerrilla organization, an organization Khomeini later condemned as hypocritically melding Marxism and Islam.
As a prominent revolutionary player, some observers perceived Rafsanjani as a mere opportunist who aligned himself with whichever directions the revolutionary winds blew. Others denounced his moderate appearances as sheepskin covering for a hard-line "wolf." However, Rafsanjani is best understood as a principled pragmatist whose coalition and consensus building efforts help explain the continuing survival of the Islamic revolution.
In early revolutionary phases Rafsanjani was Khomeini's clerical liaison to diverse dissident groups, including secular nationalists and communists. Rafsanjani later rationalized his collaboration with the Mujahedin as part of a strategy which "considered any form of struggle against SAVAK [the Shah's secret police] a blessing." Rafsanjani's revolutionary credits include: organizer of local revolutionary Komitehs, crisis foreman of Abadan oil production, member of the secret Islamic Revolutionary Council, co-founder of the Islamic Republican Party, and deputy interior minister. In May 1979 he was nearly assassinated by the Furqun (Distinction), a shadowy group claiming pious opposition to clerics in government. Rafsanjani arguably sought to slow the momentum towards extremism. When the nationalists sought elections for a constitutional review assembly, Rafsanjani warned that they would regret the resulting "fistful of ignorant and fanatic fundamentalists" who will "do such damage."
Rafsanjani subsequently was elected to the new Majlis (Islamic Consultative Assembly), which he presided over as parliamentary speaker for nearly a decade. In September 1980 Iraq's invasion of Iran energized hawkish sentiment, Rafsanjani included. As a populist Friday prayer leader in Tehran and as a Khomeini representative to the powerful Supreme Defense Council, Rafsanjani helped undermine remaining nationalist "doves" by advocating harsh retribution as Iran's war aim. Rafsanjani also backed a severe 1982 crackdown on the Mujahedin. Given Mujahedin assassinations of over 1,200 regime leaders, Rafsanjani later explained that without the "imperative" execution of over 4,000 Mujahedin guerrillas, "Iran would have become Lebanon." Grave circumstances demanded "determined" means.
With militant opposition crushed and Iraq on the defensive, Speaker Rafsanjani deftly maneuvered amidst years of raucous Majlis bickering over the precise social, economic, and international implications of Islamic governance. Often enigmatically seeming to be all things to all sides, his calls for just wealth redistribution did not square neatly with his reassurances to business interests about the sanctity of private property. Yet Rafsanjani could also resourcefully break impasses, as with his 1986 theatrical use of television to intimidate "conservative" recalcitrants from "standing up" to vote against an emotion laden, yet long blocked, land reform bill. (Rafsanjani's educated [University of California] brother directed Iranian television.)
Rafsanjani's most dangerous innovation was in foreign policy. Recognizing the severe costs of Iran's international pariah status, Rafsanjani sought to break Iran's isolation through openings to both eastern and western countries. Outraged purists leaked the arms dealings with the United States and Israel in what became known to the West as the "Iran-contra" affair. Yet Khomeini squelched recriminations with the admonition that "the path to hell is paved with discord."
As the warfront deteriorated in 1988, Khomeini turned over personal command of all Iranian armed forces to Rafsanjani. Still the coalition builder, Rafsanjani ended the destructive rivalries among regular, ideological, and paramilitary forces by integrating them under one command. Following American pummeling of Iranian naval units and the shooting down of an Iranian civilian airliner, Iran's radicals called for a river of American blood. But Rafsanjani and President Ali Khamenei quietly convinced Khomeini that the time had come to accept a "poisonous chalice" cease-fire. Rafsanjani's nationally broadcast sermon simply asserted that "the main issue is that we can stop making enemies without reason."
After Khomeini's death in June 1989, Rafsanjani soon emerged as Iran's most powerful leader. He was a key architect of Ali Khamenei's swift selection to Khomeini's post as supreme spiritual guide. Policy differences between Khamenei and Rafsanjani were real, yet common bonds were much stronger. Khamenei supported Rafsanjani's presidential election, along with the simultaneous constitutional reforms that vastly strengthened the presidency's authority. Despite howls from the Majlis, Rafsanjani's cabinet excluded all prominent radicals.
As president, Rafsanjani continued the momentum towards pragmatic policies. In social policy Rafsanjani candidly advocated such reforms as liberalized laws on women's privileges. In defending pursuit of Western loans and private investments, Rafsanjani castigated "statists" and fanatics with "religious pretensions" for being "frozen in their beliefs … and unable to adjust themselves to the circumstances of the day. Dams cannot be built by slogans."
Events will reveal Rafsanjani's popularity with the masses. His relatively easygoing, often witty, Friday "prayer sermons" genuinely seemed to delight Tehran crowds, though grandiloquence at times undercut his pragmatic efforts. In May 1989, during services commemorating Jerusalem day, Rafsanjani opined that Palestinians could end Israeli repression if they killed five Americans for every martyred Palestinian. Official Iranian news sources quickly toned down such remarks as simply emphasizing that Israel's depredations would be impossible without American financing.
Overall, Rafsanjani's presidency was marked by increasingly candid and pragmatic rationales for recasting revolutionary principles in light of necessity. In November 1989 Rafsanjani delighted geographic neighbors with an unprecedented renunciation of Iran's historical policeman role for the Persian Gulf in favor of cooperative strategies. Soon thereafter Rafsanjani characterized Ayatollah Khomeini's death decree against author Salman Rushdie for blasphemy as a mere "expert" religious opinion. (However, many Shiites vowed to carry out the sentence.) Such rationalization continued after Iraq's August 1990 invasion of Kuwait. Rafsanjani supported full compliance with international sanctions against Iraq, despite massive U.S. military involvement in the Gulf.
Rafsanjani was reelected to a second four-year term in June 1993, but only received 63.2 percent of the vote with his opponent, Ahmad Tavakkoli, receiving 27 percent. Analysts said that the failure of Rafsanjani to win a landslide victory indicated that Iranians had lost confidence in the Islamic regime—particularly in regard to its handling of economic conditions.
Within the growing literature on Iran's revolution and its regional and world impact, several well written and widely circulated English studies stand out: Shaul Bakhash, The Reign of the Ayatollahs: Iran and the Islamic Revolution (1984); R. K. Ramazani, Revolutionary Iran: Challenge and Response in the Middle East (1988); Robin Wright, In the Name of God: The Khomeini Decade (1989); and R.K. Ramazani, editor, Iran's Revolution: The Search for Consensus (1990). English translations of key Iranian speeches can be found in the Foreign Broadcast Information Service, available at most U.S. Government depository libraries.
View the full website biography of Akbar Hashemi Rafsanjani.