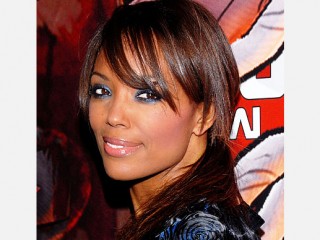 Aisha Tyler
Date of birth : 1970-09-18
Date of death : -
Birthplace : San Francisco, California, U.S.
Nationality : American
Category : Arts and Entertainment
Last modified : 2015-08-03
Aisha N. Tyler is an American actress, stand-up comedienne and author, known for her regular role in the first seasons of Ghost Whisperer and Archer, as well as her recurring roles in Friends and CSI: Crime Scene Investigation.

Aisha Tyler is one of the funniest women in the entertainment business. She is best recognized for her appearance on the TV shows "The 5th Wheel" "Talk Soup" and "Friends."

Born on September 18, 1970, in California, USA, Aisha N. Tyler began her comedy career at the Improv classes she would often sneak off to when bored with her regular high-school studies. But as passionate as she was with acting and comedy, she went on to study Political Science at Dartmouth College, though her attendance was irregular at best. While in college, Aisha Tyler continued to perform improv and sketch comedy, and even joined a campus a cappella group and a blues band, which allowed her to explore her love of music. As if doing covers of Stevie Ray Vaughn and the Doobie Brothers wasn't enough, she also gave snowboarding lessons. Following graduation, Aisha Tyler got a job with an advertising firm in San Francisco, but as great as it seemed, she realized that it wasn't her true love. She made the gutsy decision to pursue comedy full-time and after working in clubs across the country, finally moved to Los Angeles in 1996. Aisha Tyler quickly found a permanent job, as the host of E! Entertainment Televisions's Talk Soup, an Emmy-winning satirical look at TV talk shows. As the first female and black host of the show, Aisha Tyler's rousing comedy was a hit with audiences and critics alike. And along with the success, came deafening buzz about comedy's newest queen.

Some of the buzz included Esquire calling Tyler "sweetly wicked," and securing a place among the lists of loved women in entertainment and hot newcomers. In addition to Talk Soup, Aisha Tyler has appeared on The Tonight Show, The Today Show, Politically Incorrect, the 2002 film Showtime, starring Robert De Niro and Eddie Murphy, as well as the HBO series, Curb Your Enthusiasm, all the while earning raves. Aisha Tyler also made time to appear on a celebrity edition of The Weakest Link, and even won the top prize as the strongest player. Despite the May 2002 cancellation of Talk Soup and stepping down from the dating show The Fifth Wheel, Aisha Tyler is keeping busy with an appearance in the big-budget The Santa Clause 2, starring Tim Allen. She also took her witty style to print, as a part-time contributor to Glamour and Jane magazines. In 2003, Aisha Tyler appeared on the hit NBC sitcom Friends in the recurring role of Charlie Wheeler, the love interest of both Joey and Ross.

Watch here Aisha Tyler on "Very Funny Standup " :




View the full website biography of Aisha Tyler.