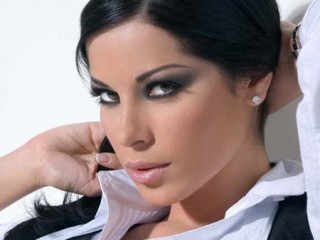 Aida Yespica
Date of birth : 1982-07-15
Date of death : -
Birthplace : Barquisimeto, Venezuela
Nationality : Venezuelan
Category : Arts and Entertainment
Last modified : 2011-02-08
Aída María Yéspica Jaime is a Venezuelan beauty queen born on 15 July 1982 in Barquisimeto, Venezuela. She is the girlfriend of footballer Matteo Ferrari and they have a baby boy, Aron, born on 27 November 2008. In January 2009 they split up after 2 years. And got together in December 2009. They live together in Turkey.

Since she burst onto the scene, her biggest accomplishment has certainly been winning the Miss Amazonia pageant in 2002, which is the achievement of a lifetime for a would-be model. Immediately after waltzing into the limelight with that enviable title, "would-be" quickly blossomed into "prominent." Aida modeled for Nissan, Braun and Ras, and even walked the sexy catwalk for Ferre and Pearl.

Her ambitions include both modeling and acting, and if history is any indication, the U.S. and Europe never ignore the spellbinding exoticism produced by the South American modeling industry.

On January 2007 Veronica Lario, the wife of Italian [then former] Prime Minister Silvio Berlusconi published a scathing front page letter to the editor in "La Repubblica" in which she asked Silvio Berlusconi to apologize for flirting openly with two women at a public event. In the letter, she said that her dignity had been violated. This letter was published on 31 January 2007 and Silvio Berlusconi's party issued a public statement saying he would always protect her dignity. At a recent awards dinner, Berlusconi was quoted as saying : "If I wasn't already married I would marry you right away" to Mara Carfagna, a representative of Forza Italia, and "With you I'd go anywhere" to Yéspica.



View the full website biography of Aida Yespica.