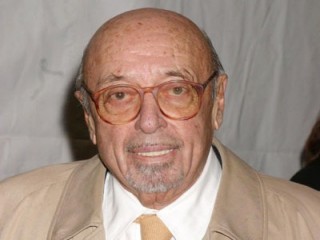 Ahmet Ertegun
Date of birth : 1923-07-31
Date of death : 2006-12-14
Birthplace : Istanbul, Turkey
Nationality : Turkish
Category : Famous Figures
Last modified : 2011-11-12
Ahmet Ertegün was a Turkish American musician and businessman, best known as the founder and president of Atlantic Records. He also wrote classic blues and pop songs and served as Chairman of the Rock and Roll Hall of Fame and museum. Ertegun has been described as "one of the most significant figures in the modern recording industry." He also co-founded the New York Cosmos soccer team of the North American Soccer League.

Dubbed "The Greatest Rock and Roll Mogul in the World," Atlantic Records founder Ahmet Ertegun is clearly a fan at heart. Though exotic and debonair, with the elegance of royalty, this Renaissance man and member of New York City's high society is happiest in the company of Mississippi Delta bluesmen or partying with pals like Rolling Stone Mick Jagger or former Led Zeppelin frontman Robert Plant. Indeed, Ertegun can shake, rattle, and roll with the best of them.

Ahmet Munir Ertegun was born in Istanbul in 1923. He shared that birthday with the new Republic of Turkey, which had just emerged from 600 years as part of the Ottoman Empire. The Erteguns were linked to this historical shift through Ahmet's father, Mehmet Munir Ertegun, who had been legal advisor to the opposition during the Turkish Revolution. When rebel leader Ataturk became Turkey's first president, the elder Ertegun was assigned ambassadorships to Switzerland, France, England, and finally the United States. As a diplomat's son, Ahmet spent his childhood in the culturally rich capitals of Europe.

Ertegun has credited his early love of music to his older brother, Nesuhi, and to their gregarious mother, who kept their home filled with the popular hits of the day and with her own many musical talents. Nesuhi helped shape Ahmet's tastes by introducing him to his own passion: jazz. "I saw Duke Ellington at the London Palladium in 1933," Ertegun told New York magazine. "I was ten years old. It changed my life. I had never heard an American band in the flesh before. I had never seen any black people."

In 1934 the family relocated to Washington, D.C., where 11-year-old Ahmet began to lead a double life; while attending prep school in Maryland, Ertegun pursued a different kind of education on the streets of Washington. He took boxing lessons from the embassy's black janitor, befriended a black street peddler, and whiled away many an hour in a burlesque theater. Ertegun told Interview magazine, "When I came home from school, if I said I was going to a movie ... I went and looked for records in black music shops." Ertegun was rapidly adopting African-American culture, with music as a primary catalyst.

In 1947 Ertegun and his partner Herb Abramson launched Atlantic Records. At the time, Ertegun was a student at Georgetown University and had very little money. To Abramson's investment and a $10,000 loan from his Turkish dentist, he added proceeds from sales of 25,000 mostly blues records that he and Nesuhi had collected. The partners embarked on their labor of love from one-room headquarters in New York City. Ertegun told Schwann Spectrum, "We wanted to make the kind of records we wanted to buy ... we were having great fun. It is out of this kind of atmosphere that traditions are challenged, rules are broken, and new music is generated."

Atlantic's first releases were jazz and rough rhythm and blues, the latter then encompassing everything from black boogie-woogie to blues shouters. But the company's real market was in the South, where authentic blues ruled. Legwork in Chicago and the Deep South brought artists like Professor Longhair into the Atlantic fold, but such scouting was demanding and there were very few bluesmen in New York. Atlantic tried using its own musicians--mostly players from swing orchestras and big bands--to recreate the real thing. "It didn't work," Ertegun admitted in Schwann Spectrum.

"The result, however, was quite intriguing," he revealed. "What emerged was music with a blues feel but with a particularly northern, urban influence." This hybrid would eventually become the more sophisticated sound of the Coasters, the Drifters, and of pianist and vocalist extraordinaire Ray Charles. "Much to our amazement," Ertegun continued, "the records were bought by both black and white kids, the first true crossover music." This genre-spanning hybrid not only spawned such stars as Elvis Presley and Jerry Lee Lewis, but it also served as a challenge to racism.

In the impossibly small operation that was Atlantic Records in the 1950s, serving as producer was never contribution enough; when singer Big Joe Turner needed backup, Ertegun rolled up his sleeves and became the chorus on "Shake, Rattle, and Roll." And when sources for material dried up, he created the alter ego "A. Nugetre"--the surname simply Ertegun spelled backwards--turning himself into a songwriter. Mr. Nugetre's work included Ray Charles's "Mess Around," the Drifters' "Whatcha Gonna Do?," and several songs for Ruth Brown and the Clovers, two of Atlantic's earliest acts.

In the 1950s, Atlantic's focus on R&B shot it into prominence. But, by the end of the decade, rock and roll fever was spreading. Ertegun nonetheless kept his company true to its rhythm and blues heart, but he also recognized the ongoing revolution in music and, over the years, helped Atlantic build up a legendary roster of rock artists. The signing of Buffalo Springfield, Yes, Crosby, Stills & Nash, Bette Midler, Phil Collins, Led Zeppelin, and Eric Clapton, among many other critically and popularly acclaimed artists, is proof of Ertegun's remarkable ear and gift for recognizing trends.

Ertegun has also displayed a talent for choosing exceptional colleagues. With the inspired production of Jerry Wexler, who came on board from Billboard magazine in 1953, Aretha Franklin took court as the "Queen of Soul." In 1956, Nesuhi Ertegun brought his expertise to the company, adding jazz greats John Coltrane and the Modern Jazz Quartet to the label's roster. But it was the record czar himself who made Atlantic perhaps its sweetest deal. By 1971, Atlantic was in its fourth year under the ownership of Warner Communications, to which the Ertegun brothers and Wexler had sold it in exchange for $17 million in stock. Warner got its money's worth: In 1971 the Rolling Stones joined Atlantic Records. The Greatest Rock and Roll Mogul in the World had brought home The Greatest Rock and Roll Band in the World.

In 1985, Ertegun realized a long-held dream with the opening of the Rock and Roll Hall of Fame. He told The New York Times, "I think those of us who know where this music comes from have an obligation to recognize and honor the little-known contributors, as well as the big names, who built this business." They, in turn, universally honor Ahmet Ertegun's ability to recognize and herald magic.
Ahmet Ertegun received an honorary doctorate in music from the Berklee College of Music in Boston in 1991, and was awarded the Grammy Trustees Award for his lifetime achievements in 1993. At the tenth annual Rock and Roll Hall of Fame Induction Dinner in 1995, it was announced that the museum's main exhibition hall would be named after Ertegün.

The United States Library of Congress honored Ahmet as a Living Legend in 2000. With brother Nesuhi, he was inducted into the National Soccer Hall of Fame in 2003. In 2005, the National Academy of Recording Arts and Sciences presented Ahmet with the first "President's Merit Award Salute To Industry Icons". He was also a recipient of The International Center in New York's Award of Excellence.

At the age of 83 on October 29, 2006, Ahmet Ertegun attended a Rolling Stones benefit concert at the Beacon Theatre for the Clinton Foundation, which was attended by former US President, Bill Clinton. Prior to the show Ahmet was backstage in a VIP social area that was known on the Rolling Stones' A Bigger Bang Tour as the "Rattlesnake Inn" when he tripped and fell, striking his head on the concrete floor. Although Ahmet was initially in stable condition, he soon took a turn for the worse. This announcement was made by Led Zeppelin's guitarist Jimmy Page, during the band's induction into the UK Music Hall of Fame. Ahmet slipped into a coma and died weeks later on December 14, 2006.



View the full website biography of Ahmet Ertegun.