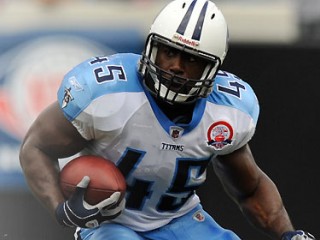 Ahmard Hall
Date of birth : 1979-11-13
Date of death : -
Birthplace : Galveston, Texas
Nationality : American
Category : Sports
Last modified : 2010-12-16
PRO:
Ahmard Hall's experience on and off the football field garners the respect of the locker room and has made him a valuable member of the Titans roster. On the field, the self-made pro is a thunderous blocker and is explosive as a runner and receiver. As a fullback, his production is viewed best not by his numbers but rather by the success of his teammates. He paved the way for four consecutive 1,000-yard seasons by Titans running backs to start his career – Travis Henry in 2006 (1,211 yards), LenDale White in 2007 (1,110) and Chris Johnson in 2008 (1,228) and 2009 (2,006). During those four years, the Titans led the NFL in rushing yards per game (142.4).

CAREER HIGHLIGHTS:

• In 2009, Hall was a major factor in one of the top individual offensive seasons in NFL history. He shared a backfield with running back Chris Johnson, who became the sixth player in NFL history to reach 2,000 rushing yards in a season (2,006).
• Against Jacksonville on Nov. 1, 2009, he helped open holes for Titans' rushers to gain 305 rushing yards, the second most yards on the ground in franchise history, including a franchise-best 228 rushing yards by Chris Johnson.
• At Kansas City on Oct. 19, 2008, he helped the Titans set a franchise record with 332 team rushing yards, including an 80-yard touchdown run by LenDale White for which Hall delivered a key lead block.
• Hall's unique path to the NFL included a four-year stint in the U.S. Marine Corps and three seasons at the University of Texas, where the former walk-on helped the school win a National Championship at the conclusion of the 2005 season.

CAREER TRANSACTIONS:
• After not being selected in the 2006 supplemental draft, the Angleton, Texas, native was signed by the Titans as a 26-year-old rookie free agent on July 13, 2006.

TITANS TIDBITS:
• Hall served four years in the Marines (3rd Battalion, 8th Marines out of Camp Lejeune, N.C.), including missions in Kosovo (1999) and Afghanistan (2002) before attending college on the G.I. Bill. Hall's wife, Joanna, also served four years in the Marines.
• Hall typically shies away from speaking about his service in the Marines. Nevertheless, he has been prominently recognized on a few occasions for his service. He led the Longhorns out of the tunnel carrying a U.S. flag prior to a game on the anniversary of Sept. 11 and repeated a similar scene during his rookie season with the Titans, when he carried the flag out in celebration of Veterans Day weekend. President George Bush gave him special acknowledgement when the Longhorns visited the White House after their National Championship victory.
• Hall has established an annual Veterans Day tradition of taking Titans players and cheerleaders to Nashville's V.A. hospital to offer gifts and greetings to older military veterans and injured soldiers from the Iraq and Afghanistan wars.
• Hall played high school football with future NFL peers Quentin Jammer (San Diego cornerback) and Gilbert Gardner (linebacker for Indianapolis, Tennessee, Detroit and Chicago).
• A former walk-on, Hall was the starting fullback on the 2006 National Championship Texas Longhorns with fellow teammate Vince Young, who nicknamed Hall "The Big Marine." The nickname stuck, as did Hall's influence on the field. Initially a member of the scout team offense, by the end of his collegiate career Hall was an active contributor on one of the most potent offenses in the nation.
• Hall's first name, Ahmard, is pronounced "ah-MOD" (silent "r"). He was named Ahmard Rashad Hall after former Vikings receiver and current broadcaster, Ahmad Rashad.

COLLEGE:

• Played three seasons for the Longhorns and saw action in 24 games with two starts. Recorded two carries for 11 yards and one touchdown. Also added three receptions for 42 yards and touchdown.
• As senior, played in all 13 games for the National Champions and registered one carry for 10 yards and three receptions for 42 yards.
• As junior, played in 11 games and totaled one carry for touchdown. Additionally, was second-leading tackler on special teams unit with 10 tackles.
• Majored in pre-physical therapy.

PERSONAL:

• Married to Joanna with two sons, Mason (7) and Preston (2).
• At Angleton (Texas) High, lettered three times in football and was member of track and field and baseball teams. In football, served as team captain during senior season, was Brazoria County Offensive MVP and earned first-team all-district honors.
• At Texas, helped lead drive for local organization called 'Momma Bear Cares,' which sent items to Marines serving in Iraq on Veterans Day.
• Hobbies include producing music, running and assisting veterans.
• List of favorites: (movie) "Gladiator"; (TV Show) anything on the History Channel and "The Tudors"; (music artists) Al Green, Common and Nas; (actor) Denzel Washington; (vacation) the Bahamas and the Mediterranean; (sports team other than the Titans) Houston Rockets; (school subjects) social studies and chemistry; (cars) Cadillac Escalade, Mercedes CLS 500; (author) Edwing Danticat; (video game) NCAA Football; (food) Greek food/gyros.
• Born Ahmard Rashad Hall on Nov. 13, 1979 in Galveston, Texas.

View the full website biography of Ahmard Hall.