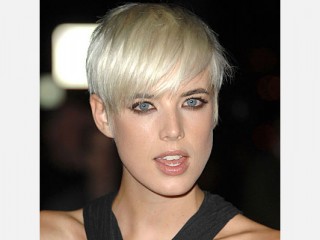 Agyness Deyn
Date of birth : 1983-02-16
Date of death : -
Birthplace : Greater Manchester, England
Nationality : British
Category : Arts and Entertainment
Last modified : 2011-02-07
Agyness Deyn, born Laura Hollins is an English fashion model, actress and singer.

Originally hailing from the Greater Manchester area of England, Agyness Deyn has taken the fashion world by storm. Entering her teenage years, it was clear that the young Agyness was above average beautiful and at the young age of thirteen actually won her first modelling contest when her grandmother submitted a photo of her to a teen magazine. Around this time Agyness Deyn was also working part-time in her local fish-and-chip shop where, unbeknown to her at this point, she was to make a life-changing meeting with Henry Holland.

In 1999, at sixteen years of age, stunning Agyness Deyn was named Face of Rossendale '99 by the local newspaper Rossendale Free Press. With a wise, as well as beautiful head on her shoulders, Agyness turned down a host of modelling offers so that she could continue, and ultimately finish, her education. When she finished school, she went to college in Hull to study drama and music.

In 2004, the supermodel-to-be decided to head for the bright lights of London with her, by then, great friend Henry Holland. Reputedly living off "beans and toast", the pair quickly became well-known on the London fashion scene, with designer Holland's iconic "House of Holland" slogan tee-shirts becoming all the rage. Agyness herself was said to have been "spotted" while out shopping in North London with Henry Holland. Agyness Deyn subsequently signed up with Select Model management, and the rest, as they say, is history.

She went on to adorn the pages of some of the world's most exclusive magazines as well as modelling for the likes of Zac Posen, Proenza Schouler and Marc Jacobs, but the young girl from Lancashire also got tongues wagging with her life off of the catwalk. Her very short hair (which she had worn since her early teens) and rather male-orientated clothing style earned not only gossip but awards in the best-dressed division; as well as legions of young fans across the world.

In May of 2007, Agyness Deyn featured in the edition of Vogue, who deemed the blue-eyed beauty as one of the world's next "top supermodels" and (probably thanks to this endorsement by Vogue) won the 2007 Model of the Year title. She has since appeared on the covers of numerous international best selling magazines, including UK Vogue, Vogue Italia, The Sunday Times Supplement, Time Style & Life and many others. Agyness Deyn has faced for brands such as Hugo Boss, Burberry, Vivienne Westwood, Giorgio Armani and Anna Sui and throughout her career has managed to keep the eccentric ways that have made her so loveable.

In 2008 she announced plans for joint jewellery range with her dear friend Henry Holland and then in the May of the same year actually guest-edited i-D Magazine, which was largely devoted to her own life and career. Outside of modelling, Agyness has also tried her luck at singing and has, in fact, fronted a single by Five O'clock Heroes called "Who" while also featuring in the ensuing video promo. The single didn't receive good reviews but that didn't stop the intrepid model-cum-singer forming her own band called Gene Jacket. A local British newspaper, The Daily Mirror, published a report in June 2009 saying that Agyness Deyn had actually quit modelling in order to spend more time with her boyfriend. The paper also quoted the model as saying that she was starting to get a bit bored with the whole modelling scene. Pursuing a career in acting seemed to be high on the list of the girl who never ceases to surprise.





View the full website biography of Agyness Deyn.