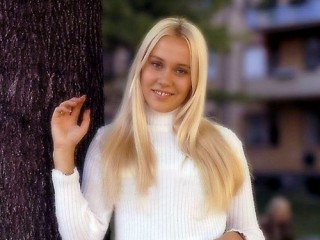 Agnetha Faltskog
Date of birth : 1950-04-05
Date of death : -
Birthplace : Sweden
Nationality : Swedish
Category : Famous Figures
Last modified : 2011-07-13
Agnetha Fältskog is a Swedish pop singer, songwriter and producer, most notable for being a member of the popular Swedish pop group ABBA.

Career:
Agnetha Fältskog was born the first of two daughters to department store manager Ingvar Fältskog (1922 - 1995) and his wife Birgit Margareta Johansson (1923 - 1994). Ingvar Fältskog showed much interest in music and show business while Birgit Fältskog was a very calm and careful woman who devoted herself to her children and household. She often said that female singers like Connie Francis, Marianne Faithfull, Aretha Franklin, and Leslie Gore were among her strongest influences.
Prior to ABBA, Fältskog was a successful solo artist in Sweden with several chart singles and did well on the album market. In 1972, she starred as Mary Magdalene in the original Swedish production of the musical Jesus Christ Superstar, providing vocals for its original Swedish cast recording. Her relationship with Björn Ulvaeus and friendship with Anni-Frid Lyngstad and Benny Andersson led into the formation of ABBA.

In 1975, during the same period as her bandmate Anni-Frid Lyngstad recorded her Nr 1 album Frida ensam, Agnetha recorded her solo album Elva kvinnor i ett hus. Those albums were recorded between sessions and promotion for ABBA albums Waterloo and ABBA. Even though ABBA was already a Nr 1 act in Sweden in 1975, her album failed to reach the Top 10 in the Swedish album charts, landing on Nr 11 as highest position.

In the 1980s, Fältskog released three English-language solo albums. Their success was mostly limited to Europe, Scandinavia in particular.
At the end of 1982, she duetted with Swedish singer (and former ABBA backing vocalist) Tomas Ledin on a song called 'Never Again', which became a Top Five hit in Sweden, Norway, Belgium and South America. In the summer of the same year, Fältskog starred in the hit Swedish movie "Raskenstam", and received positive reviews for her film début.

In May 1983, Fältskog released her first post-ABBA solo album, "Wrap Your Arms Around Me". The album became a moderate hit in North America and Australia, and reached the higher regions of the charts across Europe, including No.1 in Sweden, Denmark (where it became the biggest-selling album of the year), Norway, Finland and Belgium, and No.18 in the UK. Critically, the album received a mixed reaction: 'This treacly, string-sopped outing doesn't begin to do Fältskog justice', wrote Rolling Stone. However, "Stereo Review" magazine concluded it as a 'highly entertaining piece of good commercial record making'. Two singles from the album became relatively big hits in continental Europe, with the first, 'The Heat Is On', becoming a No.1 hit in Sweden, Denmark, Norway, Finland and the Netherlands. The title track also reached No.1 in Belgium. In North America, the album track 'Can't Shake Loose' was released as the lead-off single, reaching No.29 on the Billboard Hot 100 chart, and No.23 on RPM Top 50 singles chart in Canada.

The same year, Fältskog was voted by the readers of Aftonbladet as 'Best Female Artist Of The Year' and got the Music Award Price Rockbjörnen.
Her next album, "Eyes Of A Woman", produced by Eric Stewart of 10cc fame, was released in March 1985. 'She is quite content to grace the works of various other lesser mortals with her immaculate, sugar-sweet voice', wrote Barry McIlheney in Melody Maker. The album sold well in parts of Europe, reaching No.2 in Sweden and the Top 20 in Norway and Belgium, but failed to match the success of "Wrap Your Arms Around Me". The album, however, included the single 'I Won't Let You Go', one of only few songs composed by Fältskog herself to become a huge favourite among fans.

In 1986, Fältskog recorded another duet, 'The Way You Are', with Swedish singer Ola Håkansson, which became another No.1 hit in Sweden.

In the summer of 1987, Fältskog travelled to Malibu, California, U.S., to record the album "I Stand Alone", produced by Peter Cetera and Bruce Gaitsch. Released in November of the same year, it was a minor hit in Europe, except for Sweden where it spent eight weeks at No.1 and became the biggest selling album of the year. The single from the album, 'I Wasn't The One (Who Said Good-Bye)', on which Fältskog duetted with Peter Cetera, was released primarily in North America and became her second solo single to chart on the Billboard Hot 100 (No.93). It was also a Top 20 Billboard Adult Contemporary hit.
After the release of "I Stand Alone" - in mid-1988 - Fältskog took a break from her musical career and completely withdrew from public life. In 1996, her autobiography "Som jag är" was published in Swedish (in English the following year as "As I Am"), followed by several compilation CDs of her Swedish and English recordings.

In April 2004, after 17 years of silence, Fältskog's new single, 'If I Thought You'd Ever Change Your Mind' (a cover of the song originally recorded by Cilla Black), was released, reaching No.2 in Sweden, an impressive No.11 in the UK, and becoming a sizeable hit throughout Europe. 'It is exciting to hear her voice, utterly undimmed, delivering a tellingly-titled song', commented London's "Music Week". A few weeks later, the album "My Colouring Book", a collection of Fältskog's covers of 1960s classic oldies, was released, topping the charts in Sweden, hitting the Top Five in Finland and Denmark and peaking at No.12 in the UK. 'I love this record', enthused Pete Clark in London's "Evening Standard", while "Daily Mail" pointed out that 'it reveals a genuine affection for the era's forgotten pop tunes'. "The Times" reviewer noted that 'her voice is still an impressive pop instrument', and "The Observer" shared the same sentiment suggesting that 'time hasn't diminished her perfect voice'. Reviewing the release in "The Guardian", Caroline Sullivan wrote: 'Agnetha Fältskog has a vulnerability that gets under the skin of a song. She may be cheating a trifle by including no original material on this collection of 1960s covers, but if anyone can do justice to the likes of Sealed with a Kiss, it's her. The soaring sentimentality evokes Cilla Black and Sandie Shaw in their mini-skirted pomp, and I don't say that lightly'. The release attracted major media attention across Europe, but Fältskog staunchly refused to be involved in any extensive promotion of the album (including personal appearances), and thus limited her public exposure to several short newspaper interviews, a few videos and a Swedish-language low-key TV special. Yet, the album managed to sell more than 500,000 copies worldwide, 50,000 of those in the UK alone.

In 2004, she was nominated for "Best Nordic Artist" at the Nordic Music Awards, and at Christmas of that year (for the first time in almost 20 years), she gave an extensive interview which was filmed by Swedish TV. Around the same time, Sony Music released a lavishly produced 6 CD boxed set comprising Fältskog's Swedish solo career before ABBA (five original solo albums - 1968, 1969, 1970, 1971, 1975 - and an additional compilation disc with bonus tracks).

In January 2007, Agnetha appeared at the final performance of "Mamma Mia!" in Stockholm (as she had at its opening in 2005). Together with ex-husband and former colleague Björn, she appeared on stage at the after show party held at Stockholm's Grand Hotel. She also sang a duet, 'True Love', with Tommy Körberg of "Chess" fame.

Personal life:

On 6 July 1971, Fältskog married Björn Ulvaeus; the marriage resulted in two children, Linda Elin Ulvaeus, born on February 23, 1973 and Peter Christian Ulvaeus, born on December 4, 1977. The couple decided to separate in 1978 and Agnetha moved out of their home on Christmas night of that year. In January 1979 the couple filed for a divorce, finalized in June the following year. Both Fältskog and Ulvaeus agreed not to let their failed marriage interfere with their responsibilities with ABBA. Fältskog subsequently married for the second time, albeit briefly, in December 1990 to a surgeon named Tomas Sonnenfeld. She was also the victim of a well-publicized stalker from The Netherlands, Gert van der Graaf. Fältskog is regularly compared to Greta Garbo because of their usual disdain of the limelight.
View the full website biography of Agnetha Faltskog.