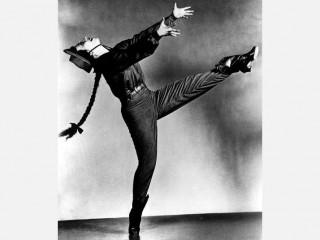 Agnes De Mille
Date of birth : 1905-09-18
Date of death : 1993-10-07
Birthplace : New York, U.S.
Nationality : American
Category : Arts and Entertainment
Last modified : 2010-11-09
An American dancer and author, Agnes de Mille's creative contribution to 20th-century ballet was as remarkable as her choreography for Broadway musical theater. She inspired awe for her personal courage and determination in the face of declining health in later years.
Agnes de Mille was born on September 18, 1905, in New York City into a theatrical family. Her father, William Churchill de Mille, wrote plays for David Belasco on Broadway and later became a Hollywood film producer. His brother, Cecil Blount de Mille, was a famous Hollywood film director. De Mille's maternal grandfather was Henry George, a social reformer and political economist who was famous for proposing the single tax.
When she was a child the family moved to Hollywood. The family's values were shaped by prevailing emphases on success and glamour as well as respect for intellectual life. During her teens her parents divorced and de Mille was torn between becoming a dancer and actress or pleasing her father, who was unsympathetic to a stage career. Having seen performances of Anna Pavlova and the Ballets Russes with Vaslav Nijinsky, as well as American dance pioneers Isadora Duncan and Ruth St. Denis, de Mille enrolled in ballet classes in Hollywood with Theodore Kosloff. While continuing ballet lessons, she agreed to attend college at the University of California, Los Angeles (UCLA), and graduated as an English major, cum laude. Later her mother gave support to her dance career, taking her to live in New York while her younger sister, Margaret, attended Barnard College and later helping to finance her trips abroad.
In New York she performed with the Grand Street Follies, choreographed a solo program (1928), and studied modern dance with Martha Graham, who opened her New York studio in 1927. In 1931 she appeared with Graham, Doris Humphrey, Charles Weidman, and Helen Tamiris in Dance Repertory Theater, a short-lived attempt at collaboration among the early pioneers of American modern dance.
De Mille left for Europe in 1932, performing recitals of her work in London, Paris, and Copenhagen. In London she staged dances for Cole Porter's Nymph Errant starring Gertrude Lawrence. Marie Rambert, with whom she studied ballet, invited her to join the Ballet Club where she worked with Frederic Ashton and Anthony Tudor, then young and emerging choreographers associated with Rambert. She created a role in the premiere of Tudor's Dark Elegies (1937).
On occasional return visits to the United States she appeared in Leslie Howard's Broadway production of Hamlet (1936) and the MGM film of Romeo and Juliet (1937). With the outbreak of World War II in Europe in 1939 she returned to New York permanently.
For the first season of Ballet Theatre (now American Ballet Theatre) in 1940 de Mille choreographed Black Ritual to Darius Milhaud's Creation du Monde with an African American cast. She earned the credit for convincing the company's managing director, Richard Pleasant, to invite Tudor to leave England and join Ballet Theatre, an important turn for American ballet history.
De Mille's big breakthrough as a choreographer came in 1942 with her ballet Rodeo for Ballets Russe de Monte Carlo. The original score was by Aaron Copland; the set design by Oliver Smith. She originally danced the Cowgirl, the female lead. This ballet remains in the repertories of many companies and is among her best known ballets, along with Fall River Legend (1948), a psychological study of Lizzie Borden based on her murder trial. Rodeo, a down-home story about cowboys and ranch life out West, provided de Mille with the invitation to choreograph Rodgers and Hammerstein's musical Oklahoma in 1943. This collaboration led to a life-long career with the Broadway musical, perhaps most significant of her choreographic achievements. Oklahoma was a landmark in that de Mille introduced the dream ballet to further the story through dance. This changed the course of the Broadway musical, making dance an integral part of the theatrical experience.
De Mille always saw dance as theatrical, expressive. She used body movement and motivated gesture as a kind of speech and drew from the technical vocabularies of classical ballet, modern dance, and folk and social dance. Although inspired by many subjects, her ballets were essentially American and favored themes dealing with its social history.
Known also as the author of many books, which she claimed she wrote in her "spare time," de Mille was a tireless and outspoken advocate for dance and for federal support for the arts. Drawing from her own experience as a choreographer, she was concerned that dances be copyrighted and that choreographers receive royalties. She served as first chairman of the dance panel of the National Endowment for the Arts in 1965. She was also first president of the Society of Stage Directors and Choreographers in 1965.
De Mille founded two dance companies during her career: the Agnes de Mille Dance Theater (1953-1954) and the Heritage Dance Theater, a folk-oriented company formed in 1973, which used a lecture-demonstration format to present audiences with American dance history. The company toured widely until 1975, when de Mille suffered a cerebral hemorrhage just prior to a benefit performance at the Hunter College Playhouse in New York.
With extraordinary determination and courage, de Mille underwent extensive rehabilitation and learned to write with her left hand. She recovered sufficiently to resume her activities as a writer and choreographer, as well as spokesperson for dance.
De Mille was married to Walter Prude, a manager of concert artists, from 1943 until his death in 1988. (Her courtship and marriage are described in her autobiographical work, And Promenade Home, and in Martha. ) She died of a stroke on October 7, 1993, in New York City at the age of 88. She was survived by a son, Jonathan Prude, and grandsons David Robert Prude and Michael James Prude.
De Mille received more than a dozen honorary degrees. She was elected to the Theater Hall of Fame in 1973. She received the Handel Medallion, New York City's highest achievement in the arts, in 1976; the Kennedy Center Award in 1980; and the National Medal of the Arts in 1986. Other awards include: Donaldson Award, Antoinette Perry (Tony) Award, Dance Magazine Award, Capezio Award, and De la Torre Bueno Award for writings on dance.
The following are de Mille's ballets (listed chronologically): Black Ritual (1940); Three Virgins and a Devil (1941); Rodeo (1942); Tally-Ho (1944); Fall River Legend (1948), based on the Lizzie Borden murder trial; The Harvest According (1952), inspired by a Walt Whitman poem with material from the Civil War ballet in Bloomer Girl; Rib of Eve (1956); The Bitter Weird (1961); The Four Marys (1965), about Civil War slaves; The Wind in the Mountains (1965); A Rose for Miss Emily (1971), based on the William Faulkner story; Texas Fourth (1976); The Informer (1988), about the struggles between the English and Irish in 1917 and 1921; and The Other (1992), a symbolic depiction of the encounter between a young woman and death.
She choreographed the following Broadway musicals: Oklahoma (1943); Bloomer Girl (1944), a Civil War ballet; Carousel (1945); Brigadoon (1947); Allegro (1947), which she also directed; Gentlemen Prefer Blondes (1949); Paint Your Wagon (1951); Goldilocks (1958); Kwamina (1961); and 110 in the Shade (1963).
De Mille's major article on Martha Graham, first published in Atlantic Monthly (1950), was later a chapter in Dance to the Piper (1952). Her last book, Martha: The Life and Work of Martha Graham (1991), a lively biography of the famous American dance pioneer, also contains much about the author and her long friendship with Graham. Other personal memoirs include: And Promenade Home (1958); Speak to Me, Dance with Me (1973) about the years spent in London with Marie Rambert and the Ballet Club; Where the Wings Grow (1978), a recollection of her girlhood at the family's summer colony in Sullivan County, New York; and Reprieve (1981), written in collaboration with her doctor, dealing with her first stroke in 1975 and her courageous recovery. Other works by de Mille include To a Young Dancer (1962), an advice book; The Book of the Dance (1963), an illustrated history of dance; Lizzie Borden: A Dance of Death (1968), about her choreography for Fall River Legend; Portrait Gallery (1990); "Russian Journals" in Dance Perspectives (1970); The Dance in America (1971); and America Dances (1980).
View the full website biography of Agnes De Mille.