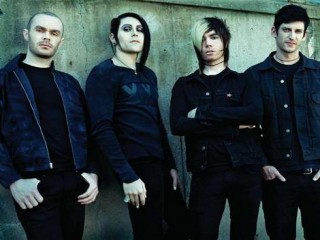 AFI
Date of birth : -
Date of death : -
Birthplace : Californis, U.S.
Nationality : American
Category : Arts and Entertainment
Last modified : 2010-10-12
Established in 1991 in Ukiah, California, AFI, or also known as A Fire Inside, initially was formed by high school students named Davey Havok, Vic Chalker and Mark Stopholese as an alternative option to overcome boredom in the small town between their skateboard sessions. Feeling the need of a drummer, Mark then asked another friend of him, Adam Carson to join in, making the line-up into a quartet with Davey taking the vocalist job plus Vic handling the guitar, while Mark himself assuming the bass position. Sadly, the formation only lasted for about nine months when Vic shockingly decided to walk out the troupe due to his diminishing interest in the project. Yet, the rest of the members thankfully were quick to find his replacement in Geoff Kresge. It was under the guy's indie label of Key Lime Pie Records that the group finally was able to see the materialization of their first work in 1993, an EP entitled "Dork" which they made alongside fellow Ukiah band, Loose Change.

Despite their capability to release another EP "Behind the Times" later that year and also hold few live shows in the local scene, AFI members surprisingly concluded to take separate ways upon graduation to attend different colleges with Geoff heading for New Jersey to join Blanks 77. This inactive state of the band remained for several months until all the four guys gathered back together during Christmas break and conducted a reunion show at the Phoenix Theatre. Beyond their expectation, audience's response was so positive that it subsequently gave them enough confidence to ultimately pay full concentration on music which thus led to a resolution of quitting their respective studies to produce some more EPs along the way before launching their full-length debut album, "Answer That and Stay Fashionable" via 1995 on Wingnut Records. Everything seemed to run well on the track as the quartet smoothly followed it up with their sophomore effort entitled "Very Proud of Ya" (1996), this time under bigger label namely Nitro Records.

Amidst the satisfying progress, however, Geoff suddenly revealed his desire to leave the band in 1997, prompting the rest of the members to offer his position to The Force bassist, Hunter Burgan. As if it was not enough, Mark also uttered the same intention the next year after the release of their EP, "A Fire Inside", yet on the other hand, it opened a chance for ex-Redemption 87 guitarist Jade Errol Puget to be the last piece completing the new line-up. All settled down, the refreshed AFI persistently went on to produce two more albums, "Black Sails in The Sunset" (1999) and "The Art of Drowning" (2000) which, much to their joy, made its way to bring satisfying outcome by the time it touched the market on September 19. Featuring 15 songs plus a hidden track called "Battled", this piece of work fabulously managed to take its peak on the ninth rank of Billboard Heatseekers regardless of its inability to generate any hit tunes on the singles charts. Thereby it really became a rare achievement to be attained by an indie rock band.

In its continuation, the sweet accomplishment unmistakably propelled AFI right away to the mainstream attention, furthermore prompted the DreamWorks SKG subsidiary of DreamWorks Record to sign the band in almost immediately. Under this company, the troupe finally could see their first major-label release, "Sing the Sorrow", which came up on March 11, 2003 to strike the industry harder. Not only soared to enter the top 5 of The Billboard 200, the album also spawned smash hit "Girl's Not Grey" which secured number seven on Billboard Modern Rock Tracks and later won them an MTV2 Award for its music video at the year's MTV Video Music Awards. Looking on this glorious success, many thus waited in anticipation for the quartet's subsequent work, but it was not until 2006 that they eventually launched their seventh studio album namely "Decemberunderground" by June 6 in the States after previously releasing it internationally the day before. The album spawned a #1 Billboard Modern Rock single titled 'Miss Murder' that helped the album to reach its Gold certification months after its release. More tours and gigs then came up including their involvement in Al Gore's 'Live Earth' concert on July 7, 2007.

AWARDS

Billboard Music Awards - 2006
Got nomination for Billboard Music Award
category Modern Rock Artist of the Year

Kerrang! Awards - 2007
Got nomination for Kerrang! Award
category Best Single for "Miss Murder"

2006
Got nomination for Kerrang! Award
category Best Video for "Miss Murder"

MTV Australia Video Music Awards - 2007
Got nomination for MTV Australia Video Music Award
category Download of the Year for "Miss Murder"

MTV Video Music Awards - 2006
Won MTV Video Music Award
category Best Rock Video for "Miss Murder"

2003
Won MTV2 Award
for "Girls Not Grey"

MTV Video Music Awards Latin America - 2006
Got nomination for MTV Video Music Award Latin America
category Best Rock Artist - International

mtvU Woodie Awards - 2006
Won mtvU Woodie Award
category Alumni Woodie

MuchMusic Video Awards - 2007
Got nomination for MuchMusic Video Award
category Best International Video - Group for "Miss Murder"
View the full website biography of AFI.