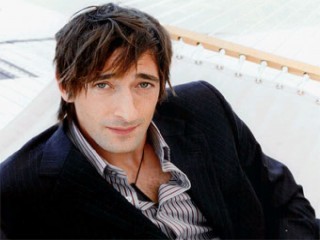 Adrien Brody
Date of birth : 1973-04-14
Date of death : -
Birthplace : New York, U.S.
Nationality : American
Category : Arts and Entertainment
Last modified : 2010-10-13
Often compared to Al Pacino and Marlon Brando for his unique looks and method acting, Adrien Brody, without doubt, has become one of the most respected actors Hollywood ever has. What most people probably do not know, the road to success indeed had been rocky for him to pass through as it took more than a decade to achieve the accolades and popularity he deserves. However, he satisfyingly managed to overcome all the hindrances during this journey, thus ultimately emerged as a celebrated figure whose achievement has surpassed other actors of his generation.

Inherited Hungarian, Polish, and Jewish blood from photojournalist Sylvia Plachy and retired history professor Elliot Brody, he was born on April 14, 1973 in New York. Since the family's surroundings was known as not-too-good environment, his parents decided to put the boy into acting class in their effort to keep him away from the bad influence of his peers. When his love for acting gradually flourished, he then was encouraged to enter Fiorello H. LaGuardia High School of Music and Art & the Performing Arts while also attended a weekend program for young people at the American Academy of Dramatic Arts. During this time, he was regularly involved in some off-Broadway productions, even encountered his screen debut in PBS' TV movie, "Home at Last" (1988).

Landing several roles between the year 1988 and 1991 before his high school graduation, Adrien started to give full concentration in developing a professional acting career by the time he joined the cast of Steven Soderbergh's "King of the Hill" (1993). As his performance in this film garnered positive reviews, he subsequently earned wider opportunity that enabled him to acquire bigger parts like he had nailed down in "Angels in the Outfield" (1994), "Solo" (1996), and "The Last Time I Committed Suicide" (1997). Although the dark-haired actor indeed had gained people's notice, he still did not meet the desirable recognition he aimed for, not even from Terrence Malick's acclaimed work, "The Thin Red Line" (1998) which he previously thought as a perfect vehicle to create a buzz in film industry.

What made him very disappointed with this particular movie was the fact that most of his scenes were cut so that his part seemed to be a nearly speechless character. "I was so focused and professional, I gave everything to it, and then to not receive everything," he commented. "It was extremely unpleasant because I'd already begun the press for a film that I wasn't really in." Refused to sink deeper in this gloomy situation, he moved on to film his other 1999 projects, namely "Summer of Sam", "Oxygen", and "Liberty Heights" which all exhibited his solid also convincing enactments. His career went steady by the following years as he managed to secure major roles in "Harrison's Flowers" (2000), "Love the Hard Way" (2001), and "The Affair of the Necklace" (2001) opposite Hilary Swank.

To his surprise, an invitation to join audition for Roman Polanski's work, "The Pianist" (2002), was addressed to him after a casting agent saw the DVD of "The Thin Red Line" in which his deep performance was clearly visible to everyone comparing that in the theatrical release. As the veteran director picked him up to be pianist Wladyslaw Szpilman, the lead character of this film, Adrien had to undergo an awful process in which he was left isolated and starving in Poland so that he could understand the sorrow Szpilman had to deal with. Also learned to play piano and lost 30 pounds of his weight, he successfully displayed such a stunning and gritty portrayal in this touching story about the Warsaw ghetto during the Nazi occupation of Poland. Huge accolades along with critical praise immediately followed, leading him to be nominated at prestigious award events, such as Golden Globe Awards, Screen Actors Guild Awards, and BAFTA.

Adrien's career reached its peak when he was finally named the Best Actor in a Leading Role at the 75th Annual Academy Awards held in 2003, being the youngest person to obtain the honor at the age of 29. This attainment unmistakably boosted his status to be an A-list actor and directed him to receive widespread acknowledgment he strove for as well as considerable popularity. Consistently provoked rave reviews from the critics, he afterwards appeared in various film genres as seen in "The Singing Detective" (2003), "The Village" (2004), and "The Jacket" (2005). The same year of "Jacket" release also saw him in Peter Jackson's "King Kong", which turned out to be a very profitable movie with total worldwide gross of around $549.4 million.

Found dating Spanish actress Elsa Pataky after breaking up with Michelle Dupont, Adrien continued his path rather smoothly for the four years ahead. In 2006, he appeared in mystery thriller drama "Hollywoodland" followed by another performance in Wes Anderson's Darjeeling (2007). 2008, in the meantime, would spot him in both "Manolete" and "The Brothers Bloom" before moviegoers see his enactment in sci-fi flick "Splice", scheduled for a 2009 release.
View the full website biography of Adrien Brody.