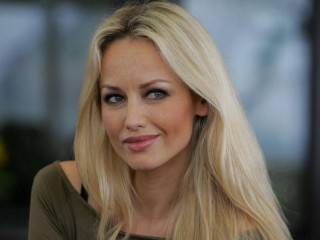 Adriana Karembeu
Date of birth : 1971-09-17
Date of death : -
Birthplace : Brezno, Slovakia
Nationality : Slovak
Category : Arts and Entertainment
Last modified : 2015-08-03
Adriana Sklenarikova Karembeu (Height: 185cm) is a Slovak actress and fashion model. Also she is a former Guinness record holder for the longest legs among female models.

Model Adriana Karembeu is a superstar in Europe, where she's best known for her ads for Peroni Beer and for Wonderbra. Also famous is her length: she is reportedly 6'1" tall, and her legs (at 49.5 inches/126 centimeters) once were listed by the Guinness Book of World Records as the longest supermodel legs in the world. She married the French football (soccer) player Christian Karembeu in December of 1998. Since then she has been known both by her original name of Sklenarikova and as Adriana Karembeu.

Karembeu joins Magdalena Wrobel and Caprice Bourret in our loop on The Women of Wonderbra... She also appears with Molly Sims in The Models of Victoria's Secret.

View the full website biography of Adriana Karembeu.