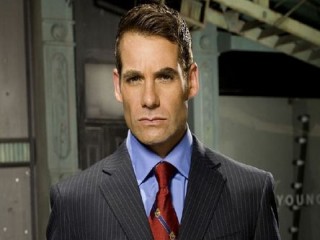 Adrian Pasdar
Date of birth : 1965-04-30
Date of death : -
Birthplace : Pittsfield, Massachusetts, U.S.
Nationality : American
Category : Arts and Entertainment
Last modified : 2011-06-17
Adrian Kayvan Pasdar is an American actor and film director. He is known for playing Jim Profit on the TV series Profit, for his roles in Near Dark, Carlito's Way, Mysterious Ways and as Nathan Petrelli on Heroes. Additionally, he directed the feature film Cement.

A handsome leading man whose brooding dark looks have been used to good effect whether playing a hero or a villain, Adrian Pasdar first caught the attention of astute moviegoers in his film debut as Chipper, one of the fighter pilots, in "Top Gun" (1986). The Massachusetts-born, Pennsylvania-reared son of divorced parents, Pasdar divided his youth between America (where his Iranian-born heart surgeon father practiced) and France (where his travel agent mother had settled). Excelling at high school athletics, he won a football scholarship to the University of Central Florida, but a serious automobile accident at the end of his freshman year derailed his promising sports career. Pasdar returned home to recuperate and eventually began an internship at the People's Light and Theatre Company before heading to New York to attend the Lee Strasberg Institute. While still studying, he auditioned for and landed his first film role in "Top Gun." Other roles in subpar films followed before the talented actor achieved a breakthrough as a naive cowboy who succumbs to a beautiful vampire in the stylish cult hit "Near Dark" (1987). Although he seemed poised for bigger things, Pasdar opted to quit performing for a year and moved to Europe.

When he did resume acting, he was cast as a yuppie photographer in the "American Playhouse" adaptation of Keith Reddin's play "Big Time" (PBS, 1989) and the title role in a fictionalized account of the life of the younger brother of gangster Al Capone in "The Lost Capone" (TNT, 1990). Although Pasdar's performances couldn't be faulted, he seemed consigned to acting in vehicles unworthy of his talents. One arguable exception was the British independent feature "Just Like a Woman" (1992) in which he essayed a transvestite who has an affair with a divorcee (Julie Walters). Pasdar earned strong notices for his turn as Gerald/Geraldine, partly because he sensitively handled the character's predilection without condescension. Still, the lack of roles and the perception that his career was stalled caused the actor to take another sabbatical.

Pasdar worked at a NYC diner as a waiter and cashier before returning to the big screen with an indelible role in Brian De Palma's "Carlito's Way" (1993). He offered strong support to Anne Bancroft in the PBS remake of "Paddy Chayefsky's The Mother" (1994) excelled as a playboy businessman discovering the true meaning of romance in the genial romantic comedy "The Pompatus of Love" (1995). The following year, Pasdar landed one the best roles of his career as an amoral businessman on the cult Fox TV series "Profit" (1995-96). While the show's dark tone was off-putting for the average viewer, critics raved. Pasdar clearly relished portraying the manipulative Jim Profit who would use any means (including murder and blackmail) to secure a position at the top of the business world. Due to low ratings, though, only six episodes aired.

A similar fate befell Pasdar's next series, the CBS drama "Feds" (1996-97), in which he was on the right side of the law as a US Attorney. He next co-produced and directed his debut feature "Cement" (lensed 1998, released 2001), a crime drama about a woman who stirs up trouble between rival gangs. But as the millennium came to a close, Pasdar began to focus exclusively on the small screen, playing a graphic novelist in an episode of "The Twilight Zone" (UPN, 2002-03) who wills his dream lover (Shannon Elizabeth) to life, only to start having trouble telling reality from fiction. The choosy actor found another regular series role as an archeology professor who investigates paranormal phenomena in the short-lived supernatural drama "Mysterious Ways" (NBC, 2000: PAX-TV, 2000-02), then appeared in the made-for-Lifetime drama "Crossing the Line" (2002), a cautionary tale about the new head coach (Terry Farrell) of a girl's high school basketball team struggling to deal with overbearing parents, out-of-control players and newfound love interest (Pasdar) protective of his daughter's place on the team.

Feeling more at home on television, Pasdar landed a high profile recurring role on "Judging Amy" (CBS, 1999-2005), playing Assistant District Attorney David McClaren who, after suffering the loss of his wife to murder, strikes up a heated romance with Judge Amy Gray (Amy Brenneman). The actor upped his profile further with a three-episode arc of "Desperate Housewives" (ABC, 2004- ) as a sleazy attorney who is hired by Gabrielle (Eva Longoria) after a prison riot erupts during a visit with Carlos (Ricardo Antonio Chavira) and tries to undermine her marriage by sowing seeds of doubt. But Pasdar hit the big time with his next series, "Heroes" (NBC, 2006- ), a comic book-like drama about eleven seemingly ordinary people from around the world who begin to discover they have supernatural powers because of gene mutations they've had since birth. Pasdar played a budding politician who lives in denial over his ability to fly despite the incessant encouragement to use his powers from his brother (Milo Ventimiglia).

View the full website biography of Adrian Pasdar.