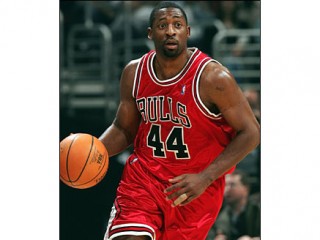 Adrian Griffin
Date of birth : 1974-07-04
Date of death : -
Birthplace : Wichita, Kansas, USA
Nationality : American
Category : Sports
Last modified : 2011-04-04
Adrian Griffin (born July 4, 1974 in Wichita, Kansas) is a retired American professional basketball player who played in the NBA from 1999 to 2008. Now he is an assistant coach for the Chicago Bulls.

Career history:

Long Island Surf (1996)
Connecticut Pride (1996–1998, 1998–1999)
Atlantic City Seagulls (1998, 1999)
Boston Celtics (1999–2001)
Dallas Mavericks (2001–2003)
Houston Rockets (2003–2004)
Chicago Bulls (2004–2005, 2006–2008)
Seattle SuperSonics (2008)

On October 27, 2008, he was released by the Bucks to make room for free agent forward, Austin Croshere. Shortly after, he was hired by head coach Scott Skiles as an assistant, where he would work for the next two seasons. On September 9, 2010, he was announced as an assistant coach for the Chicago Bulls.

Griffin begins his first season as assistant coach for the Chicago Bulls … he spent the last two seasons as an assistant coach/player development with the Milwaukee Bucks … Griffin enjoyed a nine-year NBA career that included stops in Boston (1999-01), Dallas (2001-03, 2005-06), Houston (2003-04), Chicago (2004-05, 2006-08) and Seattle (2007-08) … undrafted out of Seton Hall, Griffin played one season in Italy and three seasons in the CBA and was named league MVP and Finals MVP while playing with CBA champion Connecticut Pride in 1998-99 … the Wichita, Kan. native advanced to the postseason in five of his nine seasons in the NBA .

Griffin and his wife Audrey have two daughters, Vanessa and Aubrey, and two sons, Alan and Adrian, Jr.


View the full website biography of Adrian Griffin.