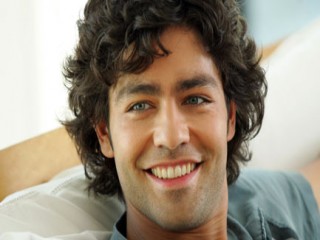 Adrian Grenier
Date of birth : 1976-07-10
Date of death : -
Birthplace : Santa Fe, New Mexico, U.S.
Nationality : American
Category : Arts and Entertainment
Last modified : 2011-06-17
Adrian Grenier is an American actor, musician and director. He is best known for his lead role on the HBO original series, Entourage, as Vincent Chase.

Bearing the dark, sensuous, pretty-boy looks of a Calvin Klein poster boy, Adrian Grenier managed to make a distinct impression on audiences and critics with only a handful of films to his name. Born in 1976, Grenier grew up in Brooklyn and attended Bard College. It was during his studies that he was cast as the titular lead in the independent film The Adventures of Sebastian Cole (1998). His natural, unaffected portrayal of a young man growing up with his pre-op transsexual stepfather in 1980s upstate New York was a hit among critics, and Grenier was soon being touted as one to watch. That same year, the young actor -- who had made his film debut in the 1997 independent film Arresting Gena -- also gained a significant amount of exposure playing a member of Leonardo DiCaprio's entourage in Woody Allen's Celebrity. Following the critical and arthouse success of Sebastian Cole, Grenier was cast in his first mainstream film, Drive Me Crazy (1999). A teen film centered around the high drama of who to take to the prom, it placed the actor in a starring role opposite Sabrina, the Teenage Witch idol Melissa Joan Hart.

After a decidedly Manson-esque turn as a cinematic terrorist in director John Waters' Cecil B. Demented, Grenier could be seen in a small but notably less-psychotic role in Steven Spielberg's 2001 sci-fi drama A.I. Over the next three years, Grenier showed up in supporting roles in a handful of films such as Hart's War and Anything Else, the latter of which again saw him teamed with Woody Allen. But it was the move to the small screen in 2004 with the lead on HBO's critically acclaimed Entourage that landed Grenier his most substantial notice and success to date. From Hollywood night life to New York high fashion, Grenier could next be seen alongside Anne Hathaway in the incisive fashion-industry comedy The Devil Wears Prada.

On June 2, 2008, Grenier's new show, Alter Eco, premiered on Planet Green. The show features the actor and his team of green experts showing changes that can be made to become more eco-friendly.

On September 27, 2010 HBO premiered the documentary Teenage Paparazzo, a film concerning the relationship between the celebrity and society that Grenier worked on for three years as a producer. The work features interviews with celebrities such as Lindsay Lohan, Alec Baldwin, and Whoopi Goldberg.

In addition to being a filmmaker, Grenier is also a musician, playing guitar, drums, French horn, and the piano. He is a member of two New York bands, lead singer in Kid Friendly and drummer in The Honey Brothers.

View the full website biography of Adrian Grenier.