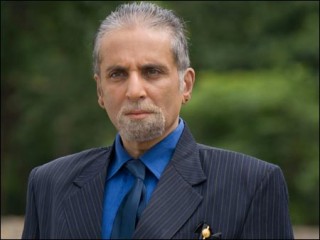 Aditya Raj Kapoor
Date of birth : -
Date of death : -
Birthplace : India
Nationality : Indian
Category : Arts and Entertainment
Last modified : 2011-07-07
Aditya Raj Kapoor, son of the Shammi Kapoor whose dancing skills are still copied not only in India but also in every corner of the world where Hindi films are seen, belongs to the Kapoor Khandan, one of the most reputed families in film industry.

Aditya Raj Kapoor chose a path that went against his family's aspiration. He decided to be a corporate and successfully achieved that, becoming a renowned personality in Construction Industry. He constructed amusement parks nationwide such as Appu Ghar and Fantasy Land. He has set up a television channel in Dubai. He is also active in social service and working on the cause of Children Education.

In past, he worked in Dil Tera Aashiq and Satyam Shivam Sundram . Before trying his luck in business, he worked as an assistant of Raj Kapoor. Being a management giant for 20 years, now he decided to go back to the root. He came back to the film industry with the release of Jag Mohan's Chase. In this movie, he played a character of industrialist in grey shade. His upcoming projects are Deewangi ne had kar di (2010) as villain, Mumbai 118 (2010) as actor, Isi life mein (2010) as actor. Jiten Purohit, Director of Deewangi ne had kar di, is very confident about his 50+ actor Aditya Raj Kapoor. Purohit said, "The reason for casting Aditya in the negative role will only be known when the film is released."

He believes that younger Kapoor's can think differently and manage to break open new dimension for the next generation. To prove his innovative approach he wrote and directed three English movies for non-Indian audience. These movies were Schamal, Sambar Salsa, Don't Stop Dreaming.

His inspirations in acting are Sanjeev Kumar and Mahmood. According to him, Sanjeev Kumar's and Mahmood's versatility are quite inspiring for an actor. The range of emotions Sanjeev Kapoor's carried in his acting was very real and impactful. He believes that he has learnt a lot from both of them.

Aditya Raj Kapoor explained himself as a dance lover. He is a six level salsa dancer. He loves to go for gymming and learning new form of dance as well. He enjoys writing and acting also.

View the full website biography of Aditya Raj Kapoor.